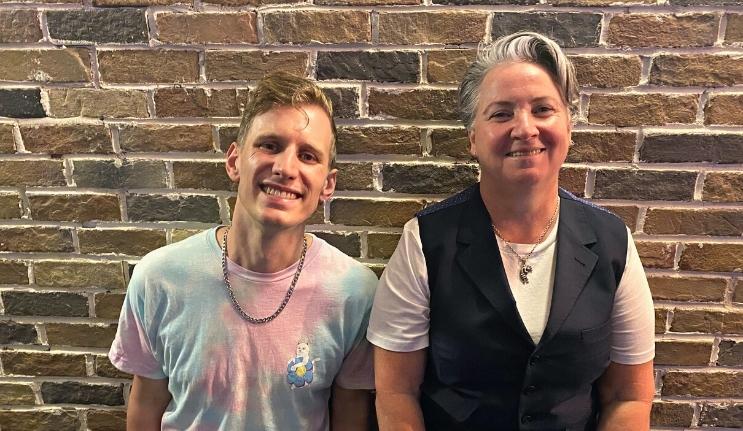 Standing up for science
ALUMNI FOCUS
May 16, 2022
It's not unusual for law graduates to pursue a career in comedy, but what is unusual is scientists taking to the comedy stage. Associate Professor Michelle Power from the School of Natural Sciences at Macquarie University met Tom Stevenson – MQ graduate and founder of the comedy production company Scary Strangers – while preparing for The STEAM Room comedy night at the 2022 Sydney Comedy Festival. The two quickly recognised their connection and, together, are using comedy to bring science to a whole new audience.
Standing up for Science
'Never before in my life have I been involved in comedy,' admits Associate Professor Michelle Power, a parasitologist at Macquarie University. 'It was never on my radar!' she laughs. Alum Tom Stevenson does too, and you can see the rapport they've built since Michelle first suggested they meet at a bat colony in Centennial Park to kick off the project.
Although they bounce off one another like old mates, underneath, you can see Tom's gentle guidance and knowledge, underpinned by a keen perception of people and communication. 'There's been a lot of support,' says Michelle, looking at Tom. There have also been improvisation sessions, workshops on writing and presenting material and, of course, rehearsals with Tom and his business partner Ru Halwala, who will both MC on the night.
So, what prompted Michelle to become involved in a live comedy event? 'I've done a lot of science outreach and often been involved in Science Week,' she explains. 'Actually, that's how the show began,' she says, referring to Luke Steller from Praxical, an astrobiologist PhD and friend of Tom's, who gained a grant to put the show on during National Science Week back in 2020.
Tom adds, 'Luke came up with the concept for the show and has been the driving force behind getting funding, choosing the scientists and organising the comedy training.' And, no less, keeping the momentum going as the pandemic intervened, cancelling live gigs. Still, the persistence has paid off, and the show has re-emerged as The STEAM Room on 4 May as part of the 2022 Sydney Comedy Festival.
Michelle shares Luke's passion for science communication and engagement, saying, 'I'm always looking for different ways to deliver science and engage stakeholders and the general public. So when I saw the expression of interest for people to stand up their science, I was definitely intrigued.'
Warm and approachable, with an easy manner and a quick laugh, you can see why she was chosen along with six others to train with Tom's comedy production company, Scary Strangers. 'It's been a lot of fun, and definitely a learning experience,' says Michelle. 'There are techniques I've learned that I can use in my teaching to engage students, so the benefits have already gone beyond just how to do stand-up.'
It might seem an unlikely marriage – comedy and science communication – but as Tom explains, 'The scientific community and the comedy community are natural allies – we're both looking for truth.'
And, like many things, it would seem it's all in the delivery. As Tom continues, 'Stand-up is a duologue between the performer and the audience – it's about open communication, how to break down barriers between people and improvise. But mainly, it's about active listening,' he says.
'On the one hand, you're presenting your material, you're hopefully delivering it in the right way, but you're also listening to the audience to see what they like, to see how long you can draw out a laugh, and when you need to come back in with new material; there's that dynamic at play.'
Anyone who has ever fallen asleep in a lecture can testify to this interplay, or lack of it. As Tom says, 'The skills used in comedy can be applied in many different situations. In The Steam Room, we hope that by using comedy effectively, people will understand science better,' he says, a subject close to Michelle's heart, naturally.
An academic with a research and teaching portfolio, she says, 'Research wise, I look at wildlife disease ecology, particularly parasites, which means I do a lot of work on poop. My piece will focus on some of my experiences as a parasitologist.'
But it's more than just poo jokes. As Michelle explains, 'We do science to change the world, basically, to fix the big issues and make life better, whether that's for us or other organisms. In this way, the end-user of our product is the general public and sometimes financiers, depending on where the funding is coming from.
'For this reason, it's important to have people engaged in the process and for them to understand what scientists do. Everyone needs to know a little bit of science – not just to understand the information circulating, but to inform their decisions and behaviours, which can be changed to make a difference,' she adds.
Still, with the show selling out and moving to a bigger venue that can hold 500 people, up from 300, performing in front of a crowd, even if you're used to the lecture theatre, can be a little daunting. 'The nerves come and go,' says Michelle, and Tom acknowledges it's a vulnerable position to put yourself in.
'It's been great to watch Michelle and the other scientists come out of their shells,' he says. 'Comedy has the potential to make your entire life a little bit more vibrant and help you become a little bit more comfortable in your skin.'
Tom speaks from experience, sharing, 'When I was in high school, I was cripplingly shy. I always liked art and performance but never had the guts to do it until I got to Macquarie. I went on the law camp and made a whole bunch of friends and felt like I was part of a community.
'Off the back of that, I decided to do the Macquarie Law Revue. I directed that for three years, and we won the legalsuper Choice Award 2012 for the final one. After that, I just went for it, and here we are,' he says, clearly at home in his comedy production studio.
So, what can we expect from the show? 'We're going to learn a lot,' says Tom. 'All those perceptions about what comedy can be and what science is are all going to be changed. It's going to generate a whole lot of interest in the scientific community in Australia.
'It's really important that as a society we value what scientists do and make sure that scientists can advocate for what they do, too,' he says. And Michelle adds, 'We also want to convey that science is a place for everyone and anyone.
'You don't have to be the stereotypical science geek or white male to make it in science – you can be from any background, any gender,' she enthuses. Then, thoughtfully, she notes, 'That's what makes Macquarie so special, too – it's a really supportive and inclusive environment for a diverse range of people.'
So, if you can, why not support Michelle and Tom, along with Australia's scientists and comedians, at The Steam Room ENCORE and have a laugh. As Tom says, 'It's going to be one big party, with heaps of love and excitement in the room. Everyone's going to have a great time.' And isn't that just the best way to learn, anyway?
[Cross-promotion]
Get your tickets to The STEAM Room ENCORE at the Sydney Comedy Festival on 31 May before they sell out again. The event is made possible with the generous support of Inspiring NSW, and 10% of profits will be donated to Deadly Science, an awesome charity providing STEM resources to schools across Australia.
…
Michelle Power graduated from Macquarie University with a Bachelor of Science (1997) and a Doctor of Philosophy (2003) in the School of Environmental and Life Sciences. She became a lecturer in biology in 2010 at Macquarie and is now an Associate Professor in the School of Natural Sciences. Performing at The STEAM Room is her first comedy gig, but all going well, she could have her arm twisted to continue doing comedy to make science available to everyone.
Tom Stevenson graduated from Macquarie University with a combined Bachelor of Arts/Law (2013) and counts his three years directing the Macquarie Law Revue as the start of his career in comedy and production. He went on to do a Bachelor of Musical Theatre and, together with his business partner Ru Halwala, founded the production company Scary Strangers, which holds performances, produces events and runs workshops. Ru and Tom will be the MCs for The STEAM Room and producers of the show, along with scientist Luke Steller (UNSW and Praxical).