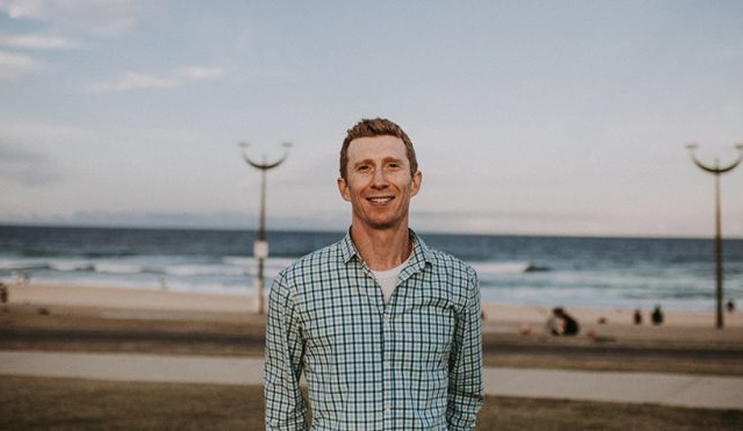 Matt Bower at Maroubra Beach
UNIVERSITY NEWS
August 30, 2019
Alumnus Matt Bower (BEcon 1994, GradDipEd 1996, BSc 2005, PhD 2008) is passionate about the use of technology to enhance learning.  As Associate Professor in the Department of Educational Studies, his job in a nutshell is to inspire future generations of teachers to integrate technology into their classrooms and conduct the research that helps them to do so effectively.
Matt will be a guest panellist at the 2019 Trendsetter Panel & Alumni Reception on Tuesday 29 October, which will explore the topic Creative and critical thinking is the future.
On a personal front, what do you do in your spare time?
I live in The 'Bra (Maroubra) and try to surf or ocean swim whenever there is time outside of work and raising two young boys.
Who is your favourite music band? Why?
Powerderfinger, because they rock.
You have a lot of degrees! Tell us how you came to be where you are in your career.
After beginning professional life in the actuarial field I decided to return to Macquarie to pursue my passion for Education. I then taught high school mathematics for several years in Sydney and Alice Springs, but also ventured further afield to relief teaching in England and Business English teaching in Japan. The whole time I was fascinated by how technology could be used to enhance learning, so decided to complete a degree specialising in computing and a Master of Education. This led to me designing and teaching an Online Graduate Diploma of IT over in the Faculty of Science, and completing my PhD in how web-conferencing systems could be used to promote more interactive and collaborative computing education.
When a position opened up in the Department of Educational Studies I jumped at the opportunity to teach and research how technology can be used to enhance learning. I've been doing that for over eleven years now, and still immensely enjoy it.
What are your main teaching commitments?
I convene and teach in the units 'EDUC261 ICT and Education', 'EDUC362 Digital Creativity and Learning', and 'EDCN865 Learning Technologies in Practice'.
What have you been working on recently?
I've recently released a book entitled "Design of Technology Enhanced Learning – Integrating Research and Practice", that synthesises the general and empirical learning technology research so that educators and researchers can easily adopt an evidence-based and design-driven approaches in their work. I've also recently completed a research project investigating how 3D design and printing in makerspaces can be used to enhance the 21st Century capabilities of primary school students. Currently I'm working with postdoctoral students on two projects – one investigating how online platforms can be optimised to enhance learning, and another exploring how to best develop the computational thinking capabilities of primary school teachers.
What do you believe are the biggest challenges confronting the education field?
There is a tremendous amount of rhetoric surrounding the preparation of children for the challenges of the future, yet we are inching so slowly towards authentically addressing these challenges. Politicians, media and educational executive talk about the need to develop children's critical thinking, problem solving, creative thinking and computational thinking capabilities, but then inordinate attention is focused on NAPLAN results. Literacy and numeracy are an incredibly important part of schooling. However, the fact that they are included in our national assessment framework while other higher order thinking capabilities are not, means that schools and society focus on literacy and numeracy at the expense of critical and creative problem-solving capabilities.
What can we do to better develop the critical and creative problem-solving capabilities of children?
Come to the 2019 Trendsetter Panel to find out!
Register for the 2019 Trendsetter Panel and Alumni Reception.
Matt Bower's book Design of Technology-Enhanced Learning was the recipient of the Association for Educational Communications and Technology's 2018 Design and Development Outstanding Book Award.