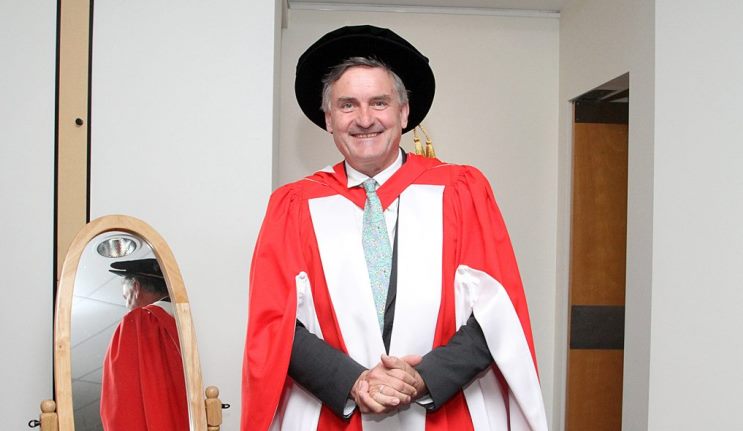 September Graduation season commences, Hon Docs awarded
UNIVERSITY NEWS
More than 2280 graduates received their degrees, diplomas and certificates in Macquarie University's September 2017 graduation series over a joyous and hectic two week period.
Of the degrees conferred, 87 were Doctoral candidates and for the first time the largest cohort – 67 graduates – from the Faculty of Medicine and Health Sciences crossed the stage.
During the ceremonies eight exceptional students received medals and awards for meritorious work.
Macquarie also awarded honorary doctorates to members of the community who have made an exceptional contribution to their field.
The Honorable Michael Egan FAICD, Chancellor of Macquarie University awarded five honorary doctorates to:
Dr Stuart Clark AM (BA / LLB 1980, DLAWS (HonorisCausa) 2017)
Professor Ronald Ridley (DLITT (HonorisCausa) 2017)
Dr Richard Glover (DLITT (HonorisCausa) 2017)
Dr Glenn Stevens AC (DLITT (HonorisCausa) 2017)
Professor Dennis Altman AM (DLITT (HonorisCausa) 2017)
Richard Glover (Doctor of Letters (honoris causa)) was recognised of his contributions to Australian journalism.
For more than 30 years Dr Glover has shared insight and commentary on national events, contributing his unique perspective to Australia's national debates.
Dr Glover joined ABC Radio 702 Sydney in January 1996, and is now among its most respected and recognisable presenters. His afternoon radio show, Drive, is enlightening, entertaining and engaging, featuring personalities and topics from the lighthearted to the deathly serious.
In addition to his newspaper and radio careers, Richard is a prolific author, writing and publishing 13 books including the recent 'Flesh Wounds', and 'Desperate Husbands', which was a best seller in Australia. He has written a number of plays, including 'Lonestar Lemon', which toured nationally with Geneveive Lemon, and 'A Christmas Story' which premiered at the Sydney Opera House in 1998.
Dr Glover is a mentor and role model for aspiring journalists across the country, and supports his colleagues in this valuable but increasingly uncertain occupation, as the secretary of the NSW Journalists' Benevolent Fund.
The University congratulates the 2,280 graduands and the five Honorary Doctorates for their Macquarie University degrees and welcomes each to the University's 182,000 (and growing) alumni community.