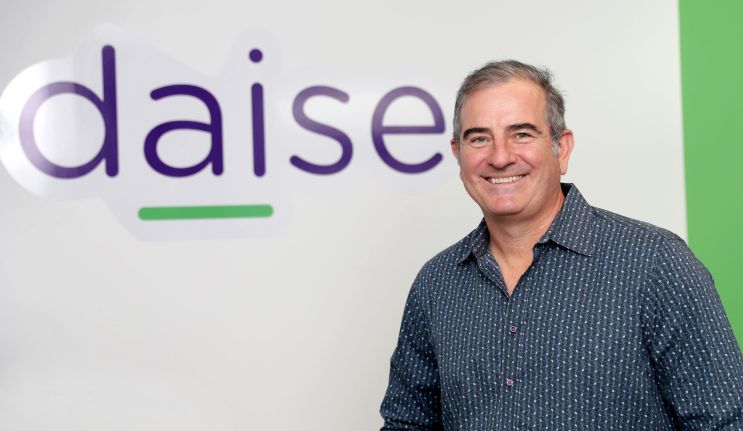 Richard Kimber – Strap yourself in: the future is here
ALUMNI FOCUS
August 19, 2020
More business leaders need to embrace artificial intelligence and understand it properly. It's no longer something just for the IT department, says alumnus Richard Kimber (BSc 1991, MBA 1993), founder and CEO of AI software company daisee, it's for CEOs and boards – and universities too. In fact, it's going to change all our lives, and we all need to know about it.
Sometimes, instead of announcing its presence with radical, immediate changes to the way we live and work, the future slips in so slowly, so quietly, it's barely noticeable. And so it is with artificial intelligence, more commonly referred to as simply AI. We're all familiar with our calls being recorded for training and quality, reverse-parking cameras and shopping recommendations that miraculously pop up online but, according to Richard Kimber, this is just the beginning.
In fact, he says, 'AI is going to be as profound as the invention of electricity. The changes that will occur as a result in the next twenty years will be nothing like anything we've seen in the last hundred; it's going to be a quantum leap.'
It sounds like an enormous opportunity just waiting to be seized but, in Australia at least, most people don't know about it. And if you don't know about it, you can't leverage it – or protect yourself from those more knowledgeable about it than you. As Richard explains, 'There's an arms race on in artificial intelligence at the moment. The US, China and the UK, they're all fighting for the best talent and the best brains, but we're blind to it.'
As such, in Australia, we seriously risk falling behind – or worse. 'Australia needs an AI strategy; it's crucial,' says Richard. 'This is not something that's nice to have or some nifty technology. It's one of those transformational times in human history – it's called the fourth industrial revolution.'
This view is not widely held – yet – and even though Richard was excited by the seemingly infinite scope and possibility of AI and the undeniable business sense it made, its power still astounds him. 'When we established daisee in 2017, I had a rather superficial appreciation of AI. Now, with a very deep understanding, I'm even more convinced it will fundamentally change everything about how we do business, how we understand information and how we're organised as companies. It's completely different.'
So what is artificial intelligence, and what changes are we going to see? Quite simply, 'It gives us the power to solve problems that haven't been solved before. Most computing systems are organised around very ordered data, but AI allows you to look at unstructured data, things that aren't ordered and are very chaotic, like voice and visuals.'
The big departure from normal software is that you don't need to code every eventuality; the system is able to learn. 'It's dynamic,' says Richard, 'a self-learning software with the capacity to remember hundreds of millions of data points – way more than any human can. The power of these systems is huge.'
But it's the pace at which we can solve these problems and interpret masses of information that is so significant: 'It can be done on a scale we've never dreamt of before. It's such a revolutionary approach to writing software and it will completely automate many jobs.'
So much so that many jobs won't be required any more. The work of radiologists and accountants, for example, and a lot of law. It's even going to be able to anticipate medical solutions. 'At a fundamental level, it's going to change how medicines are delivered. We're going to see genetic drugs that are individually tailored, perhaps as soon as the COVID-19 vaccine,' says Richard.
And it's only possible because artificial intelligence enables you to do so many more iterations so much more quickly. There's no more waiting for the outcome of a scientific experiment – computers can accurately simulate the outcome and predict what's going to happen. 'The potential for medicine is enormous – it could even extend the human life span.'
Of course, there's the fun stuff too. Self-driving cars will all be powered by AI and self-driving helicopters are coming. It will be ubiquitous, making our lives easier and more streamlined. But it's not going to stop there. The next breakthrough will be quantum computing, which will allow computers to be up to 100 million times faster than they are currently.
'This technology is coming faster than we think. Australia has some of the brightest minds working on this and some of the best quantum computing researchers in the world. It's another area that has huge growth potential for Australia.'
It all sounds pretty impressive, but Richard cautions, 'There's a light and a dark side to all this technology. That's one thing that does worry me. If we don't understand the good of it, we can't understand the bad,' he says, referring to the potential for robot armies and the threat posed by cybersecurity.
It's a new world order, for sure. One that the biggest tech companies in the world – Apple, Google, Facebook, Amazon and Microsoft – are 100-percent focused on. And we should be too: 'There's no doubt that artificial intelligence is an incredible, untapped opportunity for Australia,' says Richard.
One we're going to need to embrace, lest we risk being not just left behind, but completely exposed to those who have the technology – and ultimately, the power.
 Words: Megan English
You're invited to join Richard on Wednesday 23 September at the latest Leaders, Innovators and Disruptors event in partnership with the Macquarie University Incubator to find out how leading companies are using AI to understand customer needs and drive competitive advantage whilst others are stuck in an old paradigm. Unlock the power of voice analytics, natural language understanding and deep customer insights to radically transform the way you do business. Find out more and register here.