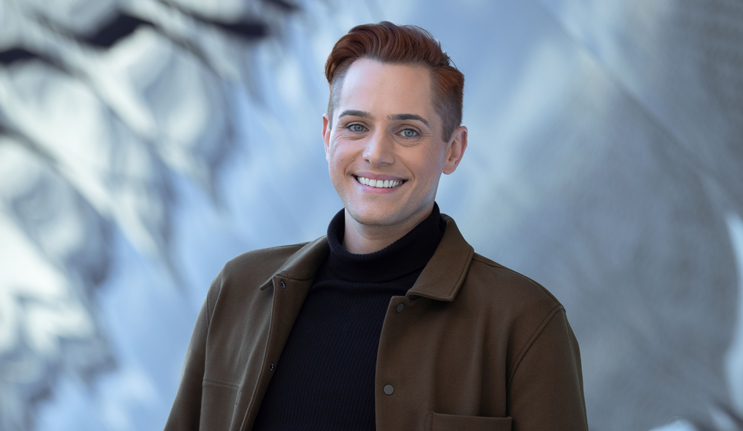 Craig Middleton
ALUMNI FOCUS
There's no doubt the world of work has changed. Obviously, more of us are working from home, but there's another significant shift that is much more subtle. Who we are as a person, our background and our values, is not only enriching the work we do, it's having an impact on the world around us and how we see ourselves as a society. For Craig Middleton – who credits being able to follow his interests in the Masters of Museum Studies at Macquarie University with setting his career in motion – as Senior Curator at the National Museum of Australia in Canberra, he brings his whole self to work. And we, and the collection, are richer for it.
'Absolutely, my Masters of Museum Studies at Macquarie University is what led me to where I am today," says Craig Middleton from his office in Canberra. Currently Senior Curator at the National Museum of Australia, it's not a career he would have seen for himself as a young boy growing up in Adelaide but, as a series of work opportunities have unfolded in his life, the recurrent theme of following what you're interested in has served him well.
Middleton always enjoyed history at school and university, but it wasn't until he was at the end of his undergraduate degree in arts and international studies and he had the opportunity to study in Rome, Italy, that the subject really came to life for him.
'Museums and galleries weren't really on my radar when I was growing up,' recalls Middleton, 'but in Rome, I was engaging almost daily with these amazing buildings and monuments. What really struck me was how they were being cared for and communicated; people were really proud of them.
'It was a fascinating cultural experience and helped me realise there were career pathways in history, and that museum studies was what I wanted to do – I wanted to look after my place, my home; I wanted to care for our history.'
One of the few masters degrees in museum studies at the time, Macquarie University also offered the course by distance, which meant Middleton didn't have to give up his position at the National Motor Museum in the Adelaide Hills to move to Sydney.
'Museum jobs are hard to come by,' he affirms, 'so the flexibility of being able to study externally was perfect. Plus, there weren't any other courses at the time that allowed me to pursue social history, art history and science – with so many museums on campus, they could offer a really diverse course.'
Still, what Middleton liked most was that the course was heavily research-focused and self-directed in terms of content. 'The structure of the course meant I was able to follow my own interests in the sector,' he says of his masters project, which focused on political ephemera collections from the Bob Hawke era.
'Things that are created for a moment in time and then meant to be chucked out, such as what you see in the bins outside polling booths at elections. I was really interested in how and what to collect in those spaces,' he explains.
Middleton has drawn on this focus on contemporary collecting throughout his career ever since, building on it over time through various positions in Adelaide, such as with the History Trust of South Australia, the Migration Museum and the State Library, as well as the Centre of Democracy, where he was the inaugural curator.
Joining the National Museum of Australia in August 2019, Middleton was on the run from the beginning. 'One of the first things I did was go to the climate strikes – there was the big one in Melbourne with 150 000 people – and then the bushfires started. I was ready with the skills to do contemporary collecting around those issues,' he notes.
Then, of course, COVID happened. 'I've led the COVID collecting at the museum through an online project called Momentous, which pulls together stories of COVID-19 and the 2019–2020 bushfire season and gets people reflecting on profound change and how we as a nation respond to it.'
How we see ourselves, and seeing ourselves in our national collections, is a driving force in Middleton's career. 'It's important to me that museums are not just rooms full of objects, but they're world-making, so what you see in a museum and what is reflected back to you informs how you understand the world.
'If you think about a young person who goes into the museum and can't see themselves or their perspectives or their story, they're not going to want to come back – but it could also say to that person that their story doesn't matter, or they don't matter.
'That's why I'm so passionate about being in this sector, breaking that apart to ensure that diversity and complexity exist within these spaces so that people can either see themselves quite literally in a museum, or they can find ways to see themselves through the tools of display and labelling, and can engage more deeply.'
Another area of interest in Middleton's professional practice is the intersection between the LGBTIQ+ community and museums, which covers everything from audiences to collections and content. 'I started that journey in South Australia,' he explains.
'I was noticing a lack of queer stories across the board, so started working on building better representation for LGBTIQ+ communities in museums with my colleague Dr Nikki Sullivan, who coincidentally had been an associate professor at MQ in cultural studies.
'This led to many different projects, including community history projects, and exhibition projects where we invited community members into the museum to relook at existing collections from the perspective of gender and sexuality. We also wrote a book called Queering the museum, which is still having an impact in the sector nationally and internationally.'
It's almost difficult to keep up with the number of projects Middleton has been and is currently involved in, reflecting his energy and bright, enquiring mind that is open to the world around him; one that sees others and the myriad possibilities of life. No less, there's a sense of joyful purpose as he explains his most exciting current project is a targeted collecting project around the LGBTIQ+ community aimed at diversifying representation in the National Museum's collection.
'It covers everything from the kinds and number of stories that are told, so we don't rely on recycling the same ones over and over, and then moving out of the cities and into the regions, thinking about what life is like and has been like in regional Australia, which just hasn't been represented.'
It's clear talking to Craig just how important museums are not just to remember the past but to reflect on the present moment and inform the future too. And, as institutions lean into the current moment, the crucial role they play in society.
'It's commonly understood that a visitor comes to a museum with their own lived experience,' offers Middleton. 'They come with their own perspective, and with a background of class, race, gender, ethnicity, and that influences how they understand the world, how they operate in the world, as does their privilege or their lack of privilege, and their marginalisation.
'There's an acknowledgment now that all these things play into how people understand their experience of museums, how they look at objects, and what they will and won't engage with. Because of that, museums have had to make a shift away from the grand narrative history that privileges the conquerors.
'Those stories are real, they happened, but particularly in the last decade or two with the inclusion of First Nations voices, the different perspectives that are told within a museum are now giving a multi-dimensional story, which leans into the complexity of life and the world.
'So, we're not just distilling history into a single, very easy-to-read narrative, we're saying the world's more complicated than that, and we're more complicated than that, and there are lots of different ways to look at history – the museum sector has changed enormously.'
It's a shift that also extends to those working in the arts and cultural sector. 'There's an acknowledgement that these institutions are made up of people with particular skill sets and expertise, and institutions should draw on that so people can contribute in purposeful ways.
'I've been fortunate throughout my career that I've been enabled to do that,' says Middleton, who often refers to himself as a community-engaged professional. 'I do what I do not for the sake of art or history, but so I can have a meaningful impact on people's lives through representation, a moment of joy, or a sense of belonging that this work can give someone.'
Craig Middleton (he/him/his) graduated from Macquarie University with a Masters in Museum Studies (2014). He is a curator and creative producer with wide-ranging interests in Australian social history, histories of LGBTIQ+ people and communities, and critical museology. Across his career, he has been responsible for collection management and development, content and creative production, exhibition project management, digital innovation, community engagement, public programming, marketing and more.
His commitment to LGBTIQ+ representation has informed his work in museums, including through the creation of tours, programs, exhibitions and research. He is a widely published author. His book Queering the museum, co-authored with Dr Nikki Sullivan and published by Routledge in 2019, develops a queer analysis of how museums construct themselves, their core business and their publics through the often-unconscious use of inherited ways of knowing and doing.
Middleton believes in the role of arts and culture to strengthen communities, combat social exclusion and support a healthy and active democracy. Middleton tweets.