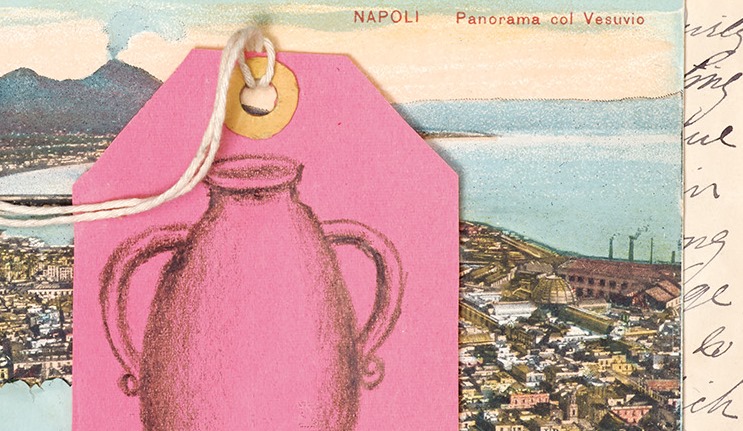 New insight into history
RESEARCH NEWS
Sometimes scientific breakthroughs are the result of happy accidents or chance encounters.
At a chance meeting between Dr John Magnussen, Professor of Radiology at the Australian School of Advanced Medicine, and Roman pottery expert Dr Jaye McKenzie-Clark, an Early Career Fellow at Macquarie's Department of Ancient History, she lamented that analysing the composition of pottery samples usually involved their destruction.
Magnussen suggested the University's medical scanners might offer an alternative and produced startling results.
McKenzie-Clark gave Magnussen five pottery samples from Pompeii, which he analysed using a dual-energy computed tomography (DECT) machine. His findings: two of the pieces were almost identical, two were very similar and one was different. Magnussen didn't know that McKenzie-Clark had previously tested the pottery.
"John had correctly analysed the association of fabric groups that I had established using destructive analysis," McKenzie-Clark recalls. "He didn't realise what he had done, but I was jumping up and down with excitement."
When McKenzie-Clark mentioned the non-destructive technique to Dr Mario Pagano, Superintendent of Archaeological Heritage for the Italian region of Umbria, he arranged to have 261 ceramic pieces excavated from the Roman city of Carsulae sent to Macquarie. "I have never heard of anybody getting that much material from a site like this," McKenzie-Clark says. Scanning the pieces was relatively easy, but analysing the data has been a different matter.
"We have yet to completely analyse the data set that came from Carsulae," Magnussen notes. "It's over 44 gigabytes of data and rising. In terms of the time to process all of that, it's a fair challenge."
The effort will be worthwhile, McKenzie-Clark stresses. Roman potters often stamped their works, so the composition of scanned pieces can be compared with pottery of known origin. Researchers can then track the movement of pottery across the Roman territories. "This gives us insight into trade patterns and exchange of goods, who was working where and at what time," McKenzie-Clark says.
The pair has since embarked on a number of new projects, including turning scans into 3D printed replicas of ancient objects, which McKenzie-Clark will use as teaching aids.
They are also using a horizontal-bore cone-beam CT unit, which normally does dental scans, to capture the cuneiform writing on ancient Sumerian tablets that have been sealed inside clay containers for roughly 4,000 years. That data has been sent to Sydney-based cuneiform expert Dr Luis Siddall for analysis.
McKenzie-Clark says she isn't aware of this sort of research happening anywhere else in the world. "Macquarie is fairly unique in that we have a very well equipped hospital and a very active Ancient History Department. You don't often get those two together."