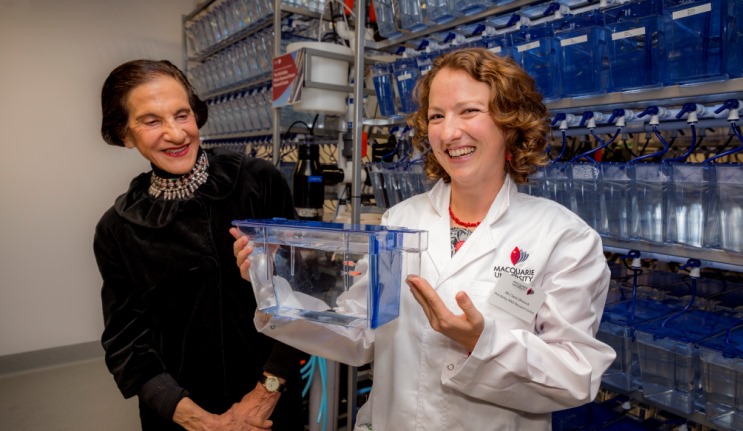 New hope for a cure
RESEARCH NEWS
In May this year, the Macquarie University Foundation launched its Annual Appeal activity with research into Motor Neurone Disease (MND) forming a key component of the Appeal for the first time.
Motor Neurone Disease (MND) is a rapidly progressive, terminal neurological disease, with no known cure. An estimated 1400 people have MND in Australia and thousands more carers and families live with its effects.
Macquarie has a major involvement in the clinical care of MND sufferers with Professor Dominic Rowe treating some 10 per cent of all MND patients in Australia. This has led to a new MND research centre being established within the Australian School of Advanced Medicine (ASAM) to use our modern facilities, including the Macquarie University Hospital, to make significant advances in both the diagnosis and treatment of MND in the near future. Macquarie's investment and focus on this disease has intensified over recent months, with three key initiatives and a dedicated team of researchers arriving on campus to start work.
The Deb Bailey Motor Neurone Disease Research Centre was officially opened in ASAM on Thursday 6 June by Her Excellency Professor Marie Bashir, AC CVO, the Governor of New South Wales. The Centre carries the name of the late Deb Bailey, a former editor of the Australian Women's Weekly, who died in 2001 aged 48 from MND. However, it is dedicated to the memory of all Australians touched by the debilitating disease.
The University is also reaching out to our broader community and alumni to share awareness of research into the disease.
"Support from the community, in concert with the University's own contribution, will give the researchers an enormous kick start," comments Professor Simon Foote, Dean of the Australian School of Advanced Medicine.
"We look forward to a decade of achievement."
Academics in 'One Million Metres for MND' Fundraising Ride
ASAM MND researchers also joined on the last leg of an epic fundraising bike ride from Brisbane to Sydney, led by recently diagnosed MND advocates Dr Ian Davis and Scott Sullivan. Individually, both Davis and Sullivan are unable to ride a bike. However, a specially designed tandem bicycle enabled Ian to peddle and steer with his arms while Scott peddled with his legs.
Fundraising for several MND related groups, including the new research program at Macquarie, Davis and Sullivan set out from Brisbane on 3 May and arrived at the Manly finish line with the ASAM team on Saturday 18 May. Professor Gilles Guillemin, Professor of Neurosciences at ASAM, says "the courage shown by these guys is incredible, and we were very pleased to ride alongside Ian and Scott in the last leg of their amazing ride.
"They're great guys with inspirational stories and what they have achieved is just totally amazing."