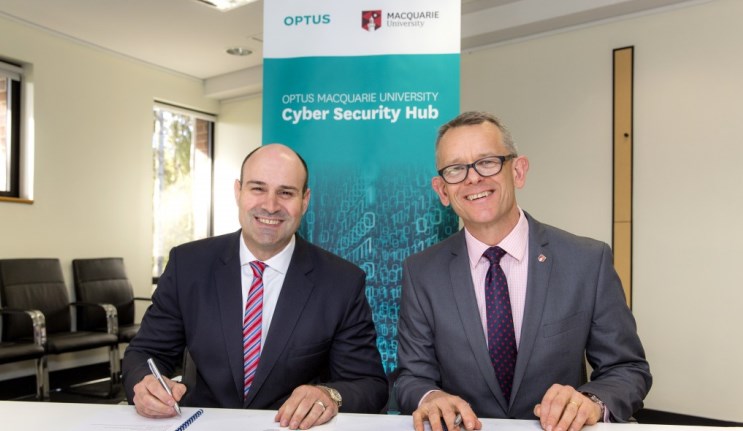 New cyber security hub launches at Macquarie
UNIVERSITY NEWS
Macquarie University and Optus Business have joined forces to establish a multi-disciplinary cyber security hub to support businesses and government to recognise and protect themselves from increasing cyber threats.
The 'Optus Macquarie University Cyber Security Hub', which represents a $10 million investment by Optus Business and Macquarie, will be located on campus and provide research, professional courses and consultancy services to the private sector and government agencies.
The hub that will draw on the expertise of Optus, other industry experts and leading academics from Science and IT; Business and Economics; and Security Studies and Criminology. It will focus on providing a holistic approach to cybercrime, how it is perpetrated, how it affects the economy and how it impacts policy.
Supporting the Federal Government's recent cyber security strategy – which outlines plans to make Australia a cyber-smart nation – the new hub will also include a range of initiatives to enhance our teaching and research offering, including degree courses.
Professor David Wilkinson, Deputy Vice-Chancellor (Corporate Engagement and Advancement) says education is the cornerstone of any cyber security strategy.
"Cyber security has become one of the defining issues of this decade, which is why Macquarie was one of the first in the country to establish a dedicated policing, intelligence and counter-terrorism degree," Professor Wilkinson notes.
"The opportunity to partner with Optus, an organisation that deals with cyber threats and challenges on a daily basis, was something we welcomed as it enables us to improve cyber security education at all levels – from the C-level executive through to every employee.
"By collaborating within both the University and with industry to tailor our study programs, we give our students a head start in their careers, placing them at the top of Australia's cyber security talent pool. These initiatives will also work to support the wider expansion of cyber security training within organisations to better secure and protect their networks and infrastructure."