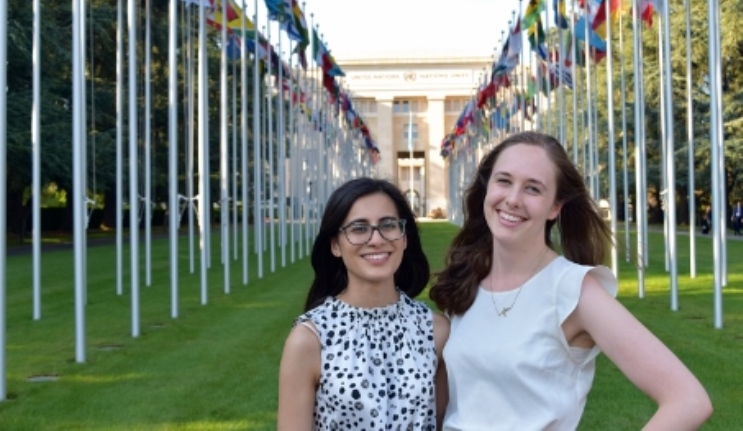 Nelson Mandela World Human Rights Moot Competition
UNIVERSITY NEWS
Nandini Bajaj and Jennifer Tridgell are two MQ Honour students who entered the Nelson Mandela World Human Rights Moot Competition earlier this year, with support from the Macquarie Law School.
Nandini Bajaj and Jennifer Tridgell represent the first team to have entered this competition from MLS and were one of only three entries from Australia. Their performance in their written memorials qualified them to be invited to the pre-final rounds, held from 17-21 July 2017 in the Palais des Nations, in Geneva Switzerland, where they presented their oral arguments to benches of human rights experts. They are the only team from Australia who competed in Geneva. The two best teams from these pre-final rounds will compete in the final before a bench of globally acclaimed international judges and officials.
Alongside the competition itself, the mooters in Geneva were exposed to the inner workings of the Office of the United Nations High Commissioner for Human Rights as well as the Human Rights Council, including personal interaction with senior staff members of both institutions, a one-day conference of experts, and a closing address delivered by United Nations Deputy High Commissioner for Human Rights, Kate Gilmore and well known human rights advocate and former judge of the Constitutional Court of South Africa, Justice Albie Sachs.
Judging by these photos, they had a great time and no doubt, proudly represented MLS.
Link to the competition website can be found here