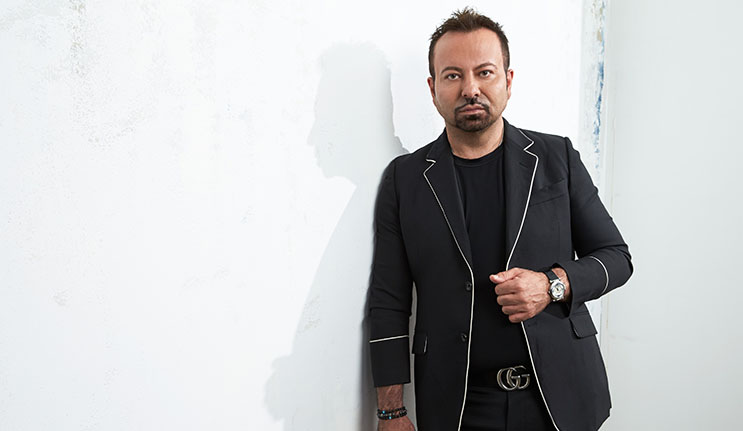 Napoleon Perdis (BA 1991)
As a valued alumni of Macquarie University, Napoleon Perdis is offering a 25% discount across his range of products instore and online.
Simply present the barcode for scanning in stores or use the code MACQUARIE25 online at Napoleon Perdis. www.napoleonperdis.com
Exclusions to the offer: gift sets, value packs, tools, kits, makeup cases, makeup services.
Offer ends 23 May 2018 and cannot be used in conjunction with any other offer.
Napoleon and Soula-Marie Perdis – MQ alumni
Napoleon (BA 1991) and Soula-Marie (B Econ 1991) Perdis  are proud alumni of Macquarie University – together they created the Napoleon Perdis cosmetic empire with cult products beloved by millions. Featuring regularly at fashion weeks around the world, netting countless awards and passing on their signature techniques to scores of students.
Fulfilment for Napoleon Perdis comes not from the accolades, but from his ability to make his cosmetics accessible to everyone.
Since founding his eponymous brand over 25 years ago, Napoleon has continued to innovate with products and a luxury experience which has never lost sight of his main focus: the customer which he refers to as "his Empress."
Whether providing a high-tech twist on ancient beauty secrets such as donkey milk in his Hydrating Milk Cleanser, snail mucus in his skin repairing BBB Cream, or unlocking the beauty therapy of the Lotus Blossom in his Rebirth Of Venus Cleaning Oil, Napoleon delivers innovation customers can feel.
With his focus on education at the forefront of his brand, Napoleon includes tips and tricks on products gleaned from his extensive world travels that aim to empower women and embrace their inner beauty, no matter their age, race or religion.
"Female empowerment is the beating heart of Napoleon Perdis. We don't have customers, we have partners; we collaborate on the quest to achieve their dreams. We see the individual – not the crowd – and we're working with every single soul to embrace their goals and aspirations.