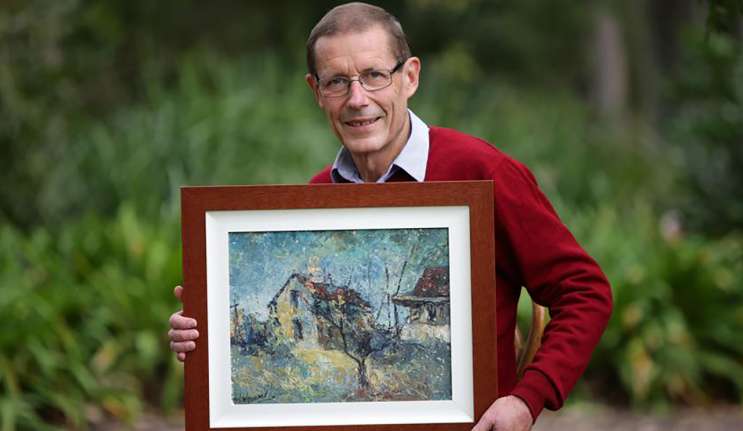 Mystery solved! Long-lost painting found
FEATURES
Macquarie University Art Gallery curators are excited to report that along-lost painting from local artist Wilmotte Williams has been found.
The painting was last seen in public in the Ryde area in the mid-1960s. As the story goes, Williams originally bestowed the piece to a boy who was eyewitness to the artist capturing a local Ryde scene. Touched by the boy's enthusiastic praise she called by his house and presented the painting to the boy as a gift.
The boy from the story (and current owner), Dr John Christie, who now lives in Newcastle, happened across a mention of the painting search in The Sydney Morning Herald.
"It was about 11pm and I just happened to see Wilmotte Williams' name. That prompted me to read further, thinking that I have a painting of hers, I wonder what this is about?
"As soon as I got to the bit about the school boy walking home from Eastwood Primary I knew it was me. I did let out a yell of shock and excitement, but unfortunately my wife had gone to bed, so only the dogs heard it," explained John.
The painting, he says, depicts an old barn and part of a cottage that previously resided on his family's poultry farm on Sobraon Road – the opposite side of Epping Road to the University.
"The farm was started by my great-grandfather, and was owned by my grandfather, father and uncle until most of it was resumed by the Department of Education in 1966 to build a high school. The school was never built, and so the land was then subdivided for housing. The rest of the land is now Dunbar Park, where the Little Athletics field is. There were market gardens further up the road," said John.
"The piece is a delightful example of Williams' quaint impressionist style. Her country-inspired depictions capture the simple beauty of the Ryde landscape during this era," explained Macquarie University Art Gallery curator, Leonard Janiszewski. "We are very glad that this little piece of Ryde history has now been discovered again."