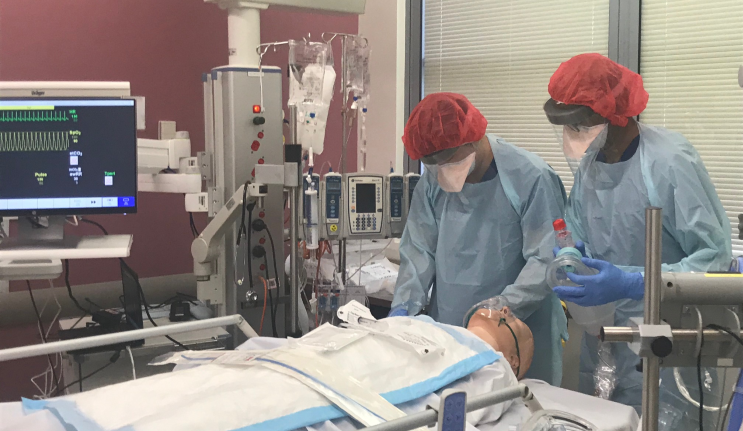 RESEARCH NEWS
May 11, 2020
MQ Health COVID update from the Deputy Vice-Chancellor, Medicine and Health, Professor Patrick McNeil
When I think about how we at the Faculty of Medicine, Health and Human Sciences (FMHHS), Macquarie University Hospital and Clinics have approached the COVID crisis as an organisation, I feel immensely proud. We have recognised the importance of keeping connected as a community through harnessing technology and regularly communicating with one another.
I have also recognised in my leadership role and through discussions with colleagues and counterparts in other universities, that out of challenge can come opportunity.
When faced with the very real challenge of bringing practical, face-to-face learning experiences which are intrinsic to a faculty concerned with health professional and medical education, we have unearthed new learning opportunities as we have been forced to adapt.
This short Zoom video I recently recorded delves further into the balance between challenge and opportunity that we face at this time and ongoing creative solutions being sought as we navigate the re-design and re-imagining of course delivery.
I also want to briefly mention the news that our colleagues in Macquarie University Hospital are beginning to gradually resume some elective surgery activity in line with Government recommendations, after they had been restricted as part of our role in ensuring full medical staff support, PPE provisions and ICU availability for any sudden surge in COVID-19 cases.
Dr Taj Saghaie provides an insight into MQ Health's COVID taskforce
With private hospitals part of the network contributing to the public health system's response to COVID-19, Macquarie University Hospital has been preparing since early March for a possible surge in COVID cases. Dr Tajalli (Taj) Saghaie, respiratory physician and interventional pulmonologist, shares his perspective on the pandemic and the measures the Hospital has been putting in place.
In March 2020, the MQ Health COVID-19 Taskforce was established to guide the Hospital and clinics during the pandemic. Consultant respiratory and sleep physician Dr Saghaie has served as the respiratory expert on the taskforce since its inception. He says that getting prepared for a surge in COVID-19 cases has many aspects to it.
"On the one hand, we have been increasing our capacity with medical equipment, personal protective equipment and beds," explains Taj, also a Senior Clinical Lecturer at Macquarie University.
"On the other hand, there has been an effort to train the current staff to be ready for the surge. We have also been discussing possible scenarios and ensuring we have a plan for every single one of them.
"In the current climate, however, the most important job everyone is focused on is to get the balance right. Obviously, despite the pandemic, other medical conditions do not cease to exist. The challenge is to continue providing the necessary service for all patients in a safe and responsible way. This balance is a moving target that the taskforce tries to achieve and maintain."
Staff are a key part of MQ Health's preparedness, with resources, reliable information and training provided to all staff to educate them about the COVID-19 infection. There has also been an effort to train staff in how best to protect themselves and patients while continuing to provide the necessary services. For example, everyone in the Hospital has been trained to put on and take off personal protective equipment in a safe and efficient way.
"Unless you were around for the Spanish flu, this pandemic is truly unprecedented for everyone," says Taj.
"A combination of factors makes this one unique and I have not encountered anything like this in my career. Outbreaks on a much smaller scale are not uncommon, and the same epidemiological principles are being followed now, but on a much larger scale.
"What makes this virus such a huge global problem is not just how deadly it is – in fact, SARS and MERS were 'deadlier' than COVID-19; if you happened to catch SARS you had a much higher chance of dying from it compared to catching COVID-19. But, in a bizarre way, the fact that COVID-19 has a lower mortality rate than say MERS or SARS has significantly contributed to its spread around the globe."
At the moment, it seems unlikely that Australian hospitals will see the kind of high levels of acute ICU cases experienced by countries like the US, Italy and Spain. The favourable situation Australia is in is largely due to an early response that implemented very strict but consistent and appropriate policies.
"Where we are heading from here, though, also depends on how we handle these restrictions," he explains. "The situation looks good at the moment but the possibility of our health system getting overrun by COVID-19 is still present.
"Looking at where we stand compared to a lot of other countries, it gives me great confidence in the system. I believe we are very much prepared for the possible scenarios as long as we take future steps in a thoughtful and considered way."
Taj and other MQ Health respiratory clinicians' work is underpinned by research. They have published more than 45 journal articles in the past two years, including practice-changing clinical research published in the most prestigious journals of the field. Their current projects continue to expand the field of interventional pulmonology and its role in the diagnosis and management of lung cancer and other chronic lung disease such as COPD and asthma.
Students of medicine and health support community during COVID
Macquarie University's FMHHS students have also been playing a vital role in supporting the community during the pandemic. Following the establishment of an MQ Health supported COVID-19 screening and testing clinic set up to service the local region, 15 FMHHS Macquarie MD students volunteered to work in the clinic.
The COVID Clinic operates out of the existing Walk in Specialist Emergency Clinic (WiSE) – an ambulatory urgent care clinic (ED alternative for less severe cases) run by Emergency Medicine Physicians.
Head of MQ Health General Practice, Professor Simon Willcock has provided leadership in the clinical planning for this clinic which officially opened on 21 March. It is GP led and predominantly staffed by nurses.
"MQ Health is contributing to the workforce for the clinic with our employed GPs and predominantly GP practice nurses at this stage," Professor Willcock explains.
After appropriate training, students help with guiding the flow, taking bookings and chasing results.
"We are very proud of our staff and students who have volunteered to be part of this initiative in contributing to the Australian healthcare system's collective response to the COVID-19 global pandemic," Director, Strategy and Planning, MQ Health, Natalie Sequeira said.
"For these students this is an exceptional career learning opportunity to be able to contribute on the frontline of a global health emergency."
Third-year medical student Po Hung Li (Will) is a volunteer at the WiSE COVID Testing Clinic In this short video, he steps through the simulated testing and scanning being carried out at the clinic. For these students, this is an exceptional career learning opportunity to be able to contribute on the frontline of a global health emergency.
FMHHS students have also been supporting the community through an MQ Health initiative for vulnerable patients during the pandemic. Physiotherapy student volunteers who have recently transitioned their outpatient appointments to telehealth are assisting patients who are apprehensive about coming to appointments due to COVID-19 and are unsure how to set themselves up for telehealth consultations. Our students have been calling patients, particularly those who are isolated or alone, to check in on their wellbeing.
Links to some Lighthouse COVID-related articles based on FMHHS research:
Mental health strategies for workers on the frontline
The missing piece in finding a COVID vaccine
How to stop COVID comfort eating
Research shows urgency for more ICU beds