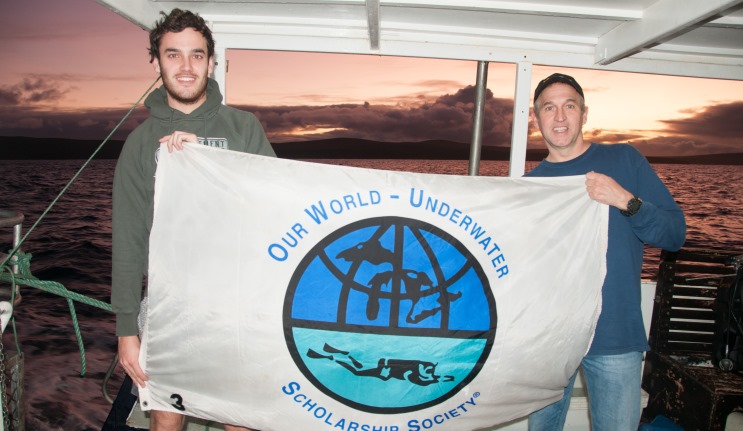 From left: Ben Buchan and Brian Skerry from National Geographic
ALUMNI FOCUS
Ben Buchan graduated from Macquarie in 2014 with a Bachelor of Marine Science, and since then has been travelling the world's oceans as part of a Rolex Scholarship.
"I have an intense love for the oceans," Ben says. "I want to see them survive and for future generations to be able to experience what I have."
Ben says that his journey, which has so far included diving with sharks and counting manta rays in Fiji started during his undergraduate studies in Marine Science.
"As part of the PACE program I was able to get work experience at the Manly Sea Life Sanctuary which really kickstarted my career as a marine biologist. No two days were ever the same. We got to maintain the exhibits, hand-feed the animals, learn a lot about their biology, and apply my university knowledge to the workplace.
"After I graduated, I heard about the Rolex Scholarship, which is absolutely amazing. I have had the best six months of my life so far, travelling around the world meeting amazing people in their fields and making really good connections."
So far Ben has been to Port Lincoln in South Australia, where he worked on Great White Sharks, Papua New Guinea, where he helped run marine education programs and Fiji where he spent six weeks working with the Barefoot Collection and the Manta Trust.
"The work involved photo identifying manta rays as they come to the island to feed and to mate. It is helping marine scientists to understand how many different mantas come to the island at different times of the year," he says.
"Working at Manly Sea Life Sanctuary really helped me to get this fellowship. I can't imagine being where I am today without that experience."