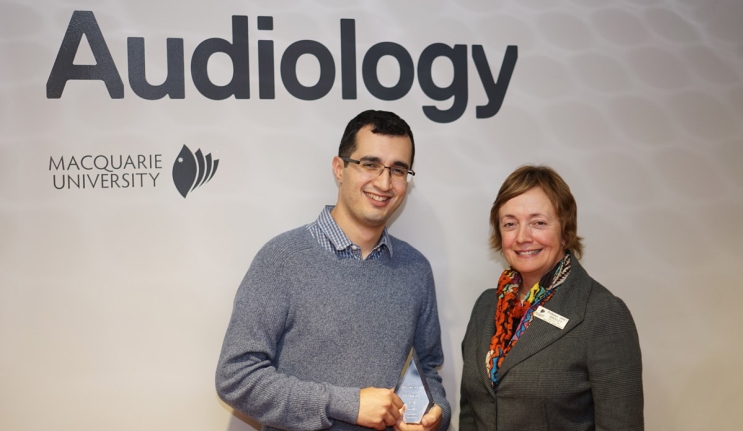 Macquarie's Speech and Hearing Clinic receives Stewart House Gold Partner Award
RESEARCH NEWS
An audiology support program from Macquarie University's Speech and Hearing Clinic has been recognised with a gold partner award from children's charity Stewart House.
The program involves clinic staff and Master of Clinical Audiology students screening the hearing and middle ear function of children visiting Stewart House, and includes some of the most disadvantaged and at risk children and young people from all areas of NSW, including a large indigenous population.
Hundreds of children have been tested to date, with approximately 20 per cent identified as needing further attention from their local audiology service, school, GP or ENT specialist.
Phil Nakad, Audiology Clinical Manager, sees it as a win-win for both Stewart House and Macquarie. "This program ensures that chronic hearing issues are detected and treated in this vulnerable group."
"The sooner such issues are treated and managed, the better a child or young person's educational and health outcomes become," Nakad explains. "Our audiology students also gain a broader practical experience, seeing cases they may not have previously had exposure to."
As well as its outreach work, Macquarie University's Speech and Hearing Clinic offers integrated speech and hearing services for all ages – from infants through to aged care. The Clinic boasts modern facilities and equipment and is located on campus in the recently opened Australian Hearing Hub.
Alumni discount to visit the Clinic
Macquarie alumni are eligible for a discount on speech and hearing services. They receive 20 per cent off general hearing services (such as tests) and 10 per cent off the cost of any hearing aids purchased, as well as 20 per cent off initial speech assessments and a flat rate of $40 for ongoing therapy sessions.
Call the Clinic for more information on (02) 9850 2900 and mention that you are Macquarie University alumni, or visit the Clinic's website for more information.
Learn more about the full range of alumni discounts, benefits and services available to you.