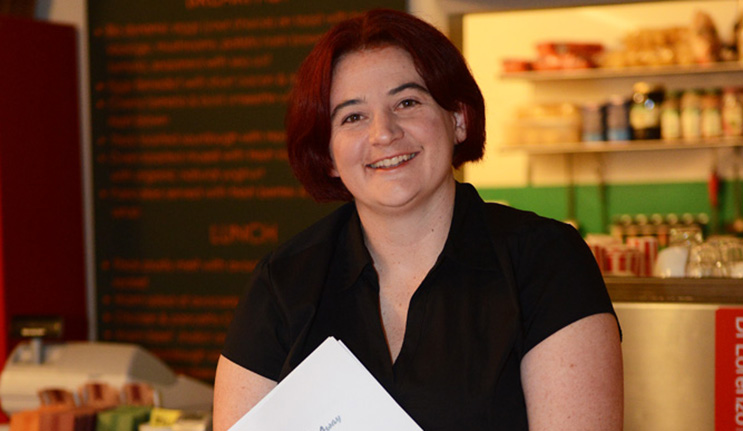 Macquarie's Rebecca Greensill writes for Home and Away
ALUMNI FOCUS
Creative writing graduate Rebecca Greensill says she is living her dream as a script editor on Channel Seven's Home and Away. She started with the Seven Network almost three years ago, and worked her way up the script department. Her first ever Home and Away episode aired on 14 May 2014
"Once I got my foot in the door, I just did whatever it took to keep it there," she says. "I worked as assistant set dresser on All Saints, Underbelly: The Golden Mile, Cops: L.A.C, and in the locations department on Rescue Special Ops and Dance Academy."
"I kept working in art departments until I got to know more people. When working on Home and Away I approached the Script Producer and asked to be considered for their Submission program. After three submissions I was offered a script and a job as script coordinator, then as a storyliner and now script editor."
For those aspiring to work in television, Rebecca has some advice. "Take any job available at first. Make an impression then take any job going. From there, as long as you keep doing a good job, you can manoeuvre into the position you really want."
"Being able to watch something you've written being filmed is an incredible experience."
Aside from her full-time job, Rebecca is a member of the Lane Cove Theatre Company, where she does acting and directing work. She directed a number of Lane Cove productions including Up for Grabs by David Williamson, Clue: The Musical, Robin Hood, Snow White, and Treasure Island, and was assistant director in The Vagina Monologues by Eve Ensler.
She has also written and directed two short films: The Lift and What Now? The latter came from a short play that Rebecca wrote for the 2010 Sydney Short & Sweet Festival. It won the audience choice award. She also wrote and directed fellow Macquarie graduate Jenny Biddle's music video Hero in Me.
She believes her postgraduate studies – she has a Master of Arts in Creative Writing – helped her on learning how to give and receive feedback.
"The support and guidance I received at Macquarie was invaluable. Being given feedback from working writers and learning how to make the feedback process work for my writing was instrumental in what I've achieved so far.
"Whether you're a novelist, screenwriter, playwright or journalist, you always get feedback at some point, and your ability to integrate that feedback whilst retaining your own voice is crucial."
If you are interested in following in Rebecca's footsteps and would like to learn more about creative writing from our courses website.