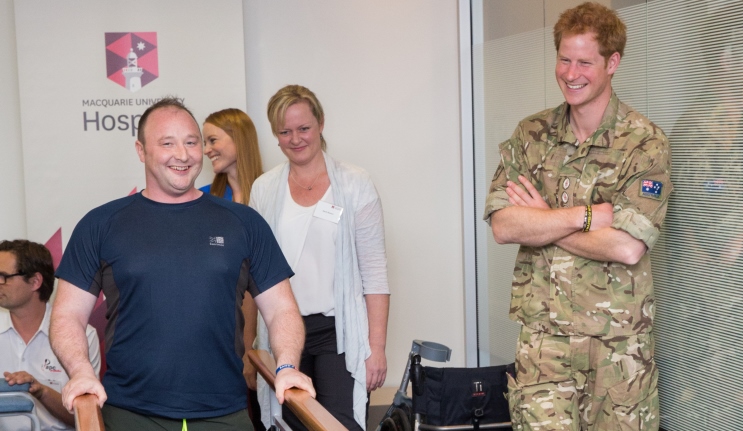 Macquarie University Hospital welcomes visit from Prince Harry
FEATURES
HRH Prince Harry recently visited Macquarie University Hospital (MUH) to meet with a British soldier who is receiving groundbreaking treatment for wounds received in Afghanistan.
The Prince met Lieutenant Alistair Spearing, who lost both of his legs above the knee in an IED explosion in Afghanistan in 2011, at MUH's osseointegration clinic. He is being treated by orthopaedic surgeon, Associate Professor Munjed Al Muderis.
Osseointegration involves an implant being inserted into an amputee's residual limb. When integrated with the bone, it allows for a simple, quick and safe connection between the stump and prosthesis, providing amputees with greater mobility, comfort and quality of life.
Lt Spearing underwent bilateral single stage osseointegration on 15 April, and had his new robotic legs fitted on 28 April. He is undergoing daily physiotherapy and is now walking short distances, which he was able to demonstrate during the Prince's visit on 7 May.
Associate Professor Al Muderis, who treated Lt Spearing, is a leading orthopaedic hip and knee surgeon and osseointegration specialist in Australia. The osseointegration clinic at Macquarie University Hospital is fast becoming a world leader in the groundbreaking technique to provide greater support and mobility for amputees.
Associate Professor Al Muderis is one of just a handful of surgeons worldwide who has special expertise in trans-femoral and trans-humeral amputations and people travel from all over the world for treatment. He has performed 115 such operations – the world's largest number by a single surgeon.
Macquarie University Hospital CEO Carol Bryant said the team was thrilled by the visit.
"We're very proud of the groundbreaking work being carried by Associate Professor Al Muderis. Our approach to treatment is to combine the best available knowledge and expertise to ensure patients like Lt Spearing receive the best possible treatment, compassion, support and care."