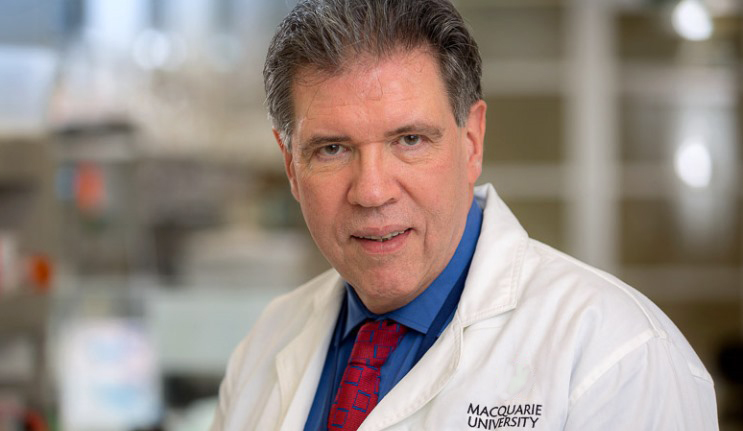 Macquarie researchers edge closer to a melanoma cure
RESEARCH NEWS
After years spent following initially promising melanoma treatments up what became blind alleys, researchers are finally closing in on a cure.
"This is an era of rapid change in the prospects of successfully treating this dangerous cancer, and of making realistic progress towards a cure of metastatic disease," says Professor Richard Kefford of Macquarie University and Melanoma Institute Australia (MIA), adding that there has been a comprehensive revision in cancer treatment triggered by discoveries in melanoma over the past four years.
"The body's immune system is in a state of paralysis when cancer is present, and previously there had been concerns that this might not have been reversible, but recently new drugs have been shown to reactivate T-cells in the immune system, which then attack and kill cancer cells."
Some of the pioneering clinical trials of these drugs, known as immune checkpoint inhibitors, were undertaken in Australia by Professor Kefford, and showed such promising results that they were fast-tracked for approval in the US and Australia.
Astonishing discoveries
Two of them, ipilimumab and pembrolizumab are now reimbursed on the Australian Pharmaceutical Benefits Scheme.
"In routine clinical practice these drugs benefit many hundreds of patients with metastatic melanoma, which was previously lethal for most patients within two years.
"We think that some of these patients are actually being cured, but cannot yet say for certain as the drugs are only fairly new. However, patients have experienced such sustained remissions that there has been a plateau in overall survival curves.
Professor Kefford says that he has been working in metastatic melanoma for 30 years, and for the first 25 there was no effective treatment.
"In that time I was Principal Investigator on more than 45 clinical trials of new drugs in metastatic melanoma, and all were negative. Against this backdrop, discoveries like these are astonishing."
Despite the great news, Macquarie researchers have discovered that up to half of patients' immune systems are relatively resistant to this treatment: they either do not respond to the drug or the cancer learns how to overcome the immune system. It is on this that Professor Kefford's team are now working, supported by a $14.5 million Federal government NHMRC grant.
"Through Macquarie's close relationship with Melanoma Institute Australia, we have access to the world's largest and best annotated long-term collection of melanoma biospecimens," he says.
"We have stored blood, tumours and other tissue samples, enabling researchers using modern genomic analysis techniques to find out why some tumours respond and others don't."
Their long-term goal is to develop precision cancer therapies that can be tailored to respond to an individual patient's tumour.
"This is a fairly new clinical problem, and work is still in its early stages," Professor Kefford explains. "Together with Professor Helen Rizos, our team in Macquarie University's Precision Cancer Therapy Laboratory is working to understand why or how some parts of the immune system remain paralysed when using the drug.
"We have also developed techniques to look at components of the immune system and the tumours themselves at the molecular level to discover how they are wired differently.
"It's very different to labs looking at animal models. The immune system is very difficult to model, and although they provide lots of leads, mice have very different immune systems to humans.
"To solve the problem of why some tumours respond to treatment and others don't, we need to understand what is happening in real people, and then discover ways of activating the immune system."