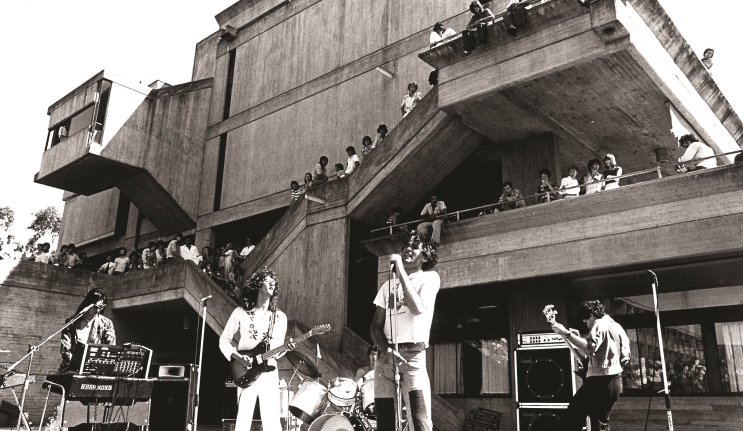 Macquarie moments
FEATURES
While learning is a serious business, life away from the lecture theatre is a different story. One of Macquarie's first students (and now Professor in Management) John Croucher recalls the tent city built by impoverished students to draw attention to the lack of student housing in the early days, and the washing lines that greeted visitors to the University's grounds.
"The students themselves were quite literally the great unwashed, showering at the faraway gym as that was all that was available to them," he laughs.
He also recalls Macquarie descending into anarchy in 1974, with students rioting mainly over plans to establish a staff club in the student union – something the staff wanted as little as the students. Police were called and 74 arrests were made, including both students and locals who came to join in the fun.
After the passion of the seventies, the freewheeling eighties were kicked off by a concert from INXS who played The Mound at Macquarie (now the amphitheatre). It began a program of live events that continued to gather steam with the growing student population and reflected the diversity, vitality and exuberance of student life at Macquarie.
Events reached their zenith with music festivals. Summersault was held in December 1995, and featured the Beastie Boys, Foo Fighters and Sonic Youth, while Equinox brought the campus to life in Easter 1997, its lineup featuring Midnight Oil, Skunk Anansie, Blink182 and Mark Seymour from the Hunters and Collectors.
By now, word of Macquarie's stellar social life had got out to other universities and Macquarie became known as Club Mac. The tongue-in cheek allusion to Club Med also referred to Macquarie's vacations, which are longer than those of other universities, as well as to its relaxed, bucolic atmosphere away from the bustle of inner Sydney, although it overlooked the fact that Macquarie didn't offer it students pre-exam study breaks like other universities.
Its reputation for offering students a cruisy lifestyle was only enhanced with the 2007 announcement of Macquarie's participation in the Scholar Ship, with students from all over the world undertaking a semester's study on the ship and attaining academic credit for their efforts.
Beset by wry speculation over how much study could have been done onboard, the Scholar Ship made only one more cruise in 2008.  By then, however, it had further enhanced Macquarie's reputation for doing things differently – and having a lot of fun in the process.
What is your favourite Macquarie moment? Why not add your story: awc.alumni.mq.edu.au/experiences