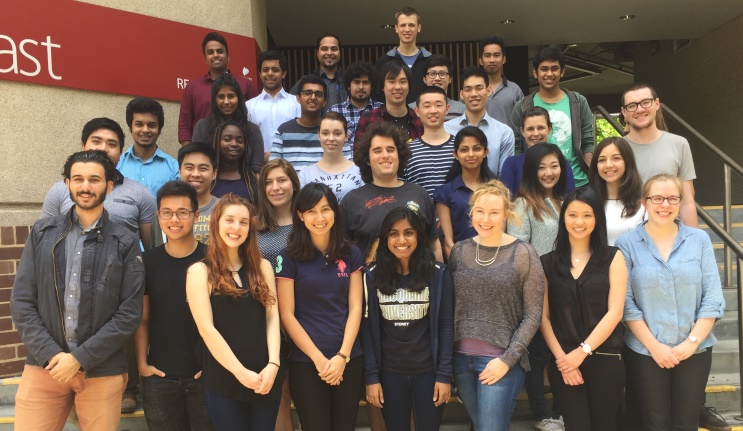 The team of Macquarie student callers
UNIVERSITY NEWS
In the midst of what seems to be a steady stream of bad news in the media, it is easy to feel overwhelmed. Studies have shown that the best way to manage this feeling is to take action: whether as a volunteer for a cause close to your heart or by helping support organisations with the power to make lasting change.
If you're a Macquarie supporter, then you are already helping to make ground-breaking discoveries in medicine as well as making education accessible to promising students, whatever their financial circumstance.
We are very grateful for your support of Macquarie and all that we stand for. But we know our work has only just begun, and over the coming months a team of students will be calling some of our alumni and inviting them to partner with the University to help change the world, one project at a time.
Alumni will be invited to contribute to The Vice-Chancellor's Fund, which supports medical or other vital research that affects us all and gives young people access higher education that they might otherwise miss out on.
Scholarships and medical research are just two of the many important causes that need our support, however. A gift to the Vice-Chancellor's Fund gives us the flexibility to help the many other needs and opportunities across the campus every year that would otherwise go unanswered, from supporting promising new research that has the power to change lives, to helping promising students who just need a hand.
A regular gift of $41.67 a month from just 34 alumni would amount to $50,000 over the next three years, which is enough to provide three students with scholarship support for the duration of their degree, or fund a researcher looking into a cure for Motor Neurone Disease.
Furthermore, the first 100 pledges of $40 per month to the Vice-Chancellor's Fund will be matched dollar for dollar for the first year by a generous anonymous donor. Imagine the impact your donation could have in improving other people's lives!
We want you to do more than speak with our student caller, however: we want you to become our partner by coming to our events, telling us what you think of our publications so we can make them even better, thinking about coming back to study here again, or helping to mentor a student who might one day tread the same path as you.
We hope that you will welcome a conversation with one of our students, whether or not you feel able to support the University. If you do not wish to receive a call, please email mqadvancement@mq.edu.au or phone 02 9850 4278.