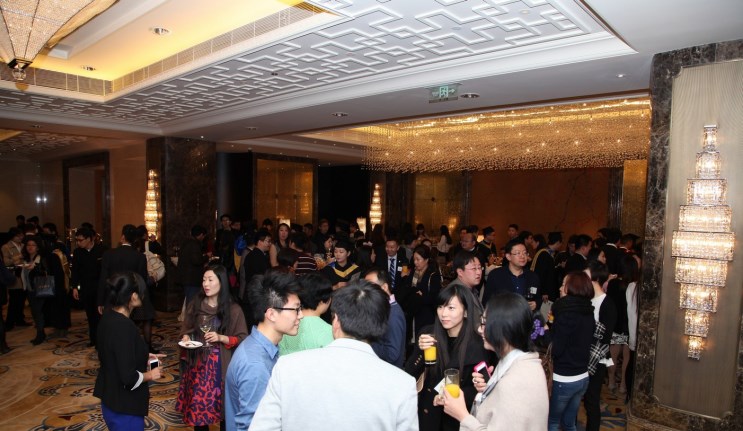 Macquarie alumni gather at the 2014 Jubilee Alumni Reception in Beijing
ALUMNI FOCUS
Six prominent Macquarie alumni have been announced as finalists in the 2015 ACAA/IELTS Australia China Alumni Awards.
Tianjin-based Jicheng Liu is a finalist in the Austrade – Australia China Alumni Award for Entrepreneurship. He is the CEO of Richfields Capital Limited, and holds a Masters of Management and an MBA from Macquarie. In the last decade, he successfully managed the IPO of Dynasty Fine Wines Group Limited and the HKD 11billion acquisition deal of Tianjin Port Development Holdings Limited, the operator of the world's fifth largest port by volume. Jicheng's current venture helps investors access capital markets and supports overseas corporations to invest in and develop Chinese markets.
Beijing-based Jerry Zhou is a finalist in the same category. A partner at JSmart Management Consulting, which provides recruitment, HR consulting, HR outsourcing and corporate training services, Jerry is also a key member of Macquarie's Beijing Alumni Network.
Beijing-based Chenggang (Joe) Zhou is the third Macquarie finalist in the Alumni Award for Entrepreneurship. He is Executive President of New Oriental Education and Technology Group Inc. and President of Beijing New Oriental Vision Overseas Consulting. He completed his Master of Science in Mass Communication at Macquarie University in 1998, working as a journalist at the BBC in London until he returned to China in 2000.
Beijing-based Jun Zou is a finalist for the Sealink and Captain Cook Cruises – Australia China Alumni Award for ICT and New Media. He is the Vice President of Futong Dongfang Technologies Pty. Ltd, a leading IT company listed in the Hong Kong stock exchange, where he established an award winning Enterprise Cloud Computing division.
Shanghai-based Clement Tsang is a finalist in the same category. The Managing Director for Global Business Network Clients and Performance Marketing atNeo@Ogilvy, in 2014 Clement supported the market launch at Phorm Technology China, an ISP-based audience behaviour targeting and adserving platform. He made a name for himself while at Macquarie thanks to his involvement in numerous student activities: he was Vice-Chair and Chairperson of the Student Council in 1996 and 1997, a Macquarie University Board Member, Director of University Orientation Week, Editor of the Student Survival Guide and Arena, the student magazine as well as Editor of the Law Society Journal.
Beijing-based Yang Zhang is a finalist in the JJL Overseas Education – Australia China Alumni Award for Corporate Achievement. A Senior Partner at Globe-Law, he completed his Masters of Commercial Law at Macquarie in 2003. Today Yang is a senior member of the All China Lawyers Association and was sponsored by both ACLA and the Ministry of Justice to represent China and complete a professional internship program in Europe in 2014.
Winners will be announced on Saturday 21 November, 2015 by the Australian Ambassador to China, H.E. Ms Frances Adamson.
Learn more about the nominees.