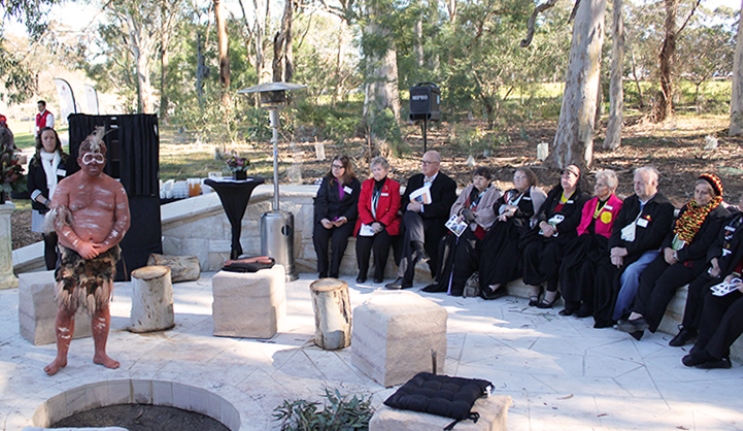 Learning circle opens
UNIVERSITY NEWS
In July a 'learning circle' was unveiled to honour our long-standing relationship with the Darug people, the traditional occupants of the lands on which Macquarie is built, and to pay respects to the elders both past and present.
Hosted by the Department of Indigenous Studies (Warawara), the launch event saw Vice-Chancellor Professor S Bruce Dowton joined by members of the Darug nation for the unveiling of the learning circle, which overlooks the lake, will be a permanent feature on our campus.
Built to provide a culturally safe place for yarns, community meetings and other Indigenous events, the sacred space acknowledges the significance of this style of sharing for Aboriginal people as a way of handing down knowledge.
The Jubilee event commenced with a Welcome to Country and Smoking Ceremony conducted by respected Elder Lexodious Dadd (known as Uncle Lex), followed by a traditional dance performance, and the unveiling of a plaque to mark the continuation of our relationship.
The learning circle builds on Macquarie's longstanding commitment to working with Indigenous people. One of the University's most important projects is the Aurora Project, which was established in 2006 as a result of a report into the professional development needs of lawyers at Native Title Representative Bodies.
Over the years it has grown to encompass other projects in the broader area of Indigenous education and Indigenous affairs generally. Today much of the Aurora Project's work focuses on strengthening Indigenous organisations by supporting their staff and facilitating opportunities for all Australians to work in these organisations.
Learn more about the Aurora Project.