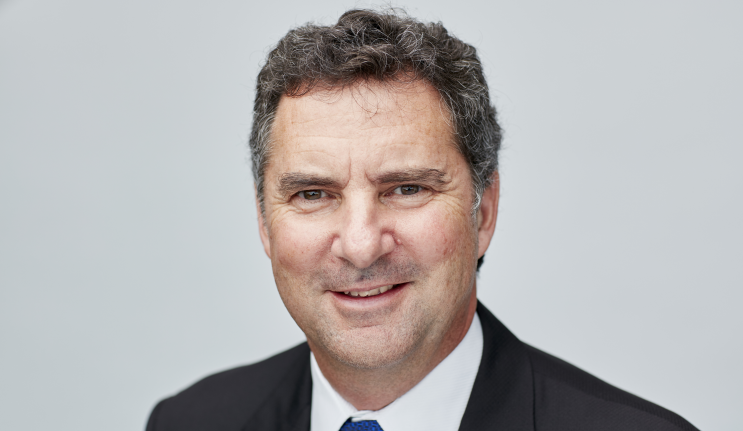 Larry Marshall
ALUMNI FOCUS
November 19, 2019
2019 Alumni Award Winner – Science & Technology
Bachelor of Science (Hons), 1985; PhD, 1990
CEO, Commonwealth Scientific and Industrial Research Organisation (CSIRO)
Collaboration, says Dr Larry Marshall, Chief Executive of CSIRO – Australia's national science agency and innovation catalyst – is where the magic happens …
Ironically, it was during his time at Macquarie University in the 1980s that Dr Larry Marshall was first introduced to CSIRO as a summer intern. He says, 'I had no idea that one day I would become the chief executive leading the organisation. I feel honoured to be surrounded every day by scientists who stand tall in research excellence globally; we're so lucky to have this incredible national brains trust.'
A scientist, technology innovator and business leader with a wealth of experience in creating new value and impact with science, Dr Marshall invented the eye-safe laser, which enabled lasers to be used safely in public. Honoured as a Federation Fellow and later as an ATSE (Australian Academy of Technology and Engineering) Fellow, Dr Marshall is a global leader in laser research and holds a PhD in Physics from Macquarie University.
He says, 'This award is a great honour, and I'm very humbled to receive it. Macquarie inspired me. Professor Jim Piper was my lecturer and mentor during my degree, inspiring me to seek the purpose of science, and in particular, to ensure that what we did became relevant in the everyday world.
'He took us to pre-eminent overseas conferences where he convinced us we were every bit as good as the great laser researchers at places like Stanford; it was transformational for young PhD students to be inspired in that way.'
With a strong network of global luminaries, Professor Piper sought to matchmake them with his young students to ensure they would integrate into the wider global community. 'He connected us into Oxford, Stanford, Cambridge, Princeton … In my case, he connected me with Professor Bob Byer, Dean of Research at Stanford and convinced him to be my PhD examiner. This led to me being offered a post-doc at Stanford, which would never have happened without Professor Piper. Pretty much every one of his students could tell a story like this.'
Above all, Dr Marshall says, 'I would not have been inspired to try and start my first company – Light Solutions, which invented the world's first solid-state green laser for the treatment of blindness in diabetics – without Professor Piper's enthusiasm and passion. He taught me that science can solve many of the world's problems; I've never lost faith in that power of science.'
And with CSIRO being charged with solving Australia's greatest challenges through innovative science and technology, it would seem the country is in good hands indeed.
Words by Megan English