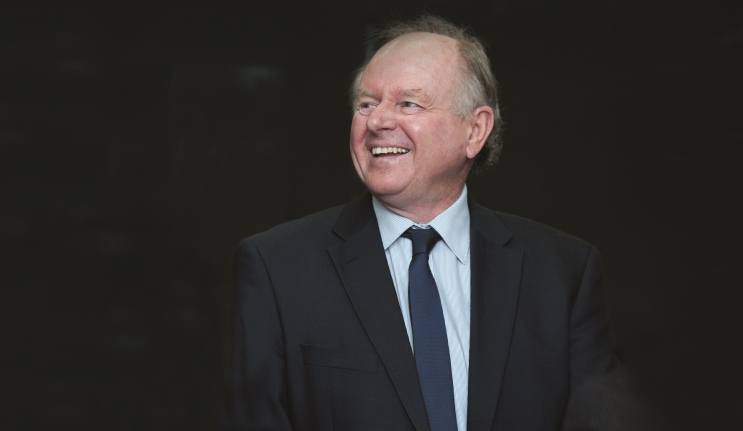 Jim Piper we salute you
FEATURES
Professor Jim Piper has retired from Macquarie University after 38 years of service.
As Macquarie University nears its 50th Jubilee celebrations, it stands poised to achieve great things.
Piper's legacy is reflected in many facets of Macquarie's emergence – its outstanding research rankings; its unique Australian Hearing Hub partnership; its pioneering Master of Research degree.
It's a bold statement, but such has been his influence on the University over a sustained period, that it is accurate to say Macquarie would not be Macquarie as we know it today were it not for Jim Piper.
A world-class researcher
What did the young laser physicist think of Macquarie University in 1975, fresh from Oxford's dreaming spires?
Piper is quoted as saying that on his arrival he could not 'believe how bad the research situation was'.
But as was typical, he put his head down and started to do something about it.
The result was hard-won funding for the ARC Special Research Centre for Lasers and Applications, which Piper – by now a full Professor and Chair in Physics – led from 1988.
One of Piper's proudest achievements was to Chair the International Quantum Electronics Conference held in Sydney in 1996, the first time the prestigious conference had been held in Australia. It attracted around 1000 delegates and is now widely hailed as being responsible for the huge leaps in optics and photonics research in Australia.
His own research contribution is sometimes overlooked given his recent executive and strategic leadership role, but it too is very significant. He has:
- authored or co-authored over 200 international refereed journal articles and 100 full-length published conference proceedings
- over 150 individual co-authors from more than 30 countries
- received nearly 3000 citations
- supervised 40 higher degree research students to completion, many of whom have established highly successful careers in their own right in research, industry, entrepreneurship and education
- invented or co-invented 14 patents.
Numerous professional awards and an honorary doctorate have followed these research achievements, as well as appointments to various national and international boards, panels and councils. He served on the Australian Research Council for 10 years, and was instrumental in the introduction of the Linkage funding scheme that we take for granted today.
If the first half of Jim Piper's career at Macquarie was largely about growing his research team's international profile, the second was about helping to guide the rest of the University to do the same.
An inspiring leader
Piper started with a stint as Head of School in 1997, but quickly moved on to a four-year appointment as Dean of the then Division of Information and Communication Sciences. In 2003 he took on the role of Deputy Vice-Chancellor-Research, for which he is now best known.
During this past decade, under his stewardship Macquarie's PhD program has doubled. More than 100 outstanding researchers from all over the world also joined Macquarie as part of the CORE program.
He has also been an innovator. He introduced the BTech degree in 1992, which established Macquarie's early engineering credentials, and the Master of Research 20 years later. The 'Macquarie Model' is now being emulated by other Australian universities.
And he has fostered partnerships. To commercialise research with industry; to bring international research students to Australia; and to bring Australia's leading hearing organisations together under one roof.
A valued friend
We look around Macquarie and see much to thank Professor Jim Piper for. A man who has served, faithfully and with great talent, every one of Macquarie's Vice-Chancellors during his 38-year career.
There are hundreds of alumni who have graduated under his watch. Please use the section below to comment on how Jim influenced your career or wish him all the best for the future.
Professor Piper, we salute you – researcher and teacher, mentor and leader, colleague and friend.