ALUMNI FOCUS
August 4, 2021
In life, there are pivotal moments. Times when everything you thought you knew is called into question, and the way you view the world changes forever. Studying in Australia was such a catalyst for Jessica Tanoesoedibjo (MIntTradeCommLaw 2015), influencing her life ever since as she ensures social responsibility goes firmly hand in hand with profit.
Some people are motivated to do good. Others put action underneath their ambitions and make good things happen. Jessica Tanoesoedibjo is one such person.
While she may have been born into an unquestionably privileged family in Jakarta – her father owns MNC Investama Tbk PT, an Indonesian conglomerate that spans media, financial services, property and portfolio investment – what strikes you most when speaking with Jessica is just how unaffected, compassionate and dedicated she is.
A high-achieving, conscientious student with an aptitude for maths, she came to Australia to undertake a Bachelor of Commerce at a Sydney university at just 16. She says, quite candidly: 'My older sister was with me for my first year and then I was alone; I didn't really enjoy it.'
In fact, it led to what she describes as an existential crisis. 'Partly because of my age, I started to question many things, including the meaning of life. But also, a lot of what we learned in finance was how to maximise profit and cut costs. It made me wonder, why do we have to accumulate wealth?'
At the same time, Jessica was serving in a youth ministry and volunteering at the Sydney Children's Hospital. 'I lost my ambitious side, and even started to fail some subjects, before I pulled myself together.
'After a lot of soul searching, I started to realise there was so much more to life than just making money. Oh, and the world doesn't revolve around me!' she says with a laugh.
Though her conversation is earnest and thoughtful, it is punctuated with bright spots. The good humour continues as Jessica explains the unspoken rule in her family that she and her four siblings must all undertake a masters degree.
Initially drawn to business law, which brought out her sense of justice, qualifying in Australian law wasn't appropriate as she knew she was going back to the family business in Indonesia. And so it was that she came across the international trade and commerce law program at Macquarie University. 'Our family business does a lot of international transactions, so it was a good grounding for me,' she says.
'I really enjoyed my time at Macquarie, but by the time I finished in 2015, my heart was set on doing a masters in theological studies at the Bible Institute of Los Angeles (BIOLA). There is a weightiness in serving others, and I wanted to be well-equipped.'
Graduating from BIOLA in 2018, and inching ever closer to her return to Indonesia, Jessica was still struggling with her true purpose. 'I was reflecting on my experiences and very concerned with what I wanted to contribute to Indonesia in particular.'
Jessica knew her parents were going to place her in the financial side of the business, but she also had her heart set on education, which she sees as a means of solving a lot of Indonesia's problems.
'Not just in terms of equipping the workforce but also containing the pandemic, for example. If people were more educated about the issue, we could handle it better. Education plays such an important role.'
And so, not one to do things by halves, Jessica started a third masters, this time online in education, again through BIOLA while working in corporate social responsibility for the MNC Group.
It was at this time that she started the Adopt a Village program, providing ongoing support rather than one-off assistance to people who live on the outskirts of Jakarta. 'It's basically a dump,' she says.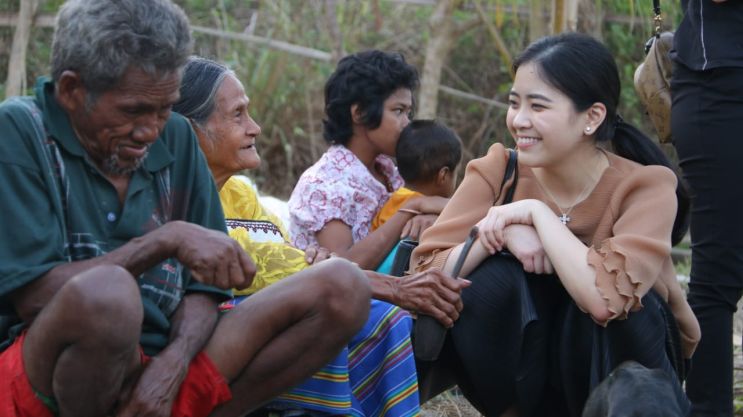 'Parents literally sift through the garbage to feed their children; kids actually play there. They don't have access to education and that's just outside Jakarta; that's how unequal Indonesia is.'
Such disparity wasn't new to her – her parents had instilled compassion in her for those less fortunate from an early age, and she had regularly spent time visiting orphanages – but now she was in a position to act.
She was also qualified, graduating from the masters in education at the end of 2020 with a major in curriculum instruction and special education, an area close to her heart.
Jessica recalls, 'In 2018, my best friend since childhood had a baby with Goldenhar syndrome. She had to fly to Singapore for medical treatment, but also because of the stigma she was experiencing here.
'Indonesia is still geared toward shame and honour, mysticism,' she explains. 'Many people attribute special needs or disability to being cursed or having done something wrong. Walking with my friend through that really opened my eyes.'
A rural family interviewed for one of the reality TV programs as part of her family's media business also had a lasting impact. 'They had a son with special needs,' explains Jessica.
'But they couldn't care for him; they didn't know how. Both parents had to work, so every day they would put him in shackles tied to a pole. One day they came home and he had been strangled,' she says quietly.
'Even though shackling is illegal, it's still common practice in rural areas because of the belief that those with special needs are possessed, or this is the only way to stop them from leaving the house or injuring themselves.
'Once I knew about this, I couldn't not do something,' she says. And she did. In 2018, as part of her family business, she started a philanthropic venture, the MNC Business and Education College, which is currently in the process of adding faculties to become an established university.
'Our goal at the school of education is to address the lack of good quality teachers in Indonesia, especially in rural areas, and ensure they have at least a basic understanding of inclusion and special needs.
'It's really important to us that whatever we teach in the classroom, students should be able to use it for the betterment of society. Our research also needs to be impactful.'
This philosophy flows through to the business school, too: 'We're training people so they can add value, not just to their own life but to the lives of others in the community as well.
'These are just some of the exciting things I get to do,' says Jessica, who also finds time to undertake personal side projects, such as helping a foundation in east Indonesia and training them in special needs credentials.
Her role at the MNC Group now encompasses financial services (fintech), where she oversees the digital transformation of the financial services system in the company – something that has become only more vital in the face of the pandemic in Indonesia and a workforce that is now largely working from home.
But the pandemic has brought other changes, too. It has allowed the company – and Jessica, who stepped into senior roles as a family member, and outsider, if you will  – to shine that care and focus internally, as well as externally.
'While a very difficult time, there have also been many positives,' says Jessica. 'When employees or their family members get COVID, we are the first to know and can provide access to hospitals and medical care. They know we care, and it has been very meaningful to walk through this pandemic with our employees and their families.'
Walking beside others in their journey, it would seem, is Jessica's hallmark, her service. In her gentle, steadfast way, she is doing all she can to make the path a little easier for as many others as possible, evening the ground as she goes.
Words: Megan English
Jessica Tanoesoedibjo graduated from Macquarie University in 2015 with a Master of International Trade and Commerce Law (MIntTradeCommLaw). She has been Director at PT MNC Kapital Indonesia Tbk since May 2018. She is also the Head of Philanthropies at MNC Peduli. Deeply passionate about people development, she also oversees MNC Business and Education College, a higher education institution established in 2018 that seeks to bridge the gap between the classroom and the workplace. Through her deep faith in Christianity, Jessica is an active philanthropist.