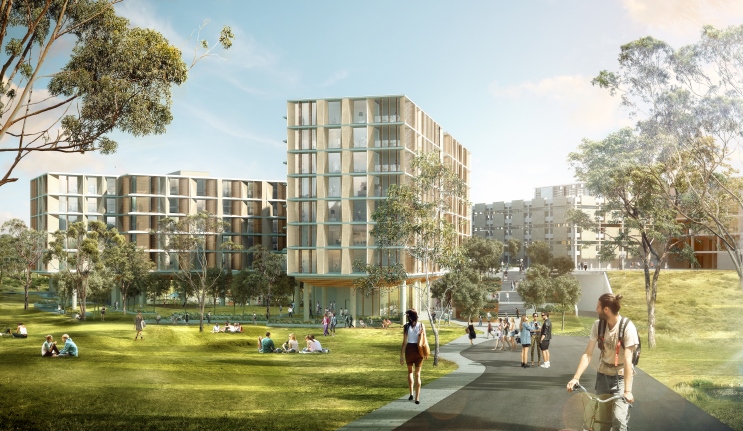 It's the same campus, just not as you know it
UNIVERSITY NEWS
Arts & culture
,
Economics/finance/investment
,
Education & teaching
,
Getting Involved
,
Global
,
Health/Medicine/Wellbeing
,
Humanities & Social Sciences
,
Law/Security/Intelligence
,
Management/Leadership/Entrepreneurship
,
Media/Communications/Marketing
,
Science/Technology/Environment
,
Sport & recreation
,
Supporting
/ June 14, 2018
To prepare for the next 50 years of growth, we are investing heavily in our campus with two major projects – the Central Courtyard Precinct and the Arts Precinct.
Within the Central Courtyard Precinct, the University is building state-of-the-art facilities for staff and students. Designed by leading design studio Architectus, the new buildings will serve a variety of functions, delivering social and educational infrastructure to the very heart of the campus.
Existing structures will be redeveloped to be lighter and brighter than their predecessors, creating vibrant and dynamic spaces for all to enjoy. Significantly, new accommodation for students will be created right at the heart of the campus.
Macquarie is also investing in a new Arts Precinct. This transformational project will consolidate 10 of 12 departments, highlighting the unique nature and focus of each. In addition, the project will deliver a new building with offices, showcase areas and a museum.
PART OF THE PLAN
Both projects are part of Macquarie's Campus Development Plan, which is helping future-proof the University by building a dynamic, sustainable world-class campus.
"The University's Campus Development Plan is connecting people and enhancing their collaboration, as well as learning and research outcomes, so that Macquarie continues to play a leading role as a place-maker, education provider, research institute and employer, both now and into the future," says Professor S Bruce Dowton, Vice-Chancellor.
The overarching plan includes several other projects focused on improving convenience, connectivity and accessibility, green spaces and sustainability. Some are already complete, such as the Macquarie University Incubator, which opened in 2017 and promptly received four awards at the Australian Timber Design Awards.
Created for students, researchers, staff, small- to medium-sized enterprises (SMEs), entrepreneurs and start-ups who are working on research or ideas that can be commercialised, a number of concepts have already been nurtured at the Incubator through to the commercialisation stage.
The Macquarie Active Zone Experience (MAZE) also opened for business and is now the new hub for student clubs and societies, with the purpose-built space above the Macquarie University Spatial Experience (MUSE) featuring a number of large areas, as well as a variety of smaller meeting rooms and event spaces.
Removal of buildings C9A and C10A (the former Campus Hub) also began at the end of 2017 to make way for an innovative new learning and teaching building, food and beverage outlets, and the first two of five student housing buildings. In place of the Campus Hub is the Campus Common, an exciting new social precinct in the centre of campus, where it will become the epicentre of student life over the next few years.
Law School of the future
Plans to redevelop the Macquarie Law School that will re-imagine the University's campus by establishing a new purpose-designed Law School building at its centre were announced in November 2017. Construction on the new building is anticipated to begin in early 2020, with completion in 2022.
"This venue will provide unparalleled facilities for contemporary modes of learning and teaching," explains Professor Dowton.
"The Law School has a rich history of contribution to Macquarie University, the lives of its students and alumni, and the legal profession. This new facility will provide a home for the Law School to ensure its trajectory as an Australian leader."
The new Law School building will be known as the Michael Kirby Building in recognition of the contributions the Honourable Michael Kirby AC CMG has made to the University, and his commitment to advancing social justice both in Australia and around the world. He served as Macquarie University Chancellor from 1984 to 1993 before going on to serve as a Justice of the High Court of Australia from 1996 to 2009.
Both the Macquarie Law School and Michael Kirby are committed to social justice as a key component of legal education, and the new Law School building will house the Macquarie Social Justice Clinic, a new initiative that allows law students to partner with public interest legal practices to service pro-bono cases, helping the most vulnerable in society.