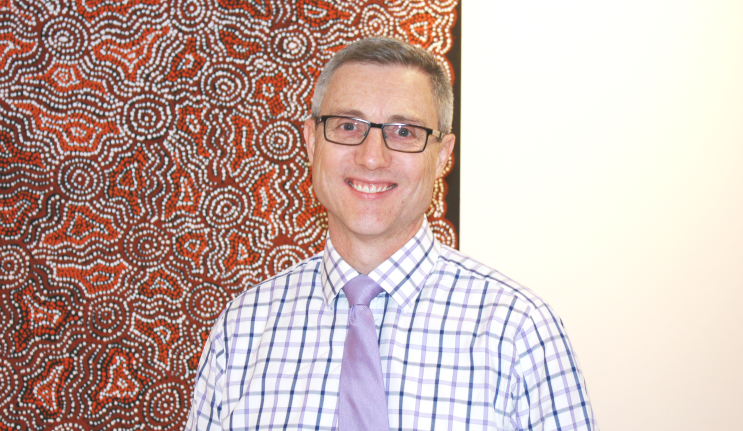 Introducing the new Director of Alumni Relations, Jeff Hargrave
FEATURES
As the new Director of Alumni Relations, Jeff Hargrave spends his days leading the University's engagement with the 170,000 people all across the globe who have benefited from a Macquarie education. He took a quick break to answer our questions.
I've been at Macquarie for…
A little over two years now.
The question I hear most often in my job is…
Within the University, it's "how can we get alumni more involved?" Outside the University, it's "do students today enjoy their time at Macquarie as much as I did?"
Outside work, you'll often find me…
Doing anything that my four-year-old tells me to do.
Name a Macquarie alumnus who impressed you recently…
I was fortunate to meet Honorary Doctorate, Margaret Pomeranz AM (B Arts 1973, D Litt 2016), earlier this year who shared her amazing love of life and her love of Macquarie at a graduation ceremony. Her infectious passion, generosity of spirit and distinctive laugh were thoroughly uplifting.
What is the piece of technology you can't live without?
I would say my iPad, though others may say the remote control as I'm a serial channel-changer when I get the chance.
The most amazing place I've ever visited is…
Lords Cricket Ground. Many years ago, a friend lent me their member's pass for a county cricket final. As a cricket tragic, there is nothing quite like the history, the pomp and the buzz of the place.
Favourite place to spend a spare five minutes at Macquarie?
Walking along Wally's Walk, particularly in autumn, or browsing in the Library.
What would you want to learn if given the chance to learn instantly?
The ability to draw, especially animation. The simple elegance of a drawn cartoon can be powerful, insightful, courageous and funny.