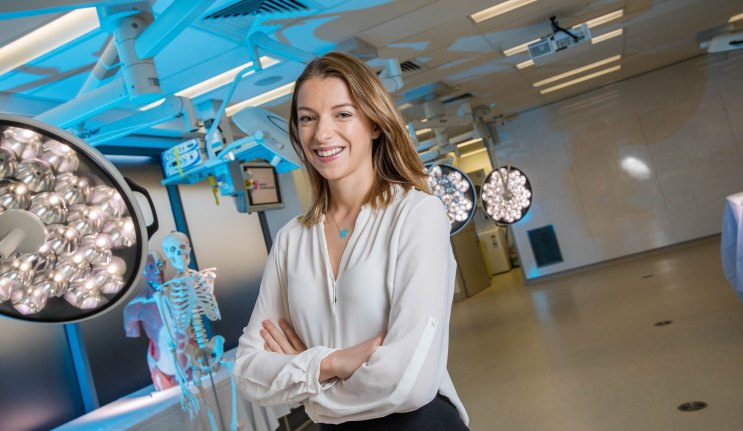 Introducing the Macquarie MD
UNIVERSITY NEWS
Macquarie University's Doctor of Medicine, known as the Macquarie MD, was launched in 2017, with the first cohort of students beginning their journey to becoming a doctor in 2018.
"The innovative, four-year graduate entry program integrates applied medical sciences with clinical sciences, professionalism, research and cultural responsiveness," explains Professor Patrick McNeil, Executive Dean, Faculty of Medicine and Health Sciences.
"Outstanding patient-centred clinical care and active health and medical research enriches student learning, which is further enhanced by Australian and international experiences, including at India's Apollo Hospital.
"This means that Macquarie MD graduates are thoroughly prepared to make a real difference to the lives of patients, their communities and the future of healthcare."
Macquarie MD students are taught at MQ Health, the first university-led, integrated health campus in Australia. Bringing together the academic excellence and world-leading research of Macquarie's Faculty of Medicine and Health Sciences with the clinical care provided by the Macquarie University Hospital, Primary Care and Multi-Specialty Clinics, MQ Health gives students the opportunity to learn in a research-active clinical environment. It also offers them the rare opportunity to follow a patient's progress from initial consultation through to treatment and discharge.
"For Macquarie MD students, clinical learning starts from day one," explains Professor McNeil. "Throughout the course, inter-professional, comparative and digital learning ensures that students graduate with the technical knowledge and professional skills they need to work across the spectrum of rapidly evolving medical settings."
GLOBAL FOCUS
Our evolving society needs doctors who can meet the needs of diverse communities, including multicultural communities in Australia.
The Macquarie MD includes Australian and extended international clinical experiences for all students, which recognises the need for future doctors to be globally engaged clinicians, as well as the significant benefits of these experiences – for students, for health systems and for the health outcomes of local and global communities.
Jordan Griffiths, Macquarie MD student and graduate of Macquarie's Bachelor of Clinical Science, says that because the Macquarie MD is such an innovative degree with a unique approach to teaching, great attention is paid to the qualities and skills a modern doctor requires, such as cultural awareness and social sensitivity, rather than being restricted by traditional teaching approaches.
"I came to realise, during my undergraduate studies, the importance of a doctor having cultural sensitivity in an increasingly globalised society, which meant the Macquarie MD's global focus was a big attraction," she says.
"I found my passion for pursuing a career in medicine while travelling, when I came across areas in which trained medical professionals can make such a difference to entire communities.
"The Macquarie MD will equip me with the knowledge and skills to appropriately help these communities in the future."
Jordan says that the cohort's small size offers another advantage to budding doctors. "Because of the personal attention that each student receives, it will be easier to forge connections with clinicians and professionals from the Macquarie University Hospital and clinics.
"I am hoping to create networks that will help me progress in the future – and make a real difference to the patients and communities I will work with."
For more information about the Macquarie MD, visit mq.edu.au/study/medicine and for more information about MQ Health, visit mqhealth.org.au
Scholarship program
To ensure that students from diverse backgrounds can undertake the course, Macquarie University offers up to 10 scholarships on a competitive basis each year. Two scholarships are available to Indigenous students, and five to graduates of Macquarie's Bachelor of Clinical Science. Two are equity merit scholarships, and one scholarship is awarded to the highest-ranked applicant to accept an offer of a place in the Macquarie MD.