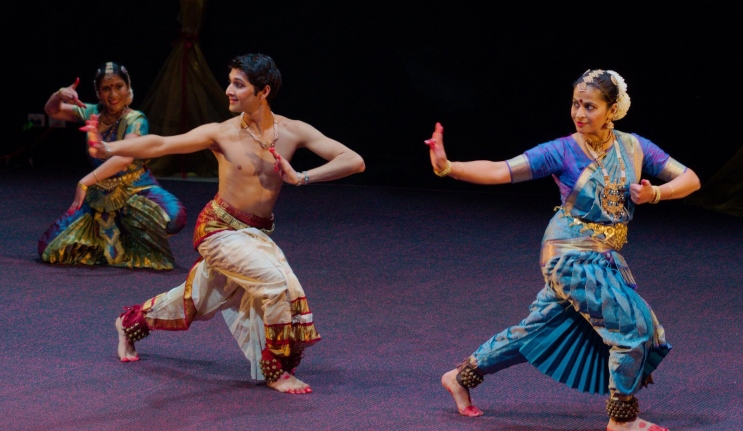 The Samskriti School of Indian Dancing performs
UNIVERSITY NEWS
Macquarie Theatre was filled almost to capacity for an Indian classical dance and music performance that formed part of a PhD research project.
Mohan Ayyar, a PhD candidate in music at Macquarie University, is exploring the complex choices a composer makes when composing for the Indian dance form known as bharatanãtyam. As part of his creative practice thesis, Mohan composed the music score for a full-length bharatanãtyam performance.
The lively performance, titled ãnanda, was a celebration of joy and happiness, enhanced by vibrant colours and rich melodies and rhythms.
Hosted by the Department of Media, Music, Communication and Cultural Studies, this performance showcases a growing area of research in the Department.
"Macquarie has had a successful record of creative practice PhD candidates for over fifteen years. Mohan Ayyar's project continues this fine tradition of combining both performance and scholarship. In addition, the performance showcased Macquarie's connections with the Indian community in Sydney," says Dr Andrew Alter, Associate Dean, Higher Degree Research.
The dances were choreographed by Hamsa Venkat, a leading bharatanãtyam exponent and teacher based in Western Sydney and the items were danced by seven senior dancers of the Samskriti School of Indian Dancing.
Watch the performance.