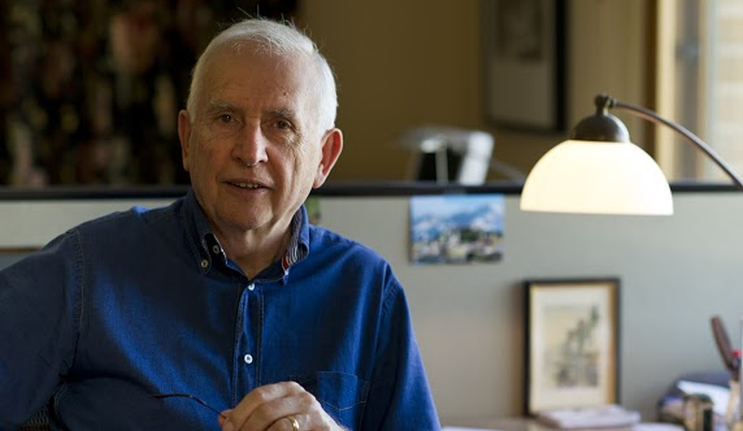 Hugh Mackay credit Alan Benson
ALUMNI FOCUS
August 30, 2019
Macquarie alumnus, psychologist, social researcher and bestselling author Dr Hugh Mackay AO (MA Philosophy 1991, DLitt 1999) has often been described as 'the man who explains us to ourselves'.  His 60-year career studying and interpreting Australian social trends has provided the nation with an understanding of its psyche and provided hope and vision for the future.
As a social psychologist, his emphasis has always been on the personal: how we as individuals, families and communities are both contributing and reacting to these trends.  In his latest book Australia Reimagined: Towards a more compassionate, less anxious society he takes a look at our nation and its issues; and offers compelling arguments for a more compassionate and socially cohesive Australia.
Best-selling author of 19 books, Hugh is also the founder of the Australian quarterly research series The Mackay Report. He was a weekly newspaper columnist for over 25 years and is a regular commentator on radio and television. Among many honorary appointments, he has been deputy chairman of the Australia Council for the Arts, chairman of trustees of Sydney Grammar School, the inaugural chairman of the ACT government's Community Inclusion Board and an honorary professor at Macquarie, Wollongong and Charles Sturt universities. He is currently a patron of the Asylum Seekers Centre.
In recognition of his pioneering work in social research, Hugh has been elected a Fellow of the Australian Psychological Society, a Fellow of the Royal Society of NSW, and was appointed an Officer of the Order of Australia in 2015.
At this year's Australia Day address, Hugh urged Australians to celebrate and be proud of their harmonious society created from ethnic and social diversity; but stressed the need to reflect on issues like growing income inequality, and signs that our society is fragmenting. He called for more compassion, kindness and mutual respect as we work to solve our problems.
You can meet Hugh and hear him speak about his latest book Australia Reimagined at our Alumni Event in Canberra on Wednesday 9 October.  Register now.
Words: Jackie Gent