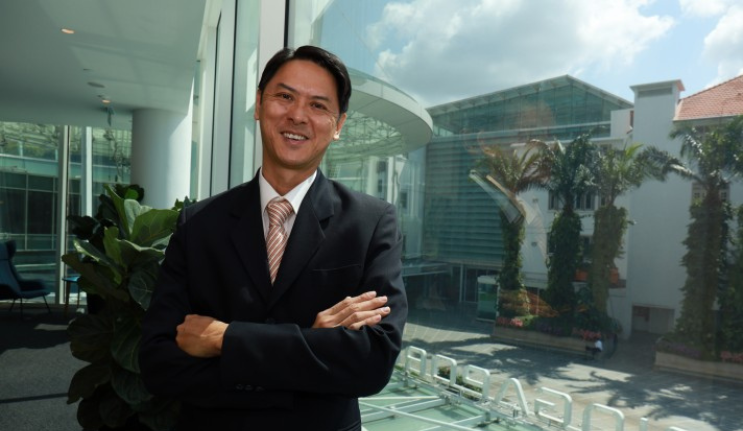 Home away from home
ALUMNI FOCUS
There's an energy and genuine collegiality that comes with being part of the MQ alumni community. And now that the worst of restrictions and lockdowns are over, many alumni are enjoying reconnecting, both in Australia and overseas. Andrew Han (FCPA), Director of Business Research at Fireblocks and MQ Bachelor of Economics (1995) graduate, recently took part in alumni events in Singapore, deepening his ties with his alma mater and affirming its value. As he can attest, you never know where life will take you after university, but MQ will remain a shared experience that will bond you – no matter where you are in the world.
Andrew Han left Australia not long after graduating from Macquarie. He explains, 'I was working for a US multinational at the time, my first job after graduation, and had the opportunity to work in Singapore – I was one of the pioneers of the Aussie exodus to Asia,' he remembers, as many of the big banks and companies like BHP moved there in the mid-2000s, but Andrew arrived in 1998.
There was another reason Han was drawn to Singapore, besides the obvious career benefits. 'I was looking to discover my Asian roots,' he says. 'I'm fourth-generation Australian, born Chinese, so was very interested in Asia and understanding where my ancestors came from.'
With some relatives still living in Singapore, Han was able to get to know his extended family, and made some other important connections, too. 'I discovered that my grandfather was also in the finance industry, more on the accounting side, and my education was in finance and accounting,' he says, referring to his Bachelor of Economics from Macquarie.
'There was that element of history there,' he says, and you can hear how rewarding that has been for him, deepening his sense of who he is. He continues, 'My grandmother was a teacher, which also explains my leaning toward training and education, in the financial field, though.
'I do feel I have discovered my roots,' he affirms. Even so, establishing yourself in a new country isn't always easy, and that's where the MQ alumni community has played such a significant role in his time overseas. 'Being here, arriving alone, the MQ Alumni Association of Singapore (MUAAS) was an important source of social contact, and still is.
'It provides a forum for those of us with a shared experience, from either early in our studies, or later, to come together,' he continues, noting that many of those he has met through the MUAAS did their masters or other post-graduate studies at Macquarie.
'I was an undergraduate student in the early stages of my life, so my impressions of MQ are very deep. I made a number of lifelong friends there,' he says, encouraging young alumni to "maintain their friendships as best they can when they graduate."
It starts to build a picture of a man who places a strong value on forming and nurturing relationships, both personal and professional, and it's perhaps not surprising to learn he was the president of Student Life, a faith-driven and student-led group at MQ, for two years.
He explains, 'We organised on-campus events, including O Week, collaborated with student groups on campus, and jointly organised retreats with Student Life groups from other universities in New South Wales.
'Those early years of leadership responsibility taught me the importance of teamwork and that you can't achieve organisational goals alone. I've always been a strong advocate of teamwork and ensuring that each team member knows they are valuable and can contribute to the organisation, no matter how small or large their role.'
Han spent 18 years with the US multinational he first started out with, a stint that took him from Singapore to the United States and back again, just as the GFC was reaching its peak. 'I stayed with them until the end of 2013 when I decided to pursue my interest in trading derivatives, and then got involved in training people in how to trade derivatives.'
Fascinated by cryptocurrencies, Han started to write on bitcoin for the Intercontinental Exchange (ICE) in Singapore and says, 'When the bitcoin derivative contract was launched here, because of the relationships I'd established, they engaged me to write the Bitcoin Weekly Commentary.'
And it was this experience that led Han to where he is today as Director of Business Research at Fireblocks, a digital asset infrastructure firm that provides custody technology to financial institutions. 'I can trace the progression of my career back to some of the relationships I've formed over the years here in Singapore,' he muses.
He says there have been times when people have contacted him through the alumni network because they need some help with something and, vice versa, he's been able to reach out to people through the alumni. 'Those who have left Australia possibly appreciate the familiarity of the alumni and that connection a lot more.'
Han suggests that with employment being a lot more dynamic since he graduated, and especially post-coronavirus, combined with people moving around a lot more again, this connection is only going to become more important. 'People are taking more risks while they're young,' he says. 'They want to do something different with their knowledge and their life and, because of that, you need people with shared experiences, like the alumni. There's a trust factor in the community, too, which can't be underestimated.'
He encourages people to get involved at the early stage of their career, but it's never too late. ''If you've just graduated, be curious. Find people you click with, who you can talk to, and who can help you network. Look to your seniors to help you orientate yourself; it's that unofficial mentoring that's so valuable, but you've got to show the initiative. It's the same for those who are more senior – we need to be willing to reach out and spend the time; often it's just a coffee. Just start the conversation.'
This is how, little by little, you build a new life in a new country, a home away from home. 'You always have it in the back of your mind that you're going to go home,' he says thoughtfully, though does admit his parents probably gave up on the idea years ago.
'It's work,' he explains. 'You want to go home in some ways, but work keeps you here, the opportunities. As I said, a lot of Australian companies moved here, so you don't want to go against the flow. Of course, I've formed relationships and friendships here, too, so I've stayed.
'I still feel very Australian,' he counters, 'but I have missed many things that have changed in Australia over the years – that's another reason why it has been so valuable to connect with the alumni and the Australian community as a whole here. The alumni also has a strong relationship with the Australian High Commission in Singapore, and they've actively engaged with the alumni.'
A vibrant yet stable country, with good work opportunities depending on your skill set and what you want to develop, the bond between Singapore and Australia has always been strong, starting with the Colombo Plan in the 1950s and now the New Colombo Plan, where Australians are heading to Singapore to experience work and Asia.
'Being here has given me a real understanding of the Asian mindset and culture, which is what I was searching for,' says Han, who with the support of the alumni has made the Lion City home.
For those considering moving to Singapore after their degree, or indeed anywhere in the world, Han's message is clear: connect with the alumni, and discover who's out there. You never know where it might lead.
The MQ Alumni Association of Singapore (MUAAS) is on LinkedIn and Facebook, and can be contacted directly by email.
Want to know more or connect with your local alumni? Visit our website for more information on our global network and keep up with alumni events in Australia and around the world.
Our quarterly newsletter, Macquarie Matters, features the latest articles, alumni profiles, research and updates, and you can also follow us on LinkedIn and Facebook. Get involved!
Andrew Han is an experienced finance professional with a proven track record in trading financial derivatives, financial market analysis, corporate credit and financial risk management, treasury, tax, compliance and operational improvements. As the Director of Business Research at Fireblocks, Andrew provides industry-leading insights for digital strategists and business leaders across traditional and digital asset native institutions, while actively engaging clients in strategic projects.
Prior to Fireblocks, Andrew was at Traddictiv as Head of Institutional Solutions, wrote the Bitcoin Weekly Commentary for ICE Singapore, and served as a former Divisional Councilor with CPA Australia in Singapore.
Andrew holds a degree from Macquarie University in Economics, majoring in Finance, Accounting and Management Information Systems. He has also earned certifications in Hedge Fund Management, Finance and Financial Management Services, and Family Office Management from Henley Business School.