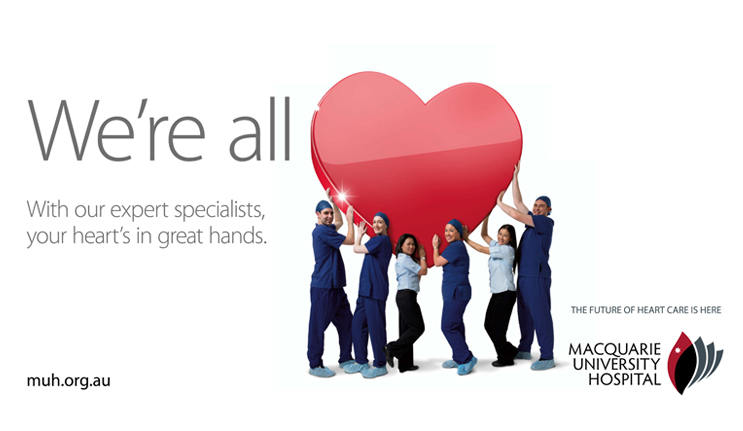 Heart Care Centre Comes to Macquarie University Hospital
FEATURES
Macquarie University Hospital (MUH) has opened a new heart care centre that will strengthen the hospital's capacity in coordinated state-of-the-art treatment for residents of New South Wales.
The unique model for heart care is based on a coordinated patient-centred approach that brings together an outstanding group of cardiothoracic surgeons, cardiologists and physicians.
Carol Bryant, Chief Executive Officer of Macquarie University Hospital, says that the multidisciplinary team approach is a key aspect of all specialist areas set up at the hospital. The concept ensures patients are treated in a coordinated way, with all areas of need addressed by health professionals working together to ensure the best possible patient outcomes.
"The new Heart Care Centre really is a first in that we are setting up a group of experts in one single location to run a comprehensive heart service in a private hospital," said Ms Bryant. "Whether a patient has high blood pressure, chest pain, an irregular heartbeat or a problem with one of their major vessels, they can come to the Centre and have experts in all relevant fields available to them. It is a truly comprehensive approach."
Patients need to be referred to the Centre by their GP. On arrival, they are assessed promptly and sent to the most appropriate expert. Follow-up treatment and care is coordinated, whether this involves seeing another physician, undergoing surgery or embarking on rehabilitation after surgery.
"There is a complete continuum of care," Bryant says. "Each patient's treatment is, of course, individualised but also coordinated in a seamless way. The idea is to reduce the difficulty and the stress of being treated in multiple locations – it's a one-stop shop."
She says that because some of the top specialists and surgeons will work from the centre, patients will have access to the best care, supported by the hospital's nursing and allied health staff.
Specialists working at the Heart Care Centre will use state-of-the-art technology already at MUH to undertake the very latest procedures, for which the hospital is becoming increasingly known. For example, the hospital is able to offer patients cardiothoracic surgery using the da Vinci Surgical System for robotic valve replacement – a novel procedure in Australia. The robotic angiography device is housed in the hospital's unique hybrid theatre, itself the first of its kind in Australia.
The robotic procedure is used for very ill or elderly patients who cannot withstand open-heart surgery, with its minimally invasive approach resulting in significantly less bleeding and shorter recovery times.
MUH is also undertaking transaortic valve implants – or TAVI – another new procedure.
"While these procedures are happening overseas and in some of our major public hospitals, like Royal Prince Alfred, they are relatively new in Australian private hospitals," says Bryant.
"Macquarie University Hospital is at the leading edge of these technologies with diverse expertise working together. The cardiothoracic surgeons and supportive specialists who will be conducting these highly technical procedures have worked together for a number of years in New South Wales and are already a cohesive unit.
"Macquarie University Hospital enables them to work under a new structure, supported by our state-of-the-art technology," Bryant explains. "The Heart Care Centre aims to become a real centre of excellence in clinical practice and academic medicine."
The Centre will also offer more standard types of treatments, including bypass surgery, stents, pacemakers, coronary artery graphs and aortic surgery, as well as interventional cardiology work.
Research will be a key focus, with all specialists gathering longitudinal data around patient outcomes in order to improve on patient treatment and management.