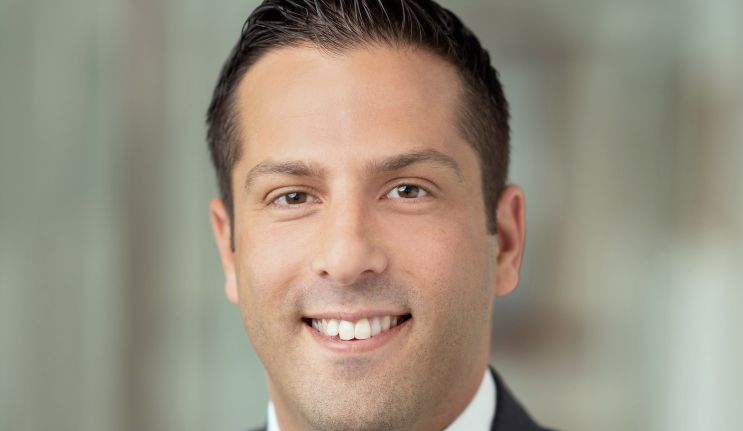 Greg Moss – Shining bright
ALUMNI FOCUS
May 11, 2021
Speaking with Greg Moss from his New York home, where he has just enjoyed the rare chance to read his son a bedtime story, it's easy to forget he is one of the youngest public company general counsels on Wall Street.
'The days are very long, but I'm home now,' he says with a touch of weariness. Still, he's generous with his time and thoughts, relaxed even, and it feels like you're speaking to someone you might have known at Macquarie uni.
And yet, Greg is the Executive Vice President, General Counsel and Corporate Secretary, and Chief Compliance Officer at Kadmon Holdings – a biotech company on the precipice of US Food and Drug Administration (FDA) approval for a hopefully life-changing drug, Belumosudil.
As he explains, 'The drug is being reviewed for approval for chronic graft versus host disease, which occurs in a small number of patients who receive stem cell transplants as part of cancer treatment. Unlike most transplants where the body might reject the transplant, in this case the transplant (the graft) attacks the host (body), including many organs.'
Thankfully, Belumosudil is showing encouraging data around getting patients back to everyday life, and the FDA has given Kadmon the date of 30 August this year for its approval timeline. 'It's been a wild ride,' says Greg. 'But we're optimistic.
'As a corporate lawyer who could be involved in any industry, it's pretty special being in one where we can actually help people,' he says genuinely. You get the feeling his work consumes him for all the right reasons.
Part of a four-person executive leadership team at Kadmon, Greg was invited to join the company in 2012 at the request of friends who started it in 2009. 'As the devil they knew and somebody they could trust, they called me,' he laughs, but truthfully, they needed someone who had high energy and was willing to tackle new areas of the business.
The company has evolved and many of the original group have moved on, but the fact Greg is still there reflects his commitment to the cause and the challenges the biotech industry presents, which he still enjoys. 'As a corporate lawyer, there are unbelievably complicated transactions taking place, countless different capital raising and equity capital markets aspects to it, and it's fascinating on the regulatory side.
'It's also very ethics driven, which is part of my approach to work,' he says, giving an insight into his philosophy on creating a psychologically safe, creative and empowered workforce.
'My approach is if you can create an environment and a culture where people feel comfortable speaking their mind without fear of ridicule or embarrassment or retaliation, you're going to create an environment where people challenge each other and the business to innovate and come up with new ideas.'
This is particularly important in biotech, he explains, where people are constantly being asked to challenge the norm. 'There's been a lot of academic work done around psychological safety, but it's something I've always thought was important.
'I've always worked with people who empowered me to speak my mind, even when I wasn't part of the C-suite, so I've tried to recreate that at both the team level and the company level.'
Actively involved in the recruitment stage, Greg believes culture and compliance start on day one, and giving people ownership and accountability leads to empowerment – and, no doubt, results. It's about believing the best in people and letting them rise to the challenge.
Something the world hasn't been short on in recent times, and New York was one of the cities worldwide hardest hit by the pandemic. Like so many other companies, Kadmon quickly transitioned to a remote work environment, but Greg says this change was made easier by the established culture and the collegiate nature of the environment already created.
'It's been an interesting time,' reflects Greg. 'The vast majority of people in New York, including me, are vaccinated now and making their way back to the office. It's proven to me how important culture is because people are excited to return to work – the energy is palpable as people begin to challenge each other again.'
It's hard to imagine what living in New York has been like for the past year, more, but Greg says, 'There's light at the end of the tunnel. I live in New York City, and there's been a bit of a spark. You're starting to see people smile, and the sunshine is finally peeking out after a long winter. I'm pretty optimistic about this year.'
Naturally, he would love to come home to Australia for a visit, but with Australia's border closures and the requirement to quarantine with young children, it may be some time before that's possible and he can reconnect with family.
The family connection to Macquarie is strong too. His mother recently retired after 15 years as department manager for the Department of Psychology at MQ, and he met his wife, a New Yorker, while she was completing her masters on campus. The pair has become part of the alumni community in New York, and it's clear Greg looks back fondly on his time at university.
The recipient of a sports and community scholarship, Greg initially enrolled in an arts degree but says he was always 'very ambitious and wanted to be hustling' and soon realised he wanted to become a corporate lawyer. So, with help from the sports association, Greg transitioned to a law degree and, as he says, has made a career out of it.
During his time at Macquarie, Greg played soccer in the state league and represented his alma mater at the uni games, often as captain. He made lifelong friends while playing, who he describes as 'an unbelievable core group of guys I've stayed really close with.'
Listening to Greg, it becomes clear just how much his friendships at Macquarie have been the bedrock of his life and informed his direction since university. 'My wife has lifelong friends from her time at Macquarie, too, and it was those friends who helped make our massive life decisions, like moving countries with our family, a lot easier.'
It seems he landed in the right place, and he remains grateful to those who helped him transition to the Big Apple. 'I'd always been told it's quite difficult for Australian lawyers to transition in New York, but I think that's changed over time.
'I've always been willing to spend time with those considering moving to New York because it was people I talked to – ex-colleagues and uni mates – who gave me the confidence to come and do everything I have.'
Firmly entrenched in the US for the meantime, Greg says he and his wife still have plenty of adventures left in them. Just closer to home for a while.
Words: Megan English