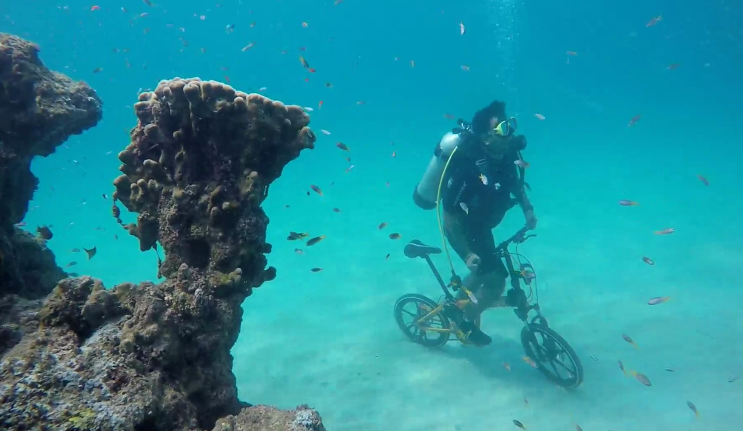 Nishant Patel
FEATURES
June 14, 2019
"The desire to succeed should be much greater than the fear of failure. No risk taken means no rewards gained." So says Nishant Patel, founder of The Grand Vacationist, an experiential travel company that designs tailored vacations and celebrations with elements of luxury, adventure and a point of difference.
Mumbai-based Nishant completed his M.A. in International Business at Macquarie University from 2005 and 2006, and refers to himself as a maverick, strategist and influencer. True to his words, he comes across as a maverick, strategist and definitely an innovator as his adventurous and adrenaline pumping story unfolds further.
How likely is it that an avid cyclist and a PADI Tech-40 Scuba Diver brings together two of his favourite sports, creating a thrilling new category of extreme adventure sport?
"The maverick in me is constantly itching to carve out new pathways and travel on roads not trespassed," he says. "The creation of Scuba Cycling, an extreme adventure sport, intends to challenge your grit, stamina and craziness to let the adrenaline gush and not just flow. Conceptualising a sport is one thing, but bringing it to reality and becoming a record holder while undertaking the adventure sport is another ballgame altogether. This requires months of training, choosing the right partners, choosing the ideal location, focusing on getting the technicalities correct, and most importantly being ready for last minute adversaries because even a marginal error can be fatal. Planning and strategy I believe, is your definite path to success."
When questioned on how he arrived at his calling to be a part of this dynamic experiential travel industry, Nishant explains, "Since the travel bug hit me, I have been actively involved in planning experiential trips with friends and family. A holiday should encompass either crazy amounts of adrenaline by experiencing adventure sports and similar activities or bring back memories of a quaint, calm and luxuriously relaxing time. Sometimes, even both. But not everyone comes equipped with ideas that can lead to these results."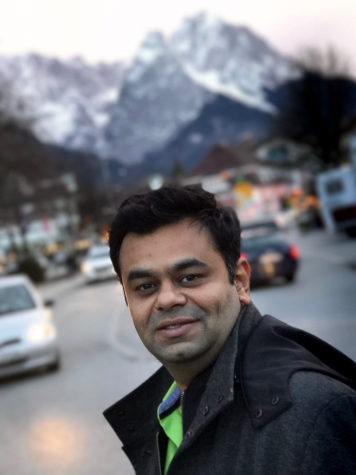 And he does credit his time spent in Australia more than a decade ago in contributing to him finding his passion. He says, "The memories and experiences while studying at Macquarie have shaped my career choices. They gave me the direction I was looking for. It was the first time, while in Australia, that the travel bug hit me. The urge to explore the varied landscapes, and the adventure sports, unheard of back in India, kept pushing me to go out and experience catapulting, snorkelling, scuba Diving, dirt bike racing, car racing, sky diving. I owe my eccentric love for adventure sports and exploring new places to Australia."
As someone who follows his heart and passion, accompanied with a never give up attitude, Nishant has a colourful collection of both personal and professional achievements including being an alumni at Harvard University, which he describes as a "dream come true."
In addition to founding The Grand Vacationist, Nishant holds the Asia Record Holder and Limca Book of Records for being the World's Fastest and Second Deepest Scuba Cyclist in the world. He is the brainchild behind engineering and introducing a new adventure 'Scuba Cycling' to the world, the Founder and Trustee with Equal Streets that bagged India 1st "Walk Vienna 21″ Jury Award from 200 entries across the globe and the Program Director in the Australian Alumni Association, Mumbai chapter, an independent body supported by the Australian Consulate General in Mumbai, engaged in networking, education, sports and cultural exchanges between Australia and India.
Talking more about his record feat he says that thankfully with the correct training and a great team, he has never had life-threatening "bends" during his multiple scuba excursions. However, Nishant admits that while he was attempting the Scuba Cycling Record, his heartbeat raced to a dangerous and potentially life-threatening level at 200+ bpm. "That is the closest I have been to facing a catastrophic event in my life, but I was trained to handle these situations and came away without any harm," he says.
When prodded more on how he brought together the Scuba Cycling concept to life, he added, "The more pertinent and dynamic part of Scuba Cycling is how we brought together Science and Engineering to accomplish such an uphill task of cycling under the sea. Cycling and Scuba Diving both use science and engineering, which is why it involves physics and building gear that is suitable for both activities. While combining the two, I began first by getting my Padi Tec-40 diving certificate a must to dive at greater depths. With a team of experts at both scuba diving and cycling, we began our journey by cycling in a pool, building resistance, keeping tabs of additional weights required under the sea, understanding the nuances of balancing a bike undersea with crazy currents and most importantly breathing and staying calm. I owe my record to the entire team and my business partner of The Grand Vacationist that stood by me during this process."
Nishant Patel is living a life full of adventurous exploration and exhilaration mixed with determination, hard work and life philosophy of 'anything is possible.'
"The only thing in life that truly scares me is the regret of not having tried to attempt things that I have dreamed of, or aspired to be. My motto is live, dream and make it happen."
About The Grand Vacationist
The Grand Vacationist is an experiential travel company offering experiences from extreme luxury to extreme adventures and everything in-between, all tailored to the guests' travel style and preferences. We innovate to create new experiences around the world with Unsame elements (insane + not same) working with tourism boards and leading experience and adventure providers.
The Grand Vacationist Story – What lies AHEAD!
The Grand Vacationist is a test lab and a stepping stone to understanding the industry, consumer behaviour and booking trends. It gives us insights to work our next disruption in Travel using emerging technologies in Travel Tech, Fin Tech and Ad Tech to usher in transparency in pricing, adding value for the guests and moving towards an on-demand experience model (or as I like to call it – Travel Moods). We're trying to bring in large-scale efficiency to the travel supply chain to make travel more affordable for leisure, adventure and corporate vacationists.
To bring about this revolution in the USD 500 billion Australasia (Australia + Asia) marketplace from Australia to India, we are engaging with government organisations, banks and venture capital firms, universities, airlines, hotel chains and experience providers across the globe to bring together the best talents and ideas. We are looking at Australia as our first footprint, before we plan and expand to other continents.
The travel industry is slated to grow from USD 8.8 trillion to USD 12.5 trillion in the next 10 years, as travellers from emerging economies with higher purchasing power set out to explore the world. Consumer preferences are leaning more towards experiential travelling, while moving away from basic travel bookings and touristy sightseeing. Tourism boards, leading travel companies and destination management companies across the world are continuously ideating to adapt to this shift in travel style led by millennials and emerging economies who have the purchasing power to demand their preferences.
The efficient and scalable way to address the challenges in order to cater to this industry trend requires the use of emerging technologies such as Secure Distributed Databases that provide more security and data privacy that further streamlines the supply chain to derive cost efficiencies; Artificial Intelligence & Ad Tech for personalized offer generation and co-curating itineraries to streamline operations for travel companies. It is a throbbing and exciting space in travel currently, as leading travel and hospitality companies are investing heavily to usher in technologies that improve the overall travel experience for both leisure as well as corporate travellers.
This is a massive endeavour I have embarked on, to live my passion for entrepreneurship and innovation, and a dream to be part of building something epic!
In the media
Nishant Patel's Record article in the Bombay Times  + Chennai Times, Goa Times & Delhi Times published on 20-Feb 2019
Scuba Cycling in the Andamans video
Linkedin: https://www.linkedin.com/in/nishant-patel-2288248/
Facebook: https://www.facebook.com/getnishantpatel
Twitter    : https://twitter.com/getnishantpatel?lang=en-in
Instagram : https://www.instagram.com/getnishantpatel/