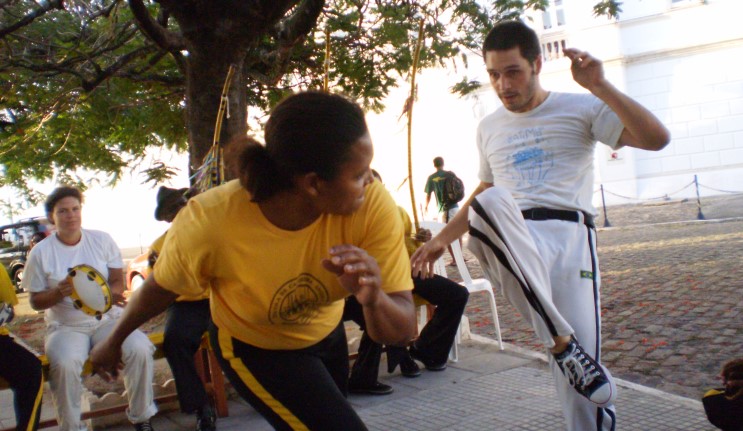 From biological to cultural diversity
RESEARCH NEWS
'Fighting' for a PhD, for most candidates, is a metaphor. For Dr Paul Mason in the Department of Anthropology, it was an everyday experience of fieldwork in Indonesia and Brazil.
Paul's research into rituals of combat-dancing took him from the highlands of West Sumatra to the shanty towns of Brazil, and he took anthropology to the limits by actually participating in the combat-dancing rituals that he studied.
In addition to extensive fieldwork, Mason also undertook archival research at the Royal Archives in Holland with a travel fellowship from the Australia-Netherlands Research Collaboration. His cross-cultural research extended into contemporary models of cultural evolution and made innovative contributions to our understanding of non-verbal human expression. Beyond his immediate research commitments, Mason also found the time to publish about overpopulation, direct intercultural conferences in France, and compose piano music for which he was awarded the QANTAS Spirit of Youth People's Choice Award.
Associate Professor Greg Downey, Mason's former PhD supervisor, is a specialist on the anthropology of sport, but their mutual interests don't stop there: they are currently working together to pioneer a new field or research called neuroanthropology.
Merging together the sciences of the brain with the study of culture, especially field research on human diversity outside the lab, Downey and Mason have been exploring the connections between human biology and cultural behaviour. Mason regularly writes for a neuroanthropology website hosted by the Public Library of Science and has just released a book, called The Encultured Brain: An Introduction to Neuroanthropology, published by MIT Press. He was also co-editor with Associate Professor Daniel Lende of a recent volume on Neuroanthropology published in the Annals of Anthropological Practice.
In between fieldwork and archival research, Downey and Mason teach Human Evolution and Diversity – a subject Mason commenced at Macquarie University in 2008. Enrollment for the subject surged from 90 in the first year to more than 500 in 2012. "Students come in expecting just to learn about human origins," he says. "In fact evolution helps to understand the way we are today, including our diversity."
Mason was awarded his PhD in April last year, and he continues to work for Macquarie University in a variety of teaching and research positions. Through his involvement in teaching human evolution, he has combined some of the latest findings in genetics to propose and publish a groundbreaking hypothesis about the patterns of interbreeding that occurred between Neanderthals and humans some 80,000 to 50,000 years ago. When the Australian science magazine Cosmos learned about the research hypothesis, they quickly published an article called "My Great-great-great Grandfather was a Neanderthal." Or, as Dr Jonica Newby on the Australian science show, Catalyst, recently reported, "It looks like our great-great-great-great-great-great-great-grandmothers took one for the team."
From biological evolution to cultural diversity, Downey and Mason's research and teaching brings together approaches from the humanities and sciences, with a Macquarie University Research Excellence Scholarship giving Mason the opportunity to develop skills across a variety of disciplines.
"Modern problems are best approached on an inter-disciplinary basis," he says. "By navigating through multiple fields of human inquiry we can better understand the world and the people in it."