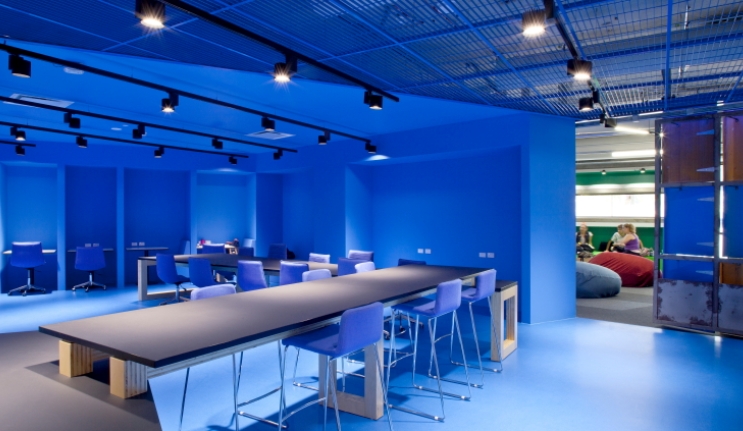 Exciting new facilities open on campus
UNIVERSITY NEWS
Macquarie has recently unveiled innovative learning spaces that promise to transform students' experience of university life, from the way they study, to the way news is produced.
Macquarie University Spatial Experience (MUSE)
The old library has been transformed with the opening of MUSE, a new social learning space custom-designed to give students a place where the boisterous, social atmosphere of the Campus Hub runs head first into the quiet study ambience of the Library.
The result is an experimental middle ground – room for individual study to coexist with group work, alongside people who learn in many different ways and at many different decibels.
Three different architects participated in workshops with Macquarie students and staff, finding out what they wanted, and each came up with their own out-of-the-box concept on what social learning looked like. MUSE is those concepts made into reality.
Take a tour of MUSE.
The Futures Lab
The Futures Lab, a real-world teaching and broadcast facility purpose built for the new professionally focused programs Master of Creative Media and Master of Future Journalism officially opened in May this year.
It is a major online digital media production facility that represents the latest in networked digital media production technologies. This state-of-the-art facility mirrors the platforms and systems in use by major broadcasters and online media outlets internationally.
"This is an important development [for Macquarie University]," said Professor John Simons, Executive Dean of Faculty of Arts speaking at the Futures Lab opening event on 14 May 2014.
"It's not only a new space. It's set up to serve a new academic program that tries to address the perhaps paradoxical situation by which traditional media outlets are actually in some way shrinking while the amount of journalism is actually growing.
"What we're really trying to do here is to address the issues of the employability of advanced journalists in this new situation," Simons added.
Interested in studying for a Master of Creative Media or Master of Future Journalism? Learn more about Master of Future Journalism and Master of Creative Media.