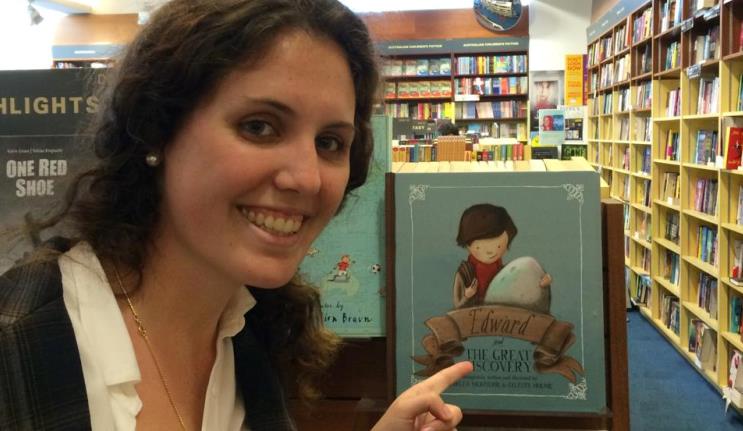 Edward and the Great Discovery
ALUMNI FOCUS
Macquarie alumna Rebecca McRitchie fulfilled a lifelong ambition when her children's picture book, Edward and the Great Discovery not only hit the shelves earlier this year, but sold out of its first print run in two months.
Rebecca, who says she wishes she could tell her young readers that she was raised by wolves in a snowy forest until she saved a village from the fiery peril of a disgruntled dragon, somewhat more prosaically studied for a Bachelor of Arts majoring in English Literature between 2008 and 2010.
She says that her great love of books made her desire to delve into writing a natural fit, and the book's creation coincided with a job in children's publishing.
The story focuses on Edward, a small boy who, despite coming from a long line of archaeologists has never discovered anything himself. Then one rainy night, he stumbles upon his first discovery, an egg. He keeps the egg warm, reads to it and loves it, while all the while wondering if it is a dinosaur or even a dragon inside. When the egg finally hatches, it's even more surprising – a dodo!
Rebecca says that she was inspired by Edward's Dodo, a famous painting created in 1626 by Dutch painter Roelant Savery, which now hangs in London's Natural History Museum, and has been the inspiration for many other illustrations of the now long-extinct birds.
The book brings together historical references with archaeology and teaches children about the differences between birds and other animals.
"Picture books can be a bit hit and miss," says Rebecca, "and really only have a window of three months to attract people's attention.
"Edward and the Great Discovery had a fantastic response, and couldn't have done better."
Edward and the Great Discovery is published by New Frontier Publishing.