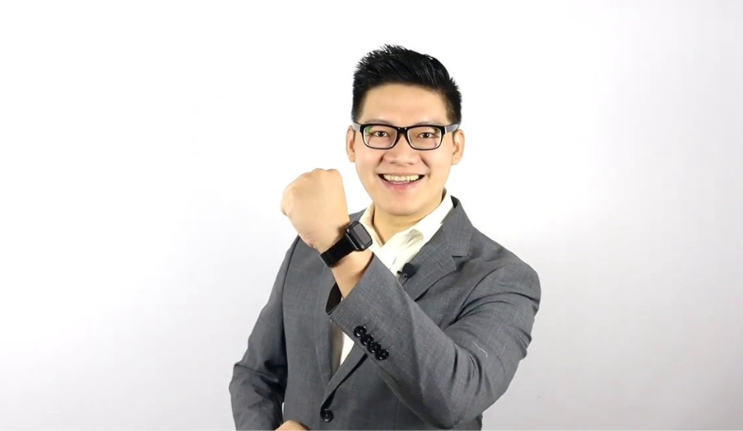 Dream big
ALUMNI FOCUS
Entrepreneurs have a specific kind of energy. With an enthusiasm for bringing new ideas into the world, they see an opportunity and run with it. Victor Osman, who graduated from MQ with a Master of International Business in 2009, has brought this quality to his role as CEO and Founder of Dreamaxtion – and it's also what's helping bring MQ alumni together as he champions the launch of the Indonesia Alumni Network.
As a teen inspired by Bill Gates, Victor Osman dreamed of one day becoming an entrepreneur and starting his own business. He now has four. There are two diamond jewellery businesses and a kids' concept store, but his main focus is Dreamaxtion, an integrated human capital solutions company that draws on his skills in IT and his passion for helping people reach their potential.
Based in Jakarta, Victor explains he and his business partner were inspired to start Dreamaxtion in 2017 because they saw the need for a more integrated and technology-driven approach to human capital management in Indonesia. 'The employment market in Indonesia is notoriously fragmented and inefficient,' he says, 'and many employers struggle to find the right talent for their needs. At the same time, job seekers often struggle to find job opportunities that are a good fit for their skills and experience.'
In fact, Victor says in Indonesia, 58% of people are mismatched to their role, and the figures are similar elsewhere in the world. It's a remarkably high figure, and one that he's keen to point out is not a reflection of the ability of the candidate or the quality of the company but rather highlights the fact that you can be amazing, but if you're in the wrong role, you won't shine.
And that's what he's out to change with careers that fit the candidate's personality and experience, so everyone can achieve their dream career – an especially fascinating concept in a post-lockdown world where younger generations are changing the work environment, fluidity is the norm, and loyalty has to be earned.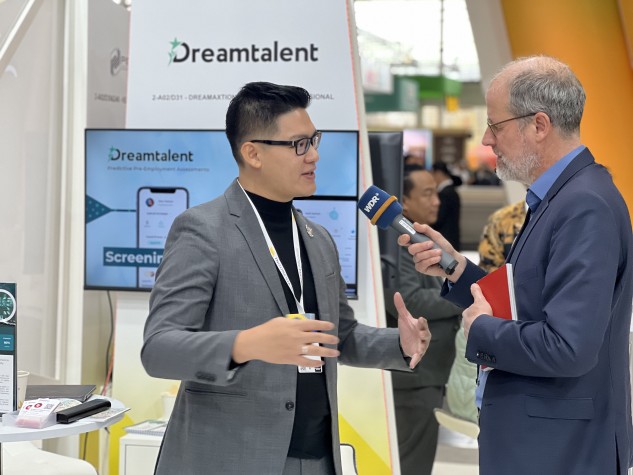 With these insights, Victor is putting the human into human capital, looking beyond the numbers and tech. 'At Dreamaxtion, we believe technology should be used to have a positive impact on people's lives and make a better world for everyone. That's why we prioritise compassion and empathy in everything we do.'
Dreamtalent is the name of the technology matching candidates and companies, which goes beyond the somewhat dated traditional psychometric testing available, and makes it easy for employers to manage their human capital. The technology has been sold into Singapore, South Korea, Japan and Germany, and as we speak, Victor is about to jet off to Hannover Messe, one of the world's largest trade fairs, with the President of the Republic Indonesia, Joko Widodo, as one of the official partner country delegates. You could say, he's living the dream.
'My goal was always to get into the international business industry,' he says, explaining that's what drew him to the Master of International Business at Macquarie to begin with. 'I knew Macquarie University had an excellent reputation in the fields of business and innovation, but I was particularly impressed by MQ's commitment to providing students with a practical and hands-on learning experience, which was important to me as an aspiring entrepreneur.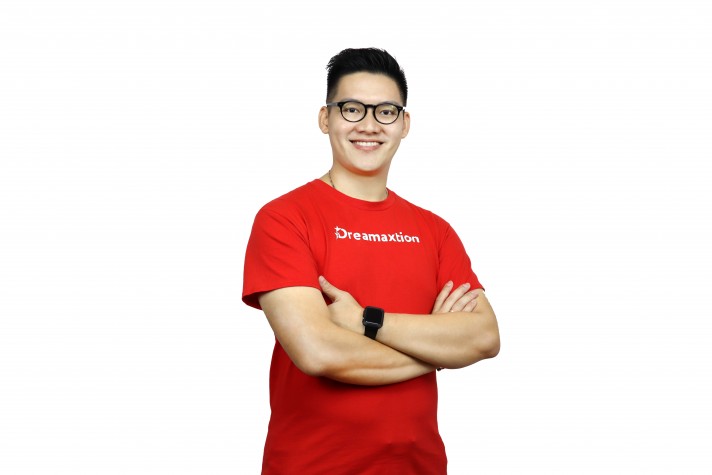 'It was like a mini, fast-tracked MBA, and gave me the technical and business skills I needed to start not just my career but my own company in the information technology industry. It gave me the confidence to pursue my entrepreneurial dreams and the knowledge to build a successful business – first my own company in Jakarta, then Singapore and Seoul, South Korea.'
While at Macquarie, Victor was also involved with AISEC, a not-for-profit organisation that strives to build leadership in youth, and was a leader in PPIA, the Indonesian Overseas Scholar Organisation. He describes his time studying at MQ as a transformative experience, one that helped him develop personally as well as professionally.
'I have many enduring memories from my time at MQ, but some of the most memorable experiences were the group projects and presentations,' he says. 'They helped me to develop my teamwork and communication skills, and provided me with the valuable experience of working in a collaborative environment. And I loved being exposed to an international mindset and attitude through multicultural friends and colleagues.'
Of course, it also helped Victor to build a strong network of contacts in his field, which he says has been invaluable in his career since, and he quickly became involved with the MQ alumni through networking events and other activities organised by the university.
However, when he returned to Indonesia, there wasn't an alumni network. Inspired to give back to MQ and help other alumni in the region connect and network with each other, true to his entrepreneurial spirit, he decided to get together with some other alumni and make it happen.
As he explains, 'We wanted to strengthen the Macquarie alumni in Indonesia, so we started a WhatsApp group and caught up online, mainly due to COVID. There were just a few of us to begin with, but we now have 100 people. Thanks to a lot of support from the university and Executive Director Philanthropy, Hedda Paisley, we've recently formed an Indonesia Alumni Network and now Committee.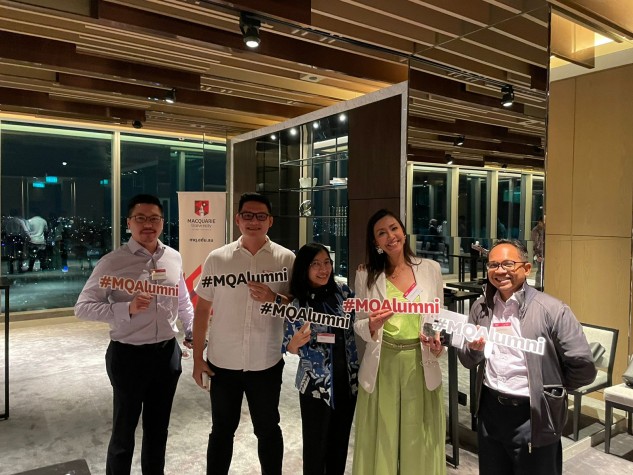 'We're all keen to grow the alumni network and build a strong community of MQ alumni in the region,' says Victor, referring to committee members Sandy Arief (PhD 2022), Emman Marpaung (MComm 2020), Sitti Rachmawati (MComm 2019), and Dessy Rosalina (MMedia 2020).
Naturally, Victor says he's keen to 'get some data on what people expect of the alumni network and what they can give to the alumni – most have high professional profiles, so I'm keen to understand how we can all give value to each other,' he says, true to form, using technology to bring people together and make a positive impact.
Still, there's nothing like bringing people together in person, and Victor says the committee is keen to start organising in-person events. 'We're especially looking forward to the official launch of the Indonesia Alumni Network in June,' he says. 'There are thousands of MQ alumni in Indonesia, and we'd encourage you all to become part of the network – it's going to be amazing.'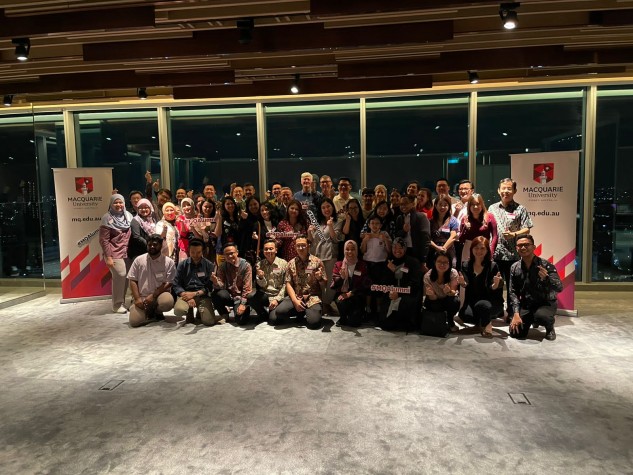 We're excited to establish the MQ Indonesia Alumni Network and would love you to be involved. Join us for our official launch event on Friday 9 June at Grand Hyatt Jakarta and catch up with old friends, make new connections, and celebrate your Macquarie experience. Register now!
You can also keep in touch with our activities via LinkedIn and Facebook. If you have any queries about the network or would like to join our WhatsApp group, please send an email.
Based in Jakarta, Indonesia, Victor Osman is an entrepreneur with a passionate focus on people, information technology and helping talent achieve their full potential. The founder and CEO of Dreamaxtion, an integrated human capital solutions company empowering people and organisations with advanced information technology, including people analytics and big data, Victor has over 14 years of experience in the people development and management industry.
Victor has held various positions with multinational corporations in Australia, Singapore and Indonesia, including SAP analyst for APP, IT auditor for Dairy Farm Singapore, development auditor and risk manager for Astra International, and head of learning and development for TransMedia.
A serial entrepreneur at heart, Victor has built several successful ventures since receiving his Master of International Business from Macquarie University Australia: THE PALACE National Jeweler, MOIR Jewellery, and PIGGABOO Kids Concept Store.
Continuously striving to challenge and grow himself, Victor founded Dreamaxtion with the dream of celebrating the human in human capital through integrated information systems and technology.
Victor is a very active member of the MQ alumni community and is now an Indonesia Alumni Network committee member.