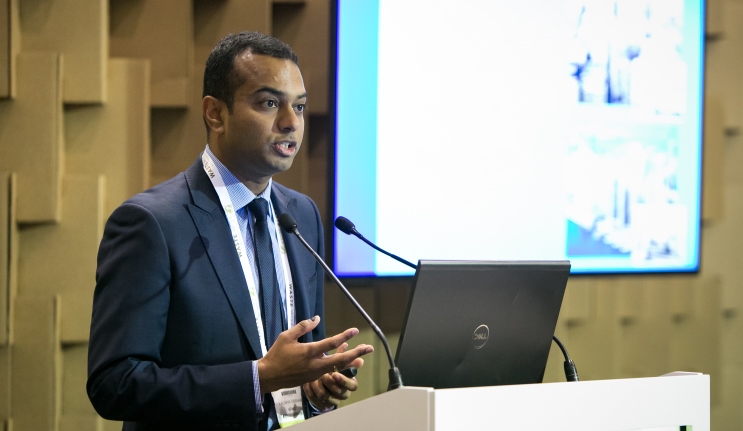 Dr Kaushik Sridhar – Helping organisations become more socially and environmentally responsible to create a better world
ALUMNI FOCUS
October 20, 2021
20 years ago, the idea of an investor assessing not just the profitability of a business, but also non-financial factors like their approach to environmental, social, and governance (ESG) issues, was an unfamiliar and often misunderstood concept. Traditional investment practices focused solely on black-and-white metrics like growth potential, profits, capital, and customer satisfaction.
These days, though, things are different. With the rise of millennial investors, more and more socially and environmentally conscious people are entering the fray, demanding a higher level of honesty and transparency from the companies they invest in. More importantly, millennial investors have become increasingly aware that the success of a company lies in more than just financial factors, but also their commitment to making the world a better place. Such examples of positive contributions may include donating to local charities, making their business practices more energy-efficient, and helping employees achieve a healthier work/life balance with flexible work arrangements.
These are just some of the many non-financial factors that investors now take into account as part of their analysis process to identify risks and growth opportunities. It's all part of a growing shift towards Socially Responsible Investing (SRI). And it's exactly what intrapreneur, public speaker, former professional athlete, and Macquarie University alumni, Dr Kaushik Sridhar, is all about.
Since completing his MBA at Macquarie University in 2008, Kaushik has been extremely prolific. He completed a PhD discussing the implications and benefits of Triple Bottom Line (TBL) reporting, an approach that maintains that companies must focus on both environmental, social, and governance factors as much as they do profits. He's also performed public speaking for thousands of people at over 30 events globally, with regular gigs at corporate events like the Energy Efficiency Expo, Australian Healthcare Week, and Ecocity World Summit. On top of this, he is currently Group Manager – Social Responsibility & ESG Reporting at Evolution Mining, where he is helping drive the development and implementation of their social responsibility strategy (including Modern Slavery, community investment and engagement), ESG strategy and reporting framework.
Suffice to say, Kaushik has been impactful for the past 13 years. But according to him, his success stems from more than his own personal drive and willingness to excel, but also the skills, knowledge, and experience he gathered at Macquarie University.
"I chose Macquarie University due to its reputation, especially for the MBA program, its 1-year MBA course (most other universities offered 2 years) and its global base which meant I would be exposed to diverse cultures, thinking, and people."
Up until the age of 23, Kaushik was a professional tennis player, coach, and general manager of a tennis academy. After his passion for the sport waned, he entered the Macquarie University MBA program, based on his two years of professional experience and being a valedictorian of an American university. Initially, he focused on finance and marketing, but soon discovered his passion for ESG topics after securing an internship with Unisys, an American-listed IT company.
 "A pragmatic passion I never knew existed propelled me through the years to do everything possible to spread awareness and mobilise change."
While completing his 1-year MBA program, Kaushik saw the experience as more than just gaining an education. He enjoyed being exposed to a diverse range of cultures, ideas and ways of thinking, building long-lasting professional partnerships, and taking advantage of the many extra-curricular activities – clubs, sports, and societies – to develop new interests and meet new people. Most importantly, he had the space to form an idea of the path he wanted to take after graduation.
When asked to reflect on some of his most memorable moments, Kaushik mentioned the first presentation he ever gave. As one of the youngest postgraduate students, he felt the need to prove himself to his peers that he could deliver value to classroom discussions. After taking the initiative to help lead his group project and present slides to the classroom, this helped him develop his communication and public speaking skills and give him a sense of belonging in a welcoming learning environment. This experience, he feels, has made it easier for him to put himself out there to the world, meet new people, and ingratiate himself with business professionals across various industries.
After completing his MBA, and a short professional stint with Unisys, Kaushik decided to pursue a PhD, despite being told by his peers that doing so would make him come across as 'too academic'. On the contrary, though, he feels that completing a PhD gave him both the technical skills and confidence to analyse and solve problems on a deeper level. Furthermore, he was able to strike the right balance between gaining an academic and professional background, which has helped him become a strong contributor to the field of ESG.
"If I could share one lesson to aspiring doctoral candidates: it is one thing to convince the admission committees that you are a good PhD candidate, but it's another to convince yourself that starting a doctoral program represents your best professional, intellectual, and personal interest."
Last, but not least, Kaushik is grateful for the various other skills he gathered along the way, such as improving his time management, critical thinking, problem-solving, and communication skills. Beforehand, when facing a challenge that just seemed impossible, he found it hard to think outside the box and approach problems from a new angle. These days, though, he has the skills and knowledge to help all kinds of business identify their sustainability concerns, and address them, head-on, with effective solutions that are tailored to meet their individual needs.
What advice does Kaushik have for students considering a career in ESG? Learn how to speak the language of ESG. Especially as it is a cross-sector field, one that requires you to understand the terminology of all kinds of businesses, non-profit organisations, and public policies. Most importantly? Know what industry you want to focus on, and adopt an intrapreneurial mindset. This way, you'll have a better chance of knowing, no matter where you end up working, how to make that job more meaningful and impactful.
"Not everyone can find their ESG job right away, but there's ways to make any job more meaningful. Bring forward your favourite cause/charity, spearhead a volunteer program, help plan a sustainability program for your company or get your company B-Corp certified."