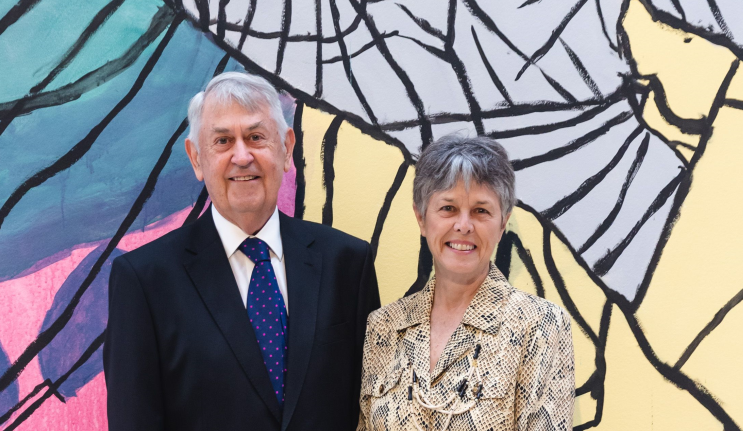 Dr Julie Vonwiller and Chris Vonwiller – Innovation and Enterprise
ALUMNI FOCUS
March 16, 2021
2020 Alumni Award Winner – Innovation and Enterprise
BA 1976, BA (Hons) 1980, PhD 1989; MBA 1975
They say two heads are better than one, but in the case of Dr Julie Vonwiller and her husband Chris Vonwiller – founders of Appen, a multi-lingual provider of high-quality training data that powers artificial intelligence for some of the world's most well-known organisations – their success, and indeed approach to life, comes down to more than the sum of its parts.
When you're considering a university degree, the advice is usually to pursue what you're interested in; the logic being that you will therefore have a rich and rewarding career. And yet, many pursue interesting degrees but struggle to translate their education into directly related employment.
Linguistics, certainly when Julie Vonwiller was studying it in the late 1970s and 80s, generally offered a straight line into an academic career. But Julie bucked this trend, rode the wave of technology, and established a Top 100 company in the artificial intelligence space.
Julie remembers, 'I started Appen, my own business, because I couldn't get a job as a linguist. At the time, my skills weren't of any interest to companies. It's been extremely exciting and rewarding to be at the forefront of this change. We were the first to employ a lot of linguists in the speech and language technology area, and were on the cutting edge of information technology, software engineering and linguistics.'
Talking to Julie and her engineer husband Chris, who left a managing director position at Telstra to join Appen when the company started to grow exponentially, you can begin to see how this turn of events played out.
Each is imbued with a natural and innate curiosity, a sense of playfulness toward problem-solving, and an openness to the cross-fertilisation of ideas. Combining this with their energy and enthusiasm, plus a track record of getting it right, the pair embodies innovation and enterprise.
'It's about having fun with how you approach things, how you can change them, improve them. It's all about looking at things differently,' says Julie with a lightness of spirit that reflects true enjoyment of what she does.
'It's definitely a mindset,' adds Chris, a natural problem-solver. 'It's about challenging yourself every day as to how you can do things better, how you can be more agile. Of course, I also ask, how can I apply technology to reduce cost and improve productivity?'.
It's an interesting question – were they innovative people at heart, or has the industry fostered this quality in them? 'It's a bit of both,' laughs Chris. 'Once you're drawn into this industry, it's like riding a tiger. If you fall off, you'll get eaten, so you hold on for dear life!
'When we started Appen, our customers were very large companies; they called the shots, the timeframes, the quality. You get drawn along with it. So we recruited some terrific people, innovated, and grew globally – at breakneck speed – but we were always aware that if we stumbled or failed, others would take our place.'
They may have been forced to innovate at times to keep up, but at its core, Appen is an innovative company. Chris explains, 'During the early days of artificial intelligence, we spotted a gap in the market. We were the first global provider of data to make the algorithms in artificial intelligence work, and that created a lot of demand from large tech firms like Microsoft. Governments were early customers too.
'It was like drinking from the firehose in the early stages – there was so much demand for what we were doing – but with Appen's creativity and innovation, we were able to provide the data that people needed in a timely fashion. It was global from day one but based in Australia, using Australian skills in linguistics, engineering, and computer science.'
Being Australian-owned is something of which Julie is very proud, and it also became a significant advantage. She continues, 'Early customers providing search engines and speech recognition systems wanted these systems trained in multiple languages. A lot of our competitors weren't comfortable working with Asian languages, which required some sophistication and computer-literate native speakers to work on computer processing.
'We could do that in Sydney better than anywhere else in the world,' says Julie. 'The city has many speakers of Asian languages and, combined with good working visa regulations, we could also employ young people from overseas. We were able to offer up to 12 languages when many other companies could only offer two. Appen now supports over 235 languages.'
As the company grew, Julie says the company moved beyond speech and text to other data modalities, such as video and image processing, which is particularly important for autonomous vehicles. There are now over 1000 professional staff and a million contractors worldwide, with facilities in the USA, the UK, China, and the Philippines.
It would seem riding the tiger has worked for the pair, but there is more to it than that. 'Innovation comes from within,' explains Julie. 'It's a mindset; it's innate. Even though we are now late career, it's still a passion of ours.'
Chris continues as Chairman of the Appen Board, but Julie retired from the company when it was floated in 2015. The two are regularly sought after for their experience and insights, something that brings light and energy to Julie when she speaks: 'The company's success has allowed us to contribute in ways other than providing employment.
'There's the Vonwiller Foundation, which we established in 2009. Its charter allows for philanthropic grants in science and technology, health and medical research, and education. Universities, hospitals, and organisations like Taronga Zoo and the Reading Clinic at Macquarie University have all benefited.
'When we give a grant, we like to be involved and give advice, especially corporate advice, so we can add value, but one of the most consistent things we're asked for is around data and automation.
'We're also involved in a lot of early-stage tech companies as shareholders, advisors and mentors in fields such as robotics, agriculture, mining and communications. Chris does a lot of mentoring too.'
Perhaps that's also part of their secret – the pair has a genuine interest in others, in new ideas, and in what is going on around them. There's a genuine desire to contribute and an aptitude for initiating change, while not being afraid of it. As Julie says to those she guides, 'If you think something is worth doing, have the courage to tackle it and see it through.'
Dr Julie Vonwiller holds a Bachelor of Arts (Hons) 1980 and a PhD (Linguistics and Psychology) 1989 from Macquarie University. In founding Appen in 1996, she envisioned a way for linguists to build their careers in a commercial setting. The company, which floated in 2015, is now one of the Top 100 companies on the Australian Stock Exchange, employing over 1000 professional staff and one million contract staff worldwide.
Chris Vonwiller, a former senior executive at Telstra, holds an MBA (1975) from Macquarie University and Bachelor degrees in Science and Engineering (Honours) from the University of Sydney.  He remains Chairman of the Board at Appen.
Together and individually, they have won numerous awards for innovation and business, and remain committed to the philanthropic Vonwiller Foundation.
Words: Megan English