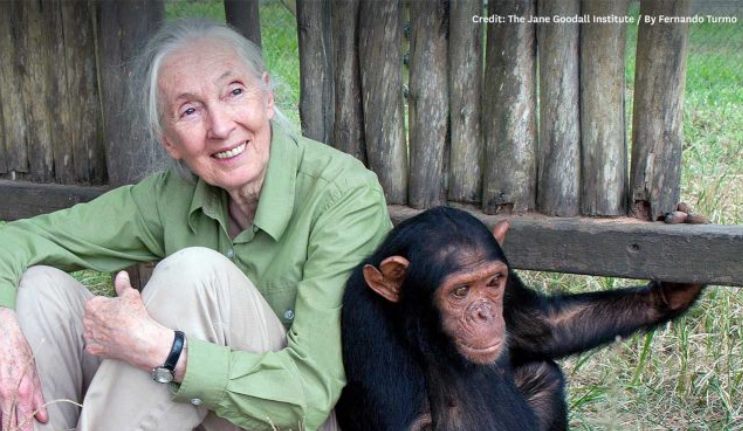 Dr Jane Goodall DBE shares inspiring message at Macquarie University
UNIVERSITY NEWS
As she greeted the sold-out crowd of more than 400 guests at her lecture at Macquarie University, Dr Jane Goodall DBE spoke in a language very familiar to her – that of the chimpanzee. Luckily for the audience, she also provided the translation of the traditional greeting shared among the animals with whom she is so familiar.
"This is me. This is Jane."
The world-renowned conservationist is in Australia speaking to audiences around the country on how people – particularly youth – can help contribute to a more sustainable future.
In 2016, the Jane Goodall Institute Australia (JGIA) launched its Roots & Shoots Australia National Youth Leadership Council (NYLC) to provide an opportunity for young Australians to pave the way for the next generation of conservationists.
"To most of us here, Jane is a personal heroine. She has come to embody the spirit of the our planet better than anyone else," said Danielle, one of the NYLC New South Wales representatives and a law and psychology student at Macquarie.
From a very early age, Dr Goodall was fascinated by animals and said the person to whom she owes the most for being where is she now is her mother, who nurtured her scientific curiosity.
"We can't choose our own mothers. I was just lucky," said Dr Goodall.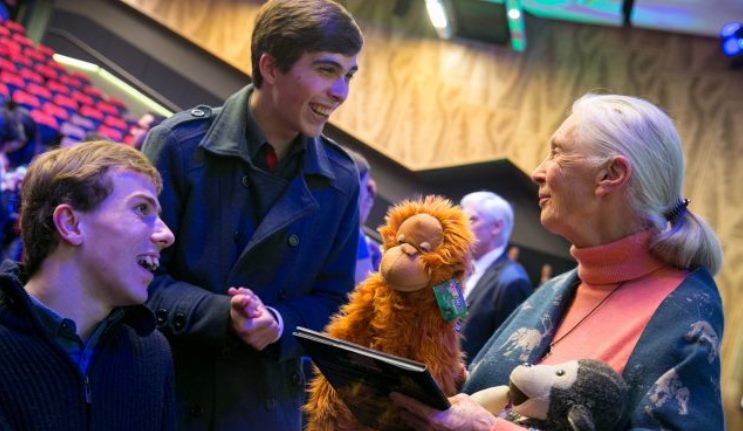 At 10 years old, Dr Goodall bought a copy of Tarzan of the Apes from a local second-hand bookshop and said that was when her dream really began.
At 23 years old, she travelled by boat from England to Africa and in Tanzania, she made her breakthrough discovery that chimps were toolmakers, thus leading to the financial support she needed to continue with her research.
She went on to receive her PhD from Cambridge University and it was during this time that she attended a conference where scientists presented confronting evidence about the plight of chimpanzees in Africa.
"I went into that conference as a scientist. I left as an activist," she said.
And activist she has become, travelling 300 days a year at 83 years old to speak to audiences around the world with her message of conservation and hope. Through her work, she has inspired generations of conservationists and rewritten our understanding of the animals to which humans are most closely related – the chimpanzee.
"If there was one person who has had an impact on people worldwide – millions if not billions of people – it is Dr Jane Goodall," said Deputy Vice-Chancellor (Research), Professor Sakkie S Pretorius. "It must be very rewarding to have that kind of career and positive impact worldwide."
So how does Dr Goodall feel about the planet's chances for a better future? Hopeful – thanks in part to the resilience of nature, the power of social media, and the difference young people can make.
"Don't give up. That's the message I take to young people around the world," she said. Later she added, "Each and every one of has this indomitable spirit inside of us. We just have to nurture it and let it out."
How can you get involved?