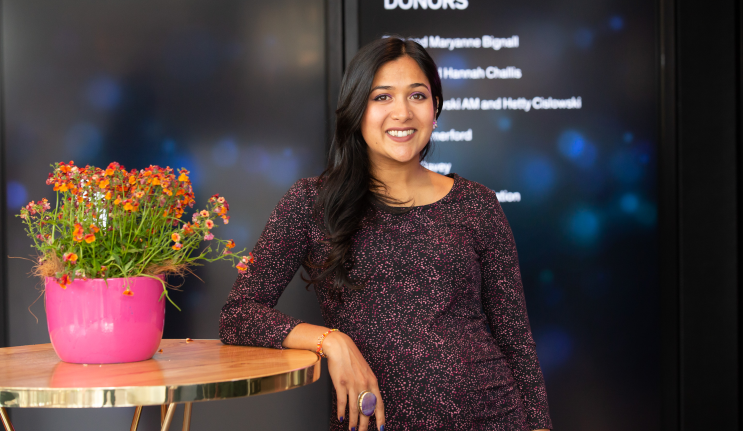 Dharmica Mistry
ALUMNI FOCUS
November 19, 2019
2019 Alumni Award Winner – Medicine & Health
Doctor of Philosophy (PhD) Medicine, 2014
Chief Scientist, BCAL Diagnostics
Dharmica Mistry would be the first to sing the praises of STEM (Science, Technology, Engineering and Maths), yet this young woman's achievements in medicine and science – and let's not forget business – are making people everywhere sit up and take notice. And her blood test for breast cancer may just change the face of women's health forever …
At ease with being known for both her research and her transition to business and entrepreneurship from academia, Dharmica says, 'I believe we need to have more visible role models in the STEM space because these are the occupations and disciplines that foster change and impact in the world.'
As co-founder and scientific advisor at BCAL Diagnostics, a small Australian biotechnology company that's developing a revolutionary blood test for the early detection of breast cancer, she speaks from experience.
Mammograms that can detect breast cancer are currently only available to women over fifty (younger women's breasts are simply too dense for the technology to be able to detect serious changes). But a blood test would be available to all women, of all ages, everywhere as part of their routine health care. Such blood tests could also be used to monitor the progression and remission of breast cancer.
'It changes the ball game in terms of screening,' says Dharmica, whose partnership with Macquarie University began almost ten years ago. She explains, 'I had intellectual property that I wanted to bring into the academic environment. Macquarie was ahead of their time in that they wanted to collaborate. As a research institution, they were there to support the academic part of my journey with no strings attached. It was so refreshing.
'During my time at Macquarie I grew exponentially. I was engaged, supported and valued; I found my confidence as a scientist and researcher. This award means that I have done my university proud and that is very special; I feel very humbled.'
Still connected to Macquarie and actively involved, Dharmica says, 'I want to pay it forward. And I hope to be a role model for young women considering a career in the sciences – I want to make geeks chic.'
Dharmica is certainly covering a lot of ground fast – and inspiring the next generation of women is just one element to her story; she's potentially saving their lives, too.
Words by Megan English