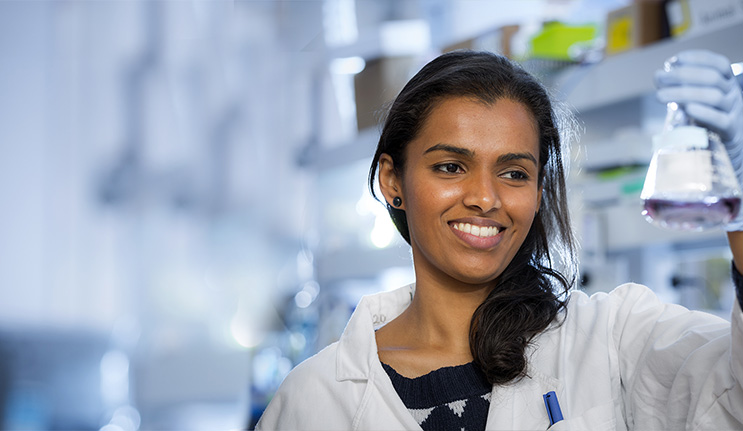 Change your life with postgraduate study
FEATURES
Postgraduate study can help you broaden your career options, open doors to more financial security, professional success and valuable business connections, while fitting around your busy life. Whether you want to study full-time or part-time, need to fit your studies around kids or a busy social life, Macquarie has a range of postgraduate study options to help you develop the balance of knowledge and skills you need to take the next steps on your career journey.
Accelerate your entry into the Bachelor of Philosophy/Master of Research program
You may already be aware that Macquarie now offers the Bachelor of Philosophy/Master of Research program, but did you know that you may be able to enter into Year 2 by applying to have advanced study in your chosen discipline recognised?
Popular with alumni in the inaugural intake in 2014, the Master of Research (known as the MRes) is normally a two-year program, comprising advanced study in a chosen discipline and includes research training components that provide a pathway to PhD candidature.
However, students who have previously completed honours, a coursework Masters program or equivalent, and meet discipline specific entry requirements, may be eligible for direct entry into Year 2 of the program.
To find out more about this program and if you might qualify for Year 2 entry, visit the MRes website. Or if you have further questions contact the MRes team online or by telephone on +61 2 9850 7987.
New law postgraduate degree focuses on international law and politics
Continuing its interdisciplinary approach to teaching and learning law, the Macquarie Law School is offering a new postgraduate degree in 2015 that addresses the growing demand from Australian and international students for a postgraduate qualification with a focus on law and politics.
The Master of International Law, Governance and Public Policy (MILGP) degree provides students with a broad, interdisciplinary understanding of relevant legal, governance and policy issues, and extends students' knowledge of international law, human rights, governance, and policy in both public and private domains.
"The MILGP program is special because students are required to take a blend of units in law and politics in their compulsory units, and may then choose elective units from either or both disciplines to complete their studies," explains Professor Brian Opeskin, Program Director of MILGP.
Learn more about this postgraduate degree from our courses website or attend the Law Postgraduate Info Night on 8 October.
Join us at the postgraduate power breakfast
Talk business over breakfast with Macquarie's Professor Kevin Jameson at the Business Postgraduate Power Info Session on 15 October
Use this fast-paced, short morning session to explore postgraduate business study options available at Macquarie, hear firsthand from our alumni, talk to academics about course choices and your interests and find out about fee help, online subjects, credit for previous studies and part/full-time study modes.
When: Wednesday 15 October 2014,7.15am – 9am
Where: Harbour 220, Level 15 Hudson House, 131 Macquarie Street, Sydney. Map
Register now, but if you can't make it why not register for our online information session on Wednesday 19 November 2014?
Sign up for online info sessions
With over 300 postgraduate coursework and research programs, Macquarie University is well placed to help you shape your own future. In October and November we will be holding a series of online chat sessions so you can ask our experts anything you need to you know about course choices and your interests, fee help, online subjects, credit for previous studies and part/full-time study modes.
Learn more about upcoming events and how they could change your life.