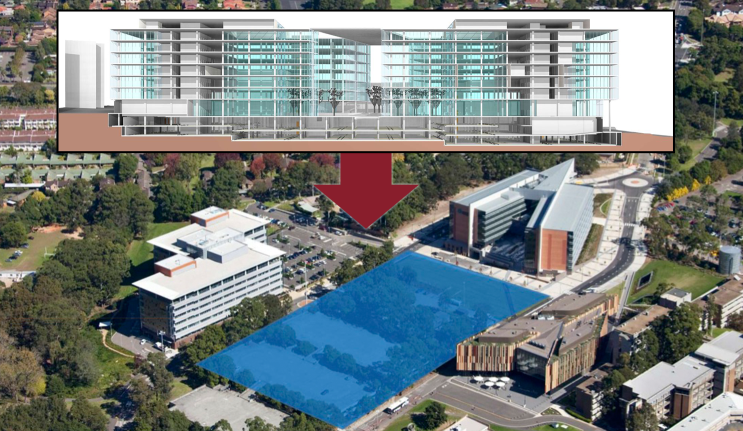 Campus plan connects community and business
UNIVERSITY NEWS
Macquarie University is developing two new commercial buildings as part of its long term vision to expand and enhance its 126-hectare campus, focusing on creating spaces that optimise collaboration and establishing an innovation nexus in one of Australia's largest business parks.
The proposed new development at 8 and 10 University Avenue forms the next phase of development under the University's Campus Master Plan. Designed to a minimum of 5-Star Green Star and 5-Star NABERS, the buildings will be part of its southern commercial precinct.  Sited adjacent to the academic core of the campus, the new Library, Cochlear Headquarters and the Australian Hearing Hub, it comprises two office towers.
Innovation nexus
Mark Broomfield, Director of Property at Macquarie University, said the focus driving the design of the Campus Master Plan is a vision surrounding place-making, creating an innovation nexus between the University and its industry partners, and making it the heart of a sustainable centre in a rapidly changing neighbourhood.
"The buildings offer an enviable location, a few minutes walk to Macquarie University Train Station (part of the new North West Metro), a major bus interchange and Macquarie Shopping Centre. They will have vibrant atrium spaces and flexible floor plates, providing every opportunity to create and promote linkages between industry and the University, with cutting edge technology being a key driver."
Macquarie Park Innovation District
The development will provide a dynamic, collaborative environment that will complement and enhance the Macquarie Park Innovation District (MPID). MPID is a partnership with six other Macquarie Park-based businesses – Optus, Johnson & Johnson, Abbott, KonicaMinolta, NAB and AMP Capital and will provide a world-class, collaborative ecosystem where researchers, entrepreneurs and some of the world's most-recognised businesses will come together to incubate creativity and find unique solutions to global and community issues.
"Ultimately for us it's about making Macquarie Park a great place to learn, work and innovate," says Professor David Wilkinson, Deputy Vice-Chancellor (Corporate Engagement and Advancement).
"The University is a crucial element of MPID, bringing our world-class research and some of Australia's brightest talent to the district. I am confident that MPID has the right ingredients to become one of Australia's foremost innovation centres."