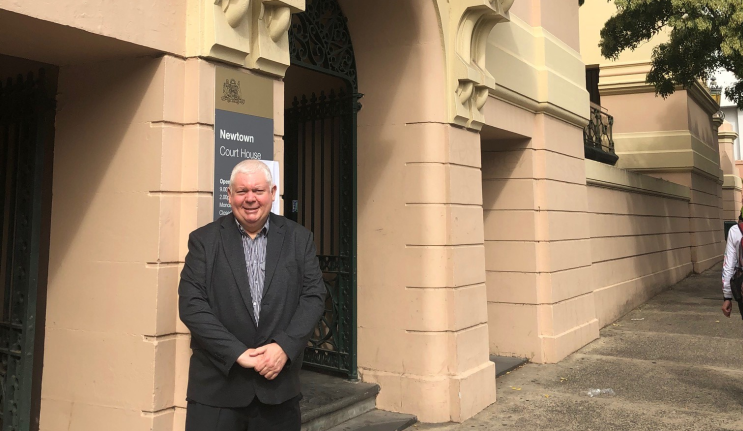 Bill Bowman
ALUMNI FOCUS
May 10, 2020
With a strong sense of social justice and compassion for those navigating the criminal justice system, alumnus Bill Bowman (MBA 2000) proves life doesn't stop after retirement – and can be even more fulfilling.
Time is a funny thing. It passes before us so slowly as to be almost imperceptible, yet when we look back on certain events, they are like a stake in the ground; a marker that shows us where we have been.
Take, for example, the year 1991. Bill Bowman was preparing to leave Melbourne for Hong Kong – and Hong Kong was preparing for the 1997 Handover; the momentous occasion when Britain returned control of the territory to China. And yet, it would be another 28 years before Bill finally returned to Australian shores permanently.
Spending an almost equal period of time in Hong Kong and Singapore, working primarily for US and European multinational companies – at first the Shell Company and most recently Infineon Technologies Asia–Pacific as a senior director – Bill has held roles in accounting, finance, audit and compliance. With a fondness for both locations he called home for so long he says, 'Everywhere has something different to offer; you make the best of each place you live.'
Bill undertook his MGSM MBA through Macquarie University mostly while he was in Hong Kong. He explains, 'As my career moved into new areas, I was interested in broadening my skills base. I knew Macquarie was running the course in Asia and it was face-to-face over weekends, which I enjoyed as I got to meet other people and interact with locals.'
Bill has maintained his connection to Macquarie and was especially active in the alumni while in both Hong Kong and Singapore. He says, 'I was keen to attend the functions held by Macquarie alumni and often made presentations and speeches. The alumni were a great support and I enjoyed meeting a diverse range of people.'
It is this genuine interest in and compassion for other people that has characterised not just Bill's career and education, but his drive to be significantly involved in volunteering work in a variety of areas over many years. He has had a long volunteer association with CPA Australia both here and overseas across a range of roles, including president of the Hong Kong/China Division, and he was also treasurer of the Australian International School in Hong Kong.
Holding board positions on the Association for Persons with Special Needs (APSN) in Singapore, Bill was also a Grassroots Leader under the People's Association ambit in the Lion City, assisting residents and providing a link between the local community and government.
It was also while in Singapore that Bill's long-held interest in law culminated in him completing a Master of Laws (LLM) in Cross-border Business and Finance Law in Asia from Singapore Management University (SMU). He separately attended some criminal law units (also at SMU) due to his interest in criminal law and his strong belief that all people, regardless of background, deserve what he describes as 'a fair shake from the criminal justice process'.
He is quick to mention that although he has a law degree, he sees himself more as an accountant and is 'not a lawyer per se'. He does, however, 'particularly enjoy volunteering in charitable roles and helping people caught up in the criminal justice system.'
While in Singapore, he volunteered as an Appropriate Adult with the Law Society's Pro Bono Services, accompanying those with cognitive challenges at police interviews to ensure equity and fairness throughout the process. He was also a Community Befriender for the Singapore Prison Service, where his role was to foster a meaningful relationship with repeat drug offenders six months prior to release as well as six months after.
Of this time he says, 'You were a friend; someone in the community ex-inmates could rely on upon release. By offering guidance and opening up new networks to people, many can stay free from drugs and avoid going back into the system.'
Talking to him belies his genuine desire to reduce recidivism and support people within the criminal justice system: 'It is a very personal side to the court and prison system; you can directly help people.'
It is his sense of social responsibility – and social justice – that most characterises Bill Bowman. He reflects, 'People need to be given a second chance and a hand up to come out of the system. As a society, we have an obligation to those who need help – and it benefits society for people to recover and contribute to society once again.'
Yet, it would seem Bill has benefited from the experience too. As he explains, 'We tend to stick with people like ourselves – we remain within a very insular bubble. But volunteering in this way gives you a greater understanding of who's out there and what people are struggling with.'
There is no doubt his experiences and the relationships he fostered have stayed with him. And despite what might seem from the outside a rather risky, or even dangerous situation to him personally, he says: 'People genuinely appreciated what you were doing; they knew you were a volunteer and respected that.'
Although Bill retired in 2018, he says, 'I am just as busy in retirement as when I was working full-time.' Having returned to Sydney, he is enjoying the open spaces again and time to ride his bike on Sydney's foreshores. He is also a choir member of Sydney Philharmonia Choirs, and says there is 'no excuse for being bored in retirement.'
A man of his word, Bill quickly resumed his volunteer duties back in Australia as a board member with the Hunter Community Legal Centre. He also continues his work in court support with the Community Restorative Centre (CRC), principally assisting at Newtown Magistrates Court in Sydney, and volunteering with the Intellectual Disability Rights Service Justice Advocacy Support (IDRS JAS).
As Bill speaks, it is easy to imagine him sitting beside an offender who is overwhelmed and intimidated by the police and court system. His gentle manner, his quiet reassurance in his explanation of the system and process and, above all, his impartial and non-judgemental guidance at this most difficult time.
Ever humble, Bill says, 'You truly understand the meaning of the John Bradford quote, "There but for the grace of God, go I." By the time I see people, they have had a number of things go wrong in their life. You understand that people can be victims of circumstance – many didn't start out on a level playing field – and you become more sympathetic to those who find themselves in trouble; we owe people a break.'
It is, however, work that requires strong boundaries and much patience. 'It is hard watching people when they are being unhelpful to themselves, but very rewarding when they start to understand what they need to do to change their life,' says Bill.
Unfortunately, Bill's volunteering is currently on hold as social distancing becomes an increasing reality for Australia and Covid-19 sweeps across the world. Having lived through the SARS outbreak in Hong Kong in 2003, the epicentre of the deadly epidemic, Bill calmly concedes these restrictions on our everyday life are less confronting for him.
'You know they are part of the solution, and you know you just have to comply. They are very standard for this kind of situation and once you have taken these measures, eventually, it will pass. It's going to take a while, but it will pass.'
And in his words, I understand what others before me have understood about Bill Bowman; the light he shines in the darkness and the guiding hand up that he offers to so many.
 Words: Megan English