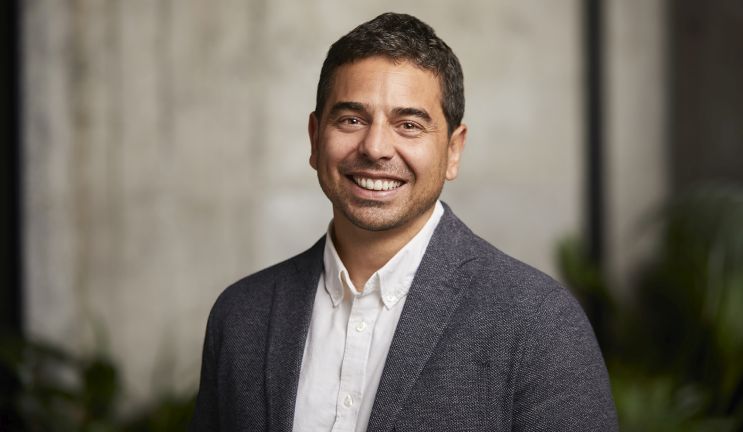 ALUMNI FOCUS
August 17, 2021
As the Head of Enterprise for the international software company, Slack, in the Asia Pacific region, Macquarie Business School alumnus, Arturo Arrarte (PCMgmt 2008, MMgt 2012, MBA 2013), knows what it takes to lead a fast-growing company from strength-to-strength.
In 2012, Arturo completed his Master of Management degree, a program designed specifically for recent graduates and early career professionals, which enables them to sharpen their management skills, gain practical experience, and apply their knowledge to real business and management situations. After acquiring this experience, he went on to help drive growth at leading technology and consulting companies such as Salesforce, KPMG and IBM, before becoming Head of Growth at Slack in 2017
Slack is a name that has become synonymous with the remote work environment that many have been accustomed to for the past 16 months.  Slack is a messaging app for business that connects people to the information they need. By bringing people together to work as one unified team, Slack transforms the way organisations communicate. As the pandemic took hold over the world in 2020, businesses faced the difficult task of transitioning their team from the office to the home, where the risk of reduced productivity, lower customer service, and increased mental stress became a real concern. With this, came the challenge of embracing new ways for teams to communicate, collaborate, work together, and solve problems from the comfort of their home.
That's where team collaboration software like Slack, Microsoft Teams, Trello, and much more were quick to reach the top of people's download lists. So dramatic was the uptake, research shows that collaboration app installations in enterprise devices saw a 176 percent increase throughout 2020 in the US alone. Further studies reveal that around 44 percent of employees are working from home five or more days a week, a 17 percent increase before the pandemic.
With figures like this, it's no surprise that people like Arturo have been incredibly busy over the past 16 months. As Head of Enterprise, he is responsible for helping leading organisations become more agile, collaborative, and productive through the use of Slack. Of course, this role goes much deeper than just demonstrating the product's features and benefits. He works closely with clients to help them develop and enhance their Slack usage, incorporate Slack into their workflows, and partner with Slack to help increase brand awareness and market outreach. To date, Slack has over 1,000 partnerships with leading SaaS companies, which enables them to integrate their products into the Slack ecosystem and introduce their brand to the Slack's millions of users around the globe.
With such a huge responsibility on his shoulders, you might be wondering how Arturo is able to communicate with so many different people, from all walks of life, with varying levels of technical knowledge, management experience, and specialist industry knowledge. According to him, his ability to collaborate with such a broad range of people comes from his natural sense of curiosity, a trait he put into practice attending Macquarie University. While completing the Foundations of Management Thought unit – a unit that surveys the evolution of Western thought from major philosophical perspectives – he immediately took an interest in the subject. In particular, how it challenged him to question everything.
"I felt at home with this subject and the ability to question everything. It had applications to every other subject I had already completed, along with, perhaps, further developing one of the most valuable skills that I use every day, which is asking questions and trying to get to the why."
On top of this, units like the Foundations of Management Thought, and others, helped Arturo learn that nothing is static, that frameworks, guide rails, and the way things are done are all fluid. Where, with enough questioning, these things can be changed, in order to make a positive and dramatic impact on the way a business works.
Aside from gaining valuable insight in the lecture hall, Arturo formed strong, long-lasting relationships with like-minded people, both locally and abroad. During his studies, he had the opportunity to travel to Shanghai and Beijing, where he connected with foreign executives, learning how they approach the market, business, and how their methods differ from Western strategies. With this knowledge, Arturo has found it easier to engage and collaborate with global clients on a deeper level, by coming from a place of respect and understanding for their culture and level of influence on a global landscape.
Of course, with overseas travel limited during the pandemic, this has obviously made it harder for professionals of all shapes, sizes, and industries to connect. However, Arturo is quick to emphasise the benefits of this situation, as everyone is now on equal footing in terms of how they communicate with each other. With so many people using team collaboration software like Slack, it's easier than ever to remotely connect with professionals around the world; to the point where, it's possible for someone in Australia to interact over the same medium as someone who is local.
"Even with borders being shut, you can still get exposure to doing business with other regions. I spend a lot of time working with executives in India, Singapore, and South-East Asia. The global economy can't shut down; we just evolve to find a way to make it work."
Here, it's Arturo's passion for technology, and how it can be used to help employees better work in a way that amplifies our strengths, as humans we enjoy the creativity and intellect that some tasks require while we would prefer to automate the mundane and repetitive. It's also how he's managed to help Slack. At the time of his hiring, it was still a relatively unknown and scaling business in APAC Since then, he's helped the company gain strong brand recognition and helped progressive businesses change behaviour and culture to support transparency, alignment and innovation. In Arturo's own words, it's a type of hunger, where his appetite for continual learning is a constant drive in his daily life. "I am still hungry to learn more; it doesn't seem to ever cease!"