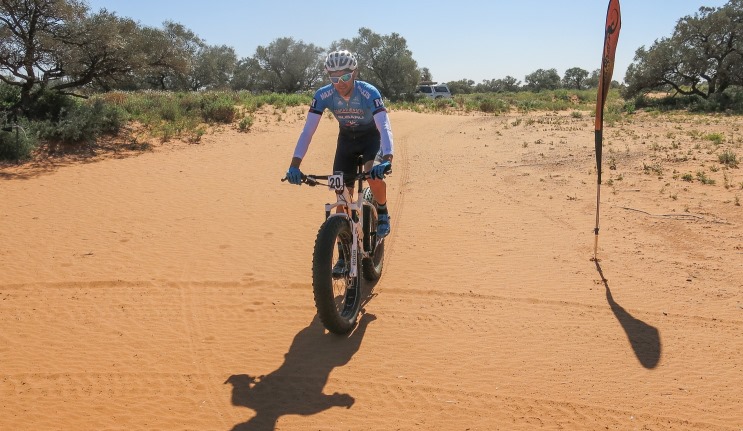 Alumnus Justin Morris conquers the desert – on bike
ALUMNI FOCUS
Macquarie alumnus Justin Morris recently completed the annual Simpson Desert Bike Challenge, which is the world's oldest multi day mountain bike race.
"It was five days of racing 600km across Australia's largest sand dune desert. I managed to win the race after a gruelling week in the desert. The finish line is in Birdsville, QLD."
 The Simpson Desert Bike Challenge has been running every year since 1987 and attracts riders who are drawn to the desert's remoteness and isolation.
"The race has evolved with the evolution of the 'fat bike' which now allows riders to ride on sand trails for the entire five-day event," he wrote on Cycling Tips.
Endless undulating sand dunes
"This year the race took us on what is known as The French Line, famous in 4WD circles for its stretches of undulating sand dunes over 500km. Conquering this on a bicycle is no small feat," he says.
Justin says that the sand is just one of the challenges.
"The sheer isolation is perhaps the most mentally draining facet of this race. Help is at least two days' drive away for many parts of this race. This brings even the most egotistically charged athlete back down to earth."
He says that as a cyclist who lives with Type1 diabetes he had a few extra challenges to overcome to ensure he could race.
"I was lucky to have an amazing support crew around me to ensure I was a-ok. To be able even to attempt such an event as a T1 diabetic is something that would have been considered impossible 10 years ago. I hope by giving this race a good go I will help open the eyes of my diabetes brothers and sisters."
More than a race
The Simpson Desert Bike Challenge is more than just a race; it raises funds for the Royal Flying Doctor Service (RFDS), and has raised more than $255,000 over the past decade.
"This race should be added to the bucket list of every cyclist who enjoys an adventure. You will be amazed at what you will come across when you venture into the great desolate wilderness that is The Simpson. It was a rare experience and one I will treasure forever."