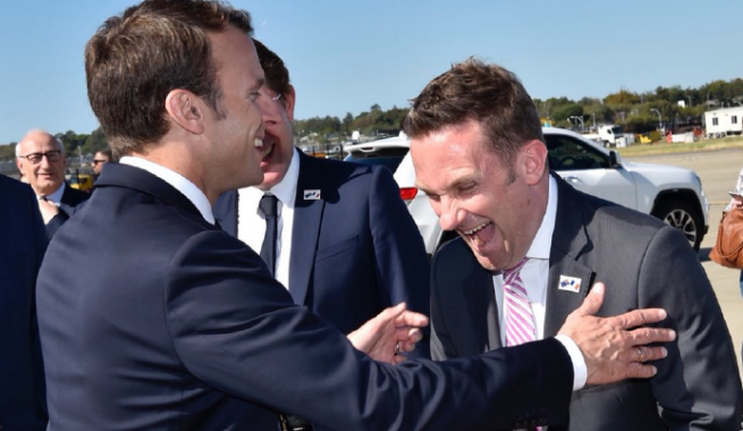 Ambassador Berne and President Macron during the President's visit to Australia in May 2018 (Credit Australian Embassy Paris)
ALUMNI FOCUS
Macquarie alumnus Brendan Berne (B Econ Hons 1993) is the Australian Ambassador to France, Algeria, Mauritania, and Monaco. Prior to his appointment in July 2017, he held a range of positions in Canberra including Ambassador for Asia-Pacific Economic Cooperation (APEC) and First Assistant Secretary, Investment and Economics Branch Division. He has served overseas as Deputy Head of Mission at the Australian Embassy in Seoul and as Deputy Permanent Representative at the Organisation for Economic Co-operation and Development (OECD) in Paris. More recently, Mr Berne was Chief of Staff for the Minister for Trade, Tourism and Investment. Prior to joining DFAT, Mr Berne spent several years as an Economist with the Reserve Bank of Australia.
Brendan holds a Bachelor of Economics (Honours) from Macquarie University; and a Master of Economics from the Australian National University, received under a Reserve Bank of Australia Staff scholarship.
Brendan grew up in the western suburbs of Sydney. Though he hardly travelled as a child, he was fascinated by one of the first books he was ever given, an atlas, and by the postcards he received from an uncle working overseas. He knew from a young age that he wanted to do something on an international level.
He has made an impact in France, taking a modern approach to his role by being very media-friendly and accessible, and frequently posting on social media. He recently tweeted updates from the G7 Summit in Biarritz, where Prime Minister Scott Morrison attended along with French President Macron and other world leaders.  "This is the first time ever Australia has been invited to the G7", he said. "It's an opportunity for our Prime Minister to share our priorities with France, including the free trade agreement between Australia and the European Union, and the future submarine program." Also on the agenda was climate change, "an issue for which Australia has committed to very ambitious objectives under the Paris Agreement."
Last year Brendan spoke with Expatriates Magazine about the highlights of his tenure as Ambassador, citing accompanying President Macron on a visit to Australia, and to Sydney, his home town, as unbeatable.  "It was a moment of great joy to be able to welcome him. It was a wonderful moment when he gave the Légion d'Honneur to three Australian veterans from World War II. He then gave a great speech standing on a naval vessel in Sydney harbour, in English; a wonderful speech about what Australia and France mean to each other and the new chapter in their relationship: a new access between France and Australia to defend what we call the 'rules-based order', to advance what President Macron calls 'contemporary multilateralism'. I mean, as a diplomat, as an ambassador, I thought it doesn't get any better than this!"
Other highlights have included the launch of free trade agreement negotiations between France and Australia – a long-standing priority for Australia; the recent signing of a 32-billion euro production contract with a French shipbuilder for 12 new state-of-the-art submarines, and proposing marriage to his partner on Twitter just four hours after the Australian Parliament voted to legalize same-sex marriage.
Macquarie alumni will have the opportunity to meet Brendan at the inaugural meeting of the France Alumni Network on 24 September, to be held at the Ambassador's Residence in Paris.
"I am delighted with the interest from our alumni in France in joining the network", says network leader Sylvestre Mang. "The support of our Ambassador to France Mr Brendan Berne is a real boost to our network and we are looking forward to a rewarding collaboration and opportunity to connect and widen our professional networks."
Join the France Alumni Network LinkedIn Group.
Words: Jackie Gent