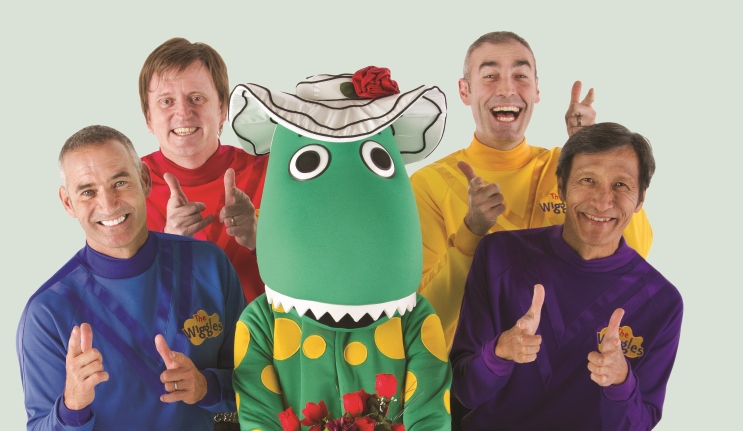 2018 Macquarie University Alumni Awards – Dr Anthony Field AM, Dr Greg Page AM, Dr Murray Cook AM
ALUMNI FOCUS
CATEGORY: EDUCATION
You know you're encountering a truth when you receive the same information and sentiment from different sources. This is certainly the case in speaking with Dr Anthony Field, Dr Greg Page and Dr Murray Cook from The Wiggles, who all studied early childhood together at Macquarie.
While much has been made of their extraordinary accomplishments and popularity, Page says "something that usually goes unheralded is the fact that four blokes from Australia got together and created something that didn't really exist before – and we did it with the knowledge we gained thanks to Macquarie University and the lecturers and tutors who shaped us."
It may be years since they graduated, but the philosophy imbued in them by lecturers, such as Kath Warren, Alma Fleet, Rosemary Harle and Kathy Griffiths, "really impacted the way that The Wiggles crafted and delivered content for children," says Page.
"It all worked from a child-centred point of view. We were reflecting their world in our performance," says Field.
The three each referred to their studies as "the cornerstone" of everything they did. "Understanding the way children think was vital to what we did," says Cook.
Field continues, "The philosophy behind early childhood education was based on empowering children. As teachers, and later as performers, we always kept that with us."
Adds Cook, "Just because it was for children didn't make it any less important. It was the connection with the children that was always so important to us."
While all three were humbled by the award, Field felt it was "confirmation that we have kept children as our focus and motivation and kept true to the philosophies we learned at Macquarie."
Their shared philosophy clearly means everything to these three – the world has truly become their classroom.
As children's entertainers, The Wiggles have enjoyed unprecedented success. In 2010, they were awarded a Member of the Order of Australia for their 'service to the arts, particularly children's entertainment, and to the community as a benefactor and supporter of a range of charities'.
Cook graduated from Macquarie with a Diploma of Teaching (1991) and Doctor of Literature (Honoris Causa) (2009).
Field graduated from Macquarie with a Diploma of Teaching (1991) and Doctor of Literature (Honoris Causa) (2009).
Page graduated from Macquarie with a Diploma of Teaching (1993) and Doctor of Literature (Honoris Causa) (2009).
View other 2018 Macquarie University Alumni Awards winners here
Alumni Awards
Macquarie University is extremely proud of every one of its 184,000 graduates – their achievements and their contributions in our local and global communities. Our alumni are a source of pride and motivation, and they embody the University's association with excellence.
The Macquarie University Alumni Awards recognise and celebrate the achievements of alumni. The awards provide a platform for sharing their inspirational stories with other alumni, staff, students and the wider community.
We are now accepting nominations in the following award categories:
Arts and Culture
Education
Environment
Innovation and Enterprise
International Achievement
Medicine and Health
Public and Community Service
Rising Star (aged 30 years under)
Science and Technology
Sport
Nominations close 31 October 2018. Nomination forms and details are available at mq.edu.au/alumni/awards