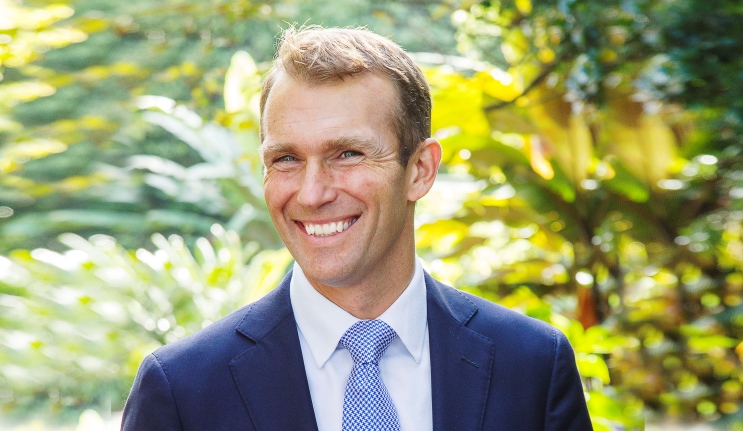 2018 Macquarie University Alumni Awards – The Hon Dr Rob Stokes MP
ALUMNI FOCUS
CATEGORY: ENVIRONMENT
The reaction from the Honourable Dr Rob Stokes MP on receiving an alumni award isn't surprising given his history with Macquarie and his passion for the environment and the law. "This award is a humbling encouragement that the hard work to promote the cause for conservation and sustainability is supported by an institution I love," says Stokes.
It is easy to see how Stokes' interests and enthusiasm converge when you realise that he studied at both undergraduate and postgraduate levels, as well as worked as an academic, at Macquarie. He recalls the influence of those who mentored him as significant, such as Emeritus Professor Patricia Ryan, Professor Zada Lipman, Associate Professor Donna Craig, the late Professor Michael Jeffery QC, John Whitehouse and Professor Ben Doer.
"As an early proponent of interdisciplinarity in education, Macquarie University powerfully influenced my contribution at the intersection of law, education, environment and planning," says Stokes.
"It also provided me with a decision-making framework to assess the social, environmental and economic implications of major resource projects within an international framework."
His studies at Macquarie also opened "incredible doors" and "provided opportunities to translate research and thinking into pragmatic policy", which was beneficial during his time as NSW Minister for Environment (2014–15) as well as NSW Minister for Planning (2015–17).
"I was fortunate to be able to implement a lot of my thinking that I gained at Macquarie University in my professional life. It was a time when it was possible
to bring about environmental reforms that focused on principles of ecologically sustainable development interplanning laws to, for example, create national parks and strengthen pollution laws."
Stokes wholeheartedly encourages those currently studying or considering studying at Macquarie to "use the knowledge that you gain here to make the greatest contribution you can in your chosen field."
The Honourable Dr Robert (Rob) Stokes MP started his career as a lawyer and an academic in environment and planning law prior to joining the political arena in 2005. He has a lifelong interest in environmental protection and planning, heritage, and sustainability, and continues to be actively involved with Macquarie's Centre for Environmental Law. He is currently the NSW Minister for Education.
Stokes graduated from Macquarie with a Bachelor of Arts (1995), Bachelor of Laws (1997), Master of Laws (1999) and Doctor of Philosophy (2008).
View other 2018 Macquarie University Alumni Awards winners here
Alumni Awards
Macquarie University is extremely proud of every one of its 184,000 graduates – their achievements and their contributions in our local and global communities. Our alumni are a source of pride and motivation, and they embody the University's association with excellence.
The Macquarie University Alumni Awards recognise and celebrate the achievements of alumni. The awards provide a platform for sharing their inspirational stories with other alumni, staff, students and the wider community. We are now accepting nominations in the following award categories:
Arts and Culture
Education
Environment
Innovation and Enterprise
International Achievement
Medicine and Health
Public and Community Service
Rising Star (aged 30 years under)
Science and Technology
Sport
Nominations close 31 October 2018. Nomination forms and details are available at mq.edu.au/alumni/awards