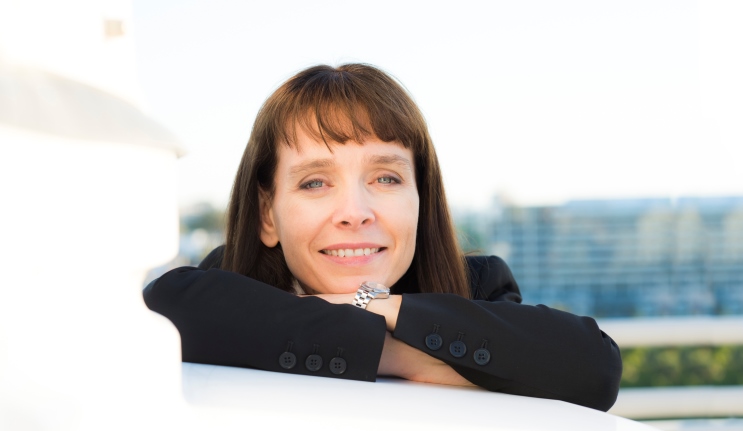 2018 Macquarie University Alumni Awards – Dr Abigail Allwood
ALUMNI FOCUS
CATEGORY: SCIENCE AND TECHNOLOGY
Is there life on Mars? It's a question many ponder, but few are qualified or engaged to answer this timeless question. That is, unless you are Dr Abigail Allwood, first female and one of seven principal science investigators to lead NASA's next mission to Mars, scheduled for 2020. She will also be the first Australian to lead a NASA team searching for signs of life on Mars, and she hopes that this exceptional achievement will light a path for other women.
To be part of NASA's next mission to Mars, Allwood and her team pitched the inclusion of the Planetary Instrument for X-ray Lithochemistry, or PIXL for short, a NASA-funded instrument that scans rocks for chemical signatures of life. To Allwood and her team's delight, she was accepted.
PIXL will be operated remotely from Earth and will be able to analyse specimens in greater detail than ever before. But Allwood is no stranger to Martian life. As an early-career academic, she explored Australia's Pilbara for signs of life from Mars. It took three years, but she and her husband identified seven different-shaped fossil stromatolites that date back 3.4 billion years.
Given the number and range of specimens, even those most sceptical were in no doubt of the validity of her discovery, and it is still the oldest – and most widely accepted – record of life on Earth. But this was not the end of the story. Allwood won a coveted position at the California Institute of Technology, where working under geologist John Grotzinger (lead scientist for the 2014 Mars Curiosity rover) would become a key link in her own Mars expedition.
Allwood began developing PIXL by reducing the size of a similar instrument used in the Pilbara and waited for her dream to be confirmed – PIXL would be going to Mars.
One small step for PIXL. One giant leap for womankind.
Dr Abigail Allwood, astrobiologist and co-leader of NASA's Mars 2020 rover mission, has a strong interest in the early Earth, microbial sediments, evaporites and the oldest record of life on Earth, and has been outspoken on the need to invest in – not cut – funding for the sciences in Australia.
Allwood graduated from Macquarie with a PhD in Earth Science (2007).
View other 2018 Macquarie University Alumni Awards winners here
Alumni Awards
Macquarie University is extremely proud of every one of its 184,000 graduates – their achievements and their contributions in our local and global communities. Our alumni are a source of pride and motivation, and they embody the University's association with excellence.
The Macquarie University Alumni Awards recognise and celebrate the achievements of alumni. The awards provide a platform for sharing their inspirational stories with other alumni, staff, students and the wider community. We are now accepting nominations in the following award categories:
Arts and Culture
Education
Environment
Innovation and Enterprise
International Achievement
Medicine and Health
Public and Community Service
Rising Star (aged 30 years under)
Science and Technology
Sport
Nominations close 31 October 2018. Nomination forms and details are available at mq.edu.au/alumni/awards